About this Event
DOORS OPEN AT 6:30PM.
Two of the best very guitarists in acoustic music today reunite for a rare duo show to mark the 20th anniversary of their critically acclaimed instrumental CD, "Ring Some Changes."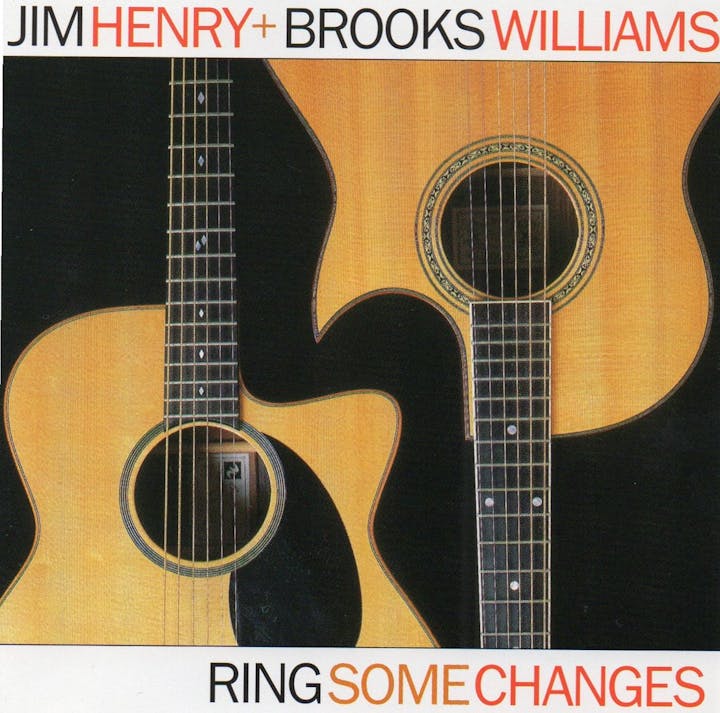 It's hard to know where to start when describing Jim Henry. He does a lot of things and he does them well. Whether it's as a musician, singer, songwriter, producer, sideman, podcast host, or author Jim is an in-demand tour-de-force on the Amercana music scene.
On a variety of electric or acoustic guitars, or on mandolin or dobro, Jim can render emotional sensitivity in one moment then tear into a rock or country solo with such fire it's hard to catch your breath. He is a master of adding whatever is needed at any musical moment.
At center stage, whether as a solo artist or leading a band, Jim delivers his finely crafted original songs with a smooth, rich baritone voice and engaging story telling and humor.
He has produced, recorded, played and traveled the world with Mary Chapin Carpenter, Paula Cole, Shawn Colvin, The Nitty Gritty Dirt Band, Los Lobos, Alseep at the Wheel, Gillian Welch and Dave Rawlings, The Weepies, Deb Talan, Eliza Gilkyson, Tracy Grammer, Susan Werner...the list goes on and on.
Jim recently released his first book call "50 Pro Tips for Musicians:Practical advice for an Impractical Business." Equal parts wisdom and humor, it offers sage advice for new-to-the-business musicians and is entertaining for the those who've been on the scene for decades. The book is a companion to the podcast which he produces and hosts, "Pro Tips for Musicians," which features interviews with pros from all aspects of the music business.
At home on a festival stage and the intimate setting of a house concert, live and in the studio, playing acoustic or electric, solo or with a band supporting another musicians, the shear versatility of this skillful musician can be hard to fully appreciate...until you hear him play.
Brooks Williams hails from Statesboro, Georgia (the town made famous by country-blues legend Blind Willie McTell) and is one of acoustic roots music's guiding lights. Ranked in the "Top 100 Acoustic Guitarists," he's a mean finger-picker and a stunning slide guitarist. Plus, "he has a beautiful voice," says AmericanaUK, "that you just melt into." Walking the line between blues and Americana, Williams began his career over thirty years ago when he moved to Northampton. "Although I now make my home in the UK, I still think of Northampton as home, and The Parlor Room as my home club," says Williams.