JILLIAN MEDOFF--Celebrate Her New Novel WHEN WE WERE BRIGHT AND BEAUTIFUL
Location
Milton Branch Library
855 Mayfield Road
Milton, GA 30009
Join national bestselling local author JILLIAN MEDOFF as she celebrates her new book WE WERE BRIGHT AND BEAUTIFUL.
About this event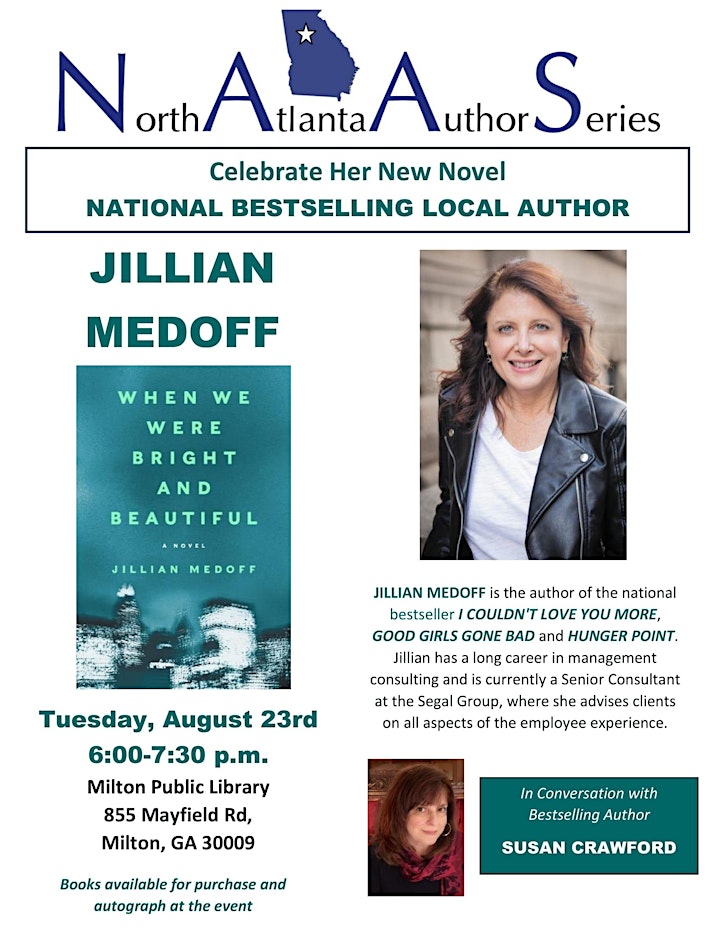 ABOUT THE AUTHOR
Jillian Medoff is the author of four acclaimed novels: THIS COULD HURT, I COULDN'T LOVE YOU MORE, GOOD GIRLS GONE BAD, and HUNGER POINT. HUNGER POINT was made into an original cable movie starring Christina Hendricks and Barbara Hershey and directed by Joan Micklin Silver (Lifetime TV, 2003).
A former fellow at MacDowell, Blue Mountain Center, VCCA and Fundacion Valparaiso in Spain, Jillian has an MFA from NYU. She studied with Mona Simpson (her thesis advisor) and Jonathan Dee; and took master classes with Toni Morrison, Grace Paley, and Joyce Carol Oates. Jillian's MFA experience was life-changing. She sold her graduate thesis, originally titled THE HUNTERS, to HarperCollins where it was retitled HUNGER POINT and published as her debut novel in 1997. Back then, readers loved the deeply depressed Frannie; now, they hate her and her whole stupid, self-absorbed family. Times change, culture evolves, and still, trauma endures.
Speaking of fierce young women, Jillian's new novel, WHEN WE WERE BRIGHT AND BEAUTIFUL, is a story about power, privilege, consent, and dirty, sexy money. It's coming from Harper/HarperCollins in August 2022.
In addition to writing novels, Jillian has a long career in corporate consulting. Since her early days at Max Factor and American Home Goods (in Trump Tower!), she's worked for a wide range of employers, including Deloitte and Aon. Now with Segal Benz, she advises clients on communication strategies for all aspects of the employee experience.
Jillian lives with her husband, Keith Dawson and three adult daughters, who come and go. She is currently working on a new novel, THE COMMITTEE, a story about medical ethics and race in Seattle, circa 1961.
ABOUT THE BOOK
The acclaimed, bestselling author of This Could Hurt returns with her biggest, boldest novel yet—an electrifying, twisty, and deeply emotional family drama, set on Manhattan's glittering Upper East Side, that explores the dark side of love, the limits of loyalty, and the high cost of truth.
Reviews & Praise
Rave review from Kirkus: "Like a magician pulling scarves from a sleeve… Medoff's greatest feat in this novel is not the twisty plotting but rather Cassie's evolving relationship with the reader, with storytelling itself, as she moves from suspiciously naïve to clearly unreliable… A layered and compelling peek into the darkest consequences of privilege."
Publishers Weekly: "Both satisfying and heartbreaking."
Bestselling author Jennifer Weiner in USA Today: "WWWBAB is two parts GONE GIRL, two parts NOTES ON A SCANDAL, and will play with your expectations about who's the villain and who's the victim."
Authorlink: "Medoff delves into the perilous subjects of pornography, consent and sexual assault in her suspenseful novel [as well as] a stunning twist…"
NJ Monthly: "Medoff has another sure hit with this fast-paced, immersive novel about consent, justice and wealth. A fascinating, gripping read."
Pamela Klinger-Horn on Thoughts from a Page podcast: "Complicated family drama at its best… it's absolutely compelling and there are twists you don't see coming… you will be wanting to find out exactly how WWWBAB is going to come to a conclusion and it is stunning when it does."
Jillian Medoff's latest novel is an intricately crafted page turner with characters so flawed and fascinating, there's absolutely no looking away from them. Smart, challenging, and deeply unsettling, WHEN WE WERE BRIGHT AND BEAUTIFUL will test your assumptions about guilt and innocence, and subvert your expectations until the very end.
—Jung Yun, author of SHELTER and O BEAUTIFUL
WHEN WE WERE BRIGHT AND BEAUTIFUL is a beautifully written and expertly paced examination of a privileged defendant and his family in the wake of an assault allegation. Narrated by the defendant's sister Cassie, whose sharp voice is equal parts incisive and naive, the story covers much ground in American rape culture. Jillian Medoff's latest offers plenty for discussion and is perfect for book clubs.
—Caitlin Wahrer, author of THE DAMAGE
This is Jillian Medoff's best — deepest, wisest, most complex — work. Medoff dares to touch third rails in this novel, and doesn't flinch when the sparks fly.
—Darin Strauss, award-winning author of THE QUEEN OF TUESDAY
Jillian Medoff has written a hell of a book, one that's bound to captivate readers and ignite conversations.
—Grant Ginder, author of LET'S NOT DO THAT AGAIN and THE PEOPLE WE HATE AT THE WEDDING
I read WHEN WE WERE BRIGHT AND BEAUTIFUL in a few big gulps; deftly and beautifully written, it's a fantastic page-turner with a shocking twist.
—Kate Christensen, award-winning author of THE LAST CRUISE and THE GREAT MAN
WHEN WE WERE BRIGHT AND BEAUTIFUL blew me away. Jillian Medoff's gripping exploration of wealth, consent, and complicity tells the story of a loving family's unraveling with the propulsive pace of the best thrillers. A masterful achievement.
—Aimee Molloy, NY Times bestselling author of THE PERFECT MOTHER and GOODNIGHT BEAUTIFUL
This transfixing slow burn of a novel kept me up hours past my bedtime, bewitched by Medoff's ingenious storytelling, gorgeous prose, and complicated, fascinating characters. I loved it.
—Joanna Rakoff, author of MY SALINGER YEAR and A FORTUNATE AGE
Description
You can have everything, and still not have enough.
Cassie Quinn may only be twenty-three, but she knows a few things. One: money can't buy happiness, but it's certainly better to have it. Two: family matters most. Three: her younger brother Billy is not a rapist.
When Billy, a junior at Princeton, is arrested for assaulting his ex-girlfriend, Cassie races home to Manhattan to join forces with her big brother Nate and their parents, Lawrence and Eleanor. The Quinns scramble to hire the best legal minds money can buy, but Billy fits the all-too-familiar sex-offender profile—white, athletic, and privileged—that makes headlines and sways juries.
Meanwhile, Cassie struggles to understand why Billy's ex Diana would go this far, even if the breakup was painful. And she knows how the end of first love can destroy someone: Her own years-long affair with a powerful, charismatic man left her shattered, and she's only recently regained her footing.
As reporters converge outside their Upper East Side landmark building, the Quinns gird themselves for a media-saturated trial, and Cassie vows she'll do whatever it takes to save Billy. But what if that means exposing her own darkest secrets to the world?
Lightning-paced and psychologically astute as it rockets toward an explosive ending, When We Were Bright and Beautiful is a dazzling novel that asks: who will pay the price when the truth is revealed?