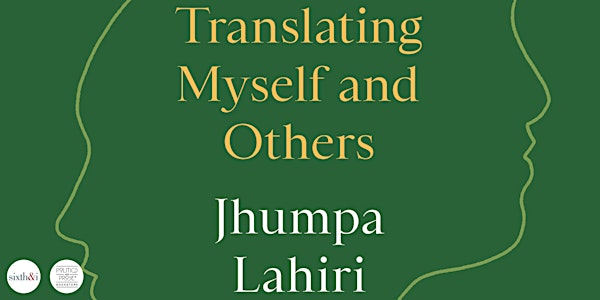 Jhumpa Lahiri
Sixth & I + Politics and Prose
Performers
Jhumpa Lahiri
Nicoletta Pireddu
Location
Sixth & I
600 I St NW
Washington, DC 20001
Jhumpa Lahiri in conversation with Nicoletta Pireddu at Sixth & I
About this event
In Translating Myself and Others, the Pulitzer Prize-winning author of Interpreter of Maladies reflects on her emerging identity as a translator and bilingual writer in a collection of candid and disarmingly personal essays. In conversation with Nicoletta Pireddu, a professor of Italian and Comparative Literature at Georgetown University, the Inaugural Director of the Georgetown Humanities Initiative, and the director of Georgetown's Global and Comparative Literature Program.
with Politics and Prose
This program will run approximately 1 hour.
At this in-person event masks and proof of vaccination are required. For details, click here.
Virtual attendees will receive the event access link 48 hours, 2 hours, and 10 minutes before the event begins.
Sixth & I Event Policies
Seating is general admission, first come, first served.
Please note there are some obstructed view seats in the balcony of our sanctuary.
All ticket sales are final and non-refundable. There are no refunds unless an event is canceled. If you are unable to use your tickets, you may transfer them to another person.
For accessible entry and accessible seating requests, email aloerch@sixthandi.org or call 202.266.4867.
For more on ticketing, venue policies, and security procedures, click here.