Presentation for loved ones, partners, friends, and spouses of Joliet firefighters, other responders, and retirees. Adults only, please.
About this event
This is a presentation offered by the Joliet Firefighters Peer Support Group (JFPSG). It is intended for spouses, partners, significant others, adult friends, and adult family members of Joliet firefighters, responder retirees and other first responders.
We will discuss the JFPSG, our mission, and our services. Our subject matter experts will discuss issues of vital concern including stress, coping, suicide, and relaxation techniques.
We will end with a question and answer session with all of the speakers.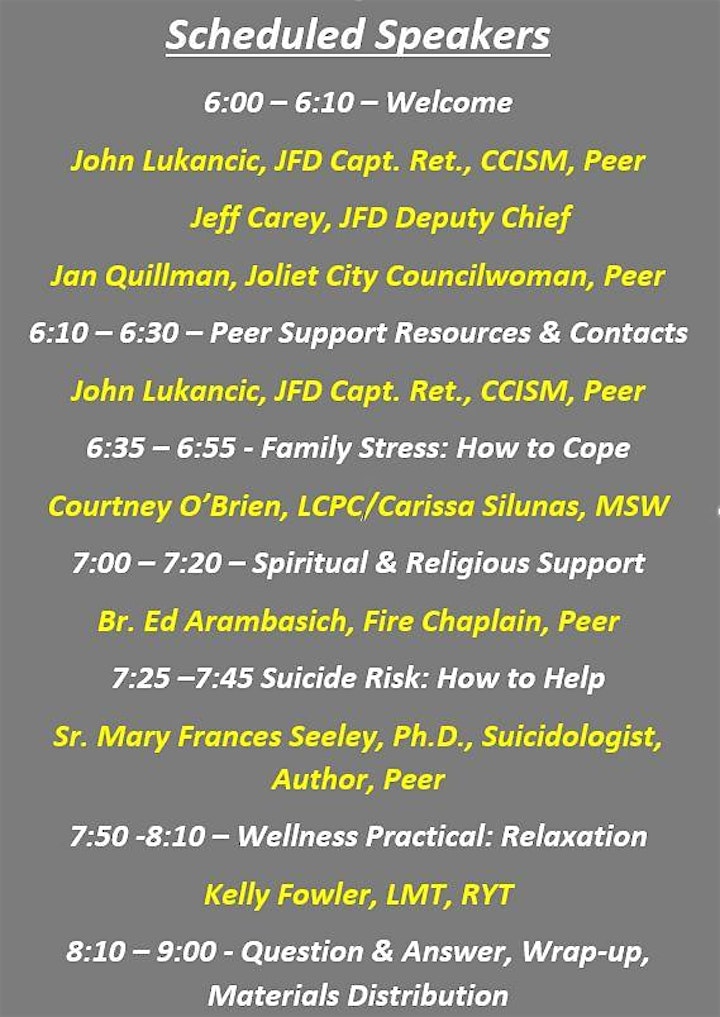 Organizer of JFPSG Firefighter/Responder Loved-Ones Workshop
The Joliet Firefighters Peer Support Group was designed to provide mental health support to Joliet Firefighters, Retirees and their Families.  In recent months, due two the coronavirus pandemic, it has grown somewhat to include first responders, nurses and their families who are affected by various stressors.
Our group includes firefighters, paramedics, fire service retirees, licensed clinicians, religious personnel, suicidologists, and an elected official.
The group and our partners are available to meet your needs 24 hours a day seven days a week. Our toll-free number is (815) JFD-PEER.