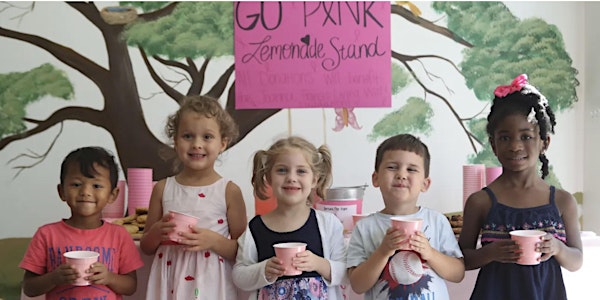 JFLW Go Pink Lemonade 2022
GO Pink Lemonade all day 10/3 (or all month if you like) followed by our free JFLW community event 5-8pm at Goodwood! Sign up and share!
When and where
Location
Goodwood Museum & Gardens 1600 Miccosukee Road Tallahassee, FL 32308
About this event
Register your Go Pink Lemonade Stand here!
What is Go Pink Lemonade Day?
Go Pink Lemonade Day is a day to wear pink, decorate your offices, raise awareness, collect donations and have FUN!! Your business, office, school, home (ANYWHERE) can host a Go Pink Lemonade stand. Set up any kind of lemonade stand you want, from simple to over the top. Some choose to add a bake sale, pink treats, raffle- the sky is the limit on raising awareness and donations for Joanna Francis Living Well (JFLW). You can tag LivingWell JFLW on Facebook and show us what you got! Some businesses choose to focus on October 3rd and some keep taking donations all month. We LOVE anything and everything!!
JFLW provides opportunities of support and financial assistance for unforeseen living expenses while living with breast cancer. All donations go directly to women in our area. Money from JFLW helps women with their electric bills, groceries, transportation, child care, rent and more. In addition, JFLW has a very active and dynamic support group.
Pink lemonade, pink paint, pink ribbons, and a pink outfit will NOT cure breast cancer. What it will do, and what it has done here in Tallahassee is save a lot of lives though awareness, education and support. If just one woman decides to schedule her mammogram because we are raising awareness, then it's worth all that pink.
After all of the fun you will have October 3rd, join us from 5-8 pm to turn in your Pink Lemonade donations (you can also mail) or celebrate the kick off of your month long fundraising! We will publish participant information for GO Pink Lemonade Stands that are open to the public. If your stand is a private event, we will still give you a shout out on our Facebook page- LivingWell JFLW to let the community know you are committed to pitching in to maintain our Local Breast Cancer Support group for patients, families and friends!
JFLW Support Group meets the first Monday of the month (except holidays) at 6pm at Goodwood in the Jubilee Cottage. Dinner is provided, guests are encouraged. So, bring your biggest cheerleader, partner, family or friend to learn more about the breast cancer journey. We are here for you.