Jewmongous at Evergreen House

Sunday, January 13, 2019 at 3:00 PM (EST)
Event Details
Evergreen House Concerts

Presents Sean Altman in his off-the-wall comedy-music brainchild...

Jewmongous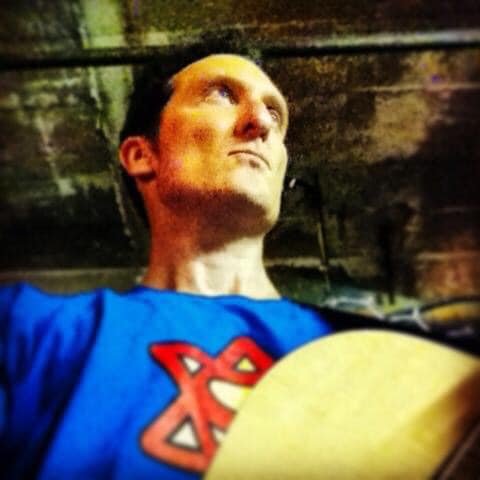 "Wildly funny... Part of a new breed of Jewish hipster comedy that includes Jon Stewart, Sacha Baron Cohen, Sarah Silverman and Heeb Magazine." - PHILADELPHIA DAILY NEWS
Watch a short Video about Passover
Another Video - Sean realizes that he's "Taller Than Jesus"
JEWMONGOUS, a comedy song concert with occasional guests, is the colicky, uncircumcised brain child of SEAN ALTMAN: the golden-voiced song-writing wiz and former leader/founder of Rockapella (yes - of "Where In The World Is Carmen Sandiego?" TV fame). Sean was featured in Time Out New York's cover story "The New Super Jews" and in the New York Times feature about "the Jewish Hipster Movement." He debuted JEWMONGOUS in 2006 and has drawn press accolades and sold-out audiences in 25 major U.S. cities.
"Full of catchy melodies, clever arrangements and lyrics that yield satiric gems... Bawdy with a wicked modern streak..." - WASHINGTON POST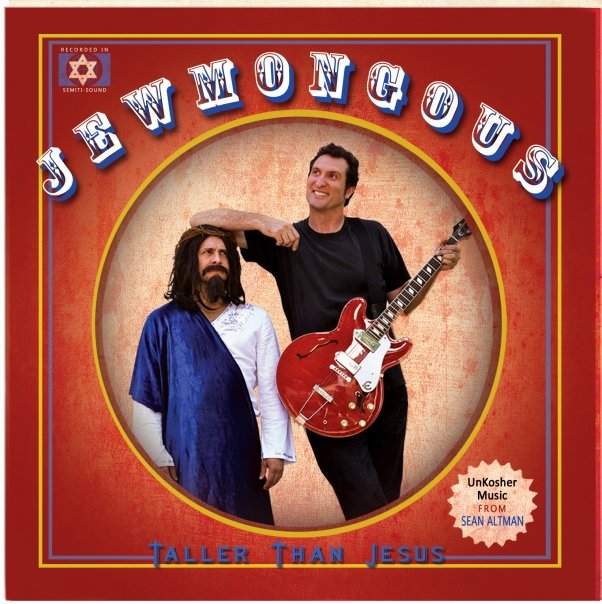 Jewmongous
Taller Than Jesus, the title song off the original show album, is 6'3" Altman's tribute to John Lennon's 1966 misunderstood declaration that the Beatles were "bigger than Jesus." The album's dozen original songs include the fractured Passover story song "They Tried to Kill Us (We Survived, Let's Eat)", which was featured on NPR's Fresh Air with Terry Gross; the Irish drinking song ode to the infamous Blood Libel "Christian Baby Blood"; the venomous anti-Jews-For-Jesus punk anthem "Jews For Jesus"; the ska-inflected "What the Hell is Simchas Torah?"; the bluesy "My Pact with Satan"; the longing crooner ballad "Another Inch"; the cowboy romp "Long-Tongue Shloime"; the dysfunctional Bar Mitzvah anthem "Today I Am A Man"; and the swinging "Blow, Murray, Blow!", about a Yom Kippur shofar (ram's horn) blower so virtuosic that his playing purges listeners of all their sins, no matter how despicable. The album's only cover song is a semiticized version of the Ramones' classic "I Wanna Be Sedated", as Altman believes that Joey Ramone (born Jeffery Hyman) would have wanted it sung that way.
"Wickedly humorous... Tuneful and sharply witty." - LOS ANGELES TIMES
About Sean Altman
As a solo artist, Sean has released three albums of bittersweet power-pop and was named "Best Male Artist" in the 2005 International Acoustic Music Awards. The anti-Kurt Cobain" (NY Press) and "absurdly talented performer" (Village Voice) has "killer hooks" (Time Out NY), "a cynical edge" (Philadelphia Daily News), and a "silky tenor voice that produced chills" (NY Times). He is best known as the founder and former leader of the vocal group Rockapella - stars of the TV series "Where In The World Is Carmen Sandiego?" - for which Sean co-wrote the famous theme song with Broadway's David Yazbek. He is a member of the Loser's Lounge series in Manhattan, he sings with Kol Zimra Jewish Acapella and performs charity concerts with Voices For Israel, he pitches Astelin nasal spray on TV as a member of the acapella group The GrooveBarbers, he serenades hospital patients as a volunteer with Musicians On Call, and his songs have been featured in dozens of TV shows.
In short, Sean is a highly exposed mensch, albeit a potty-mouthed one.
*********************************************************************************************
This will be Pot Luck Affair!
 Pot Luck   'Hors d'oeuvres and Desserts'
 Please arrive at 3:00 PM to share in food and conversation followed by the concert, which starts at 4:00 PM. Coffee will be on hand, but please participate in the potluck by bring something awesome to share with the group, like Food, Wine, Beer, dessert, etc.
Get your tickets now. We can only seat 50 of you!
Important!  The actual street address will be shared by email a few days before the concert.
******************************
Save the dates!
February 24   David Roth (A mainstay on the Folk Circuit)
March 24   Jud Caswell & Paddy Mills (Two of the finest up-and-coming singer/songwriters)
April 28   Emma's Revolution (Pat Humphreys and Sandy O)
May 19 or 26   TBA
When & Where

Evergreen House Concerts
Evergreen Avenue
Plainfield, NJ 07060


Sunday, January 13, 2019 at 3:00 PM (EST)
Add to my calendar
Organizer
Ahrre Maros is the owner of Ahrre's Coffee Roastery in Downtown Westfield and Summit (New Jersey), a business he founded in February of 1990. He is also the former Artistic Director and Host of the Coffee With Conscience Concert Series in Westfield, New Jersey, which ran for 15 years until its current Hiatus.
Unable to kick his music addiction, he now presents concerts in his living room and has his guests bring all the food, move his furniture around and pay for the priveledge! He calls this Evergreen House Concerts.

Regardless of what food shows up, the music and coffee are always EXCEPTIONAL!