Description
Evening Introductory Jewelry Class at the Artisan's Asylum!
Event Schedule:
Session 1: Tuesday, 3/20/2018, 6:00 PM - 9:00 PM
Session 2: Tuesday, 3/27/2018, 6:00 PM - 9:00 PM
Session 3: Tuesday, 4/03/2018, 6:00 PM - 9:00 PM
Session 4: Tuesday, 4/10/2018, 6:00 PM - 9:00 PM
Session 5: Tuesday, 4/17/2018, 6:00 PM - 9:00 PM
Session 6: Tuesday, 4/24/2018, 6:00 PM - 9:00 PM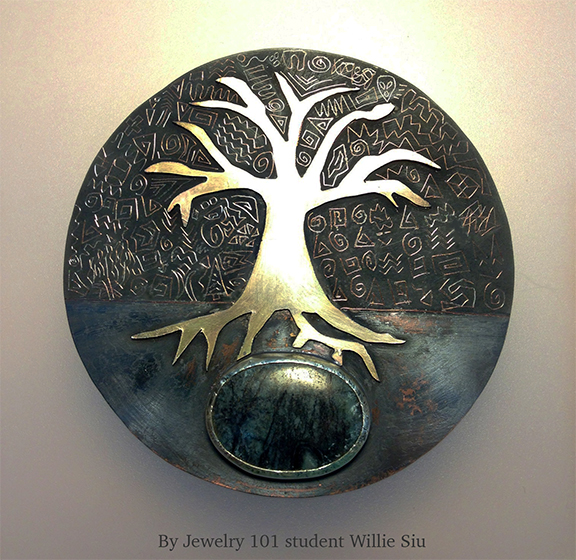 Class Description:
Through this 6-week class you will be introduced to the arcane and secret techniques of making fine jewelry. No prior experience is necessary, and by the end you will come away with new skills and finished pieces to show off and be proud of. We will work primarily in sterling silver, brass, and copper.
First: the basics. You will learn to use fundamental hand tools, such as a jeweler's saw, files, stamps, and hammers. Stamping, hammering, and roller printing yield delightful textures on blank sheet metal. These textured samples are then precision cut using a jeweler's saw into any fanciful form you like.

We'll take those cut pieces and combine them with a cold connection: joining pieces through riveting. Students have made dogtags, keychain fobs, simple pendants, and wall pieces with the riveting technique.

The second half of the class focuses on learning to solder. Exercises in soldering lead to the design and fabrication of a piece of jewelry from sterling silver with a cabochon stone in a bezel setting. Finishing techniques, like oxidizing and polishing, round out the class lessons and you will walk away with a completed piece of your own design.

This class is excellent preparation for working independently in the Artisan Asylum's studio space. Hands-on work-time is balanced with lessons and as well as time to interact with other students.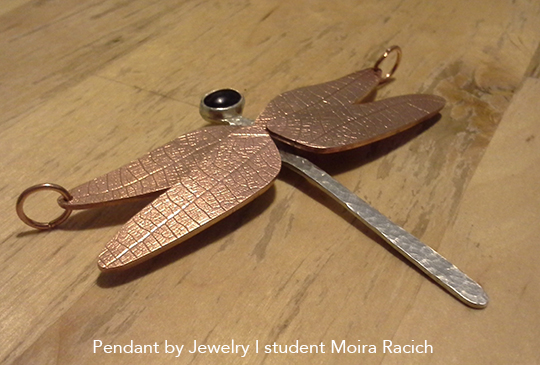 Class Goals:
Students will come away with familiarity of basic jewelry making skills: Sawing, Filing, Soldering, Polishing, Riveting, Surface Embellishment, Rolling-Mill, Bezel Stone-setting, Gas Tank Operation.
Project Goals: Students will complete a riveting project and a finished piece of jewelry with a bezel-set cabochon.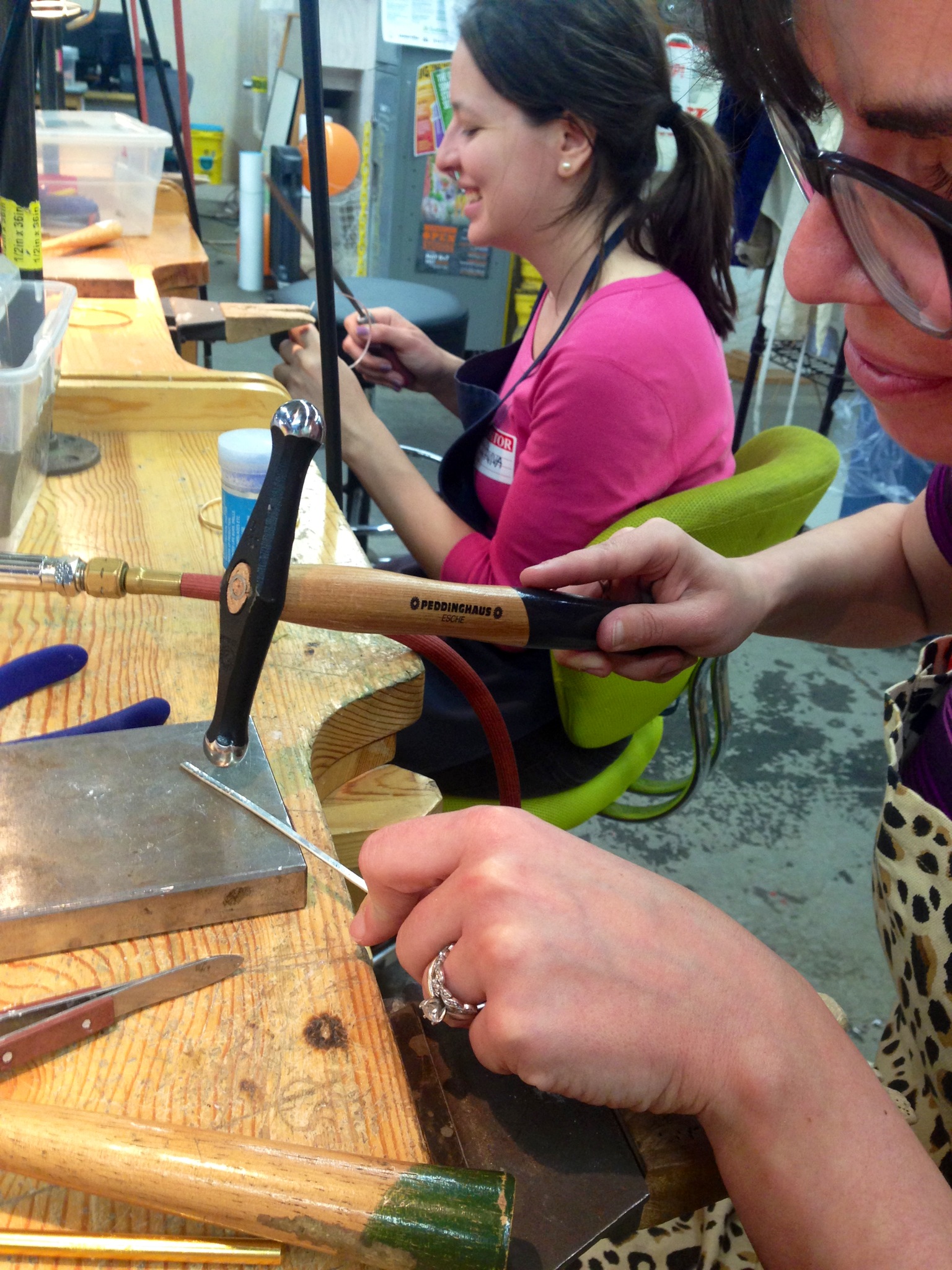 Prerequisites:
No experience required; students must be at least 18 years of age.
Materials Provided:
A materials fee of $45 included in the price of the class - covers the cost of metals, a cabochon gemstone, and consumables such as saw blades, drill bits, and solder.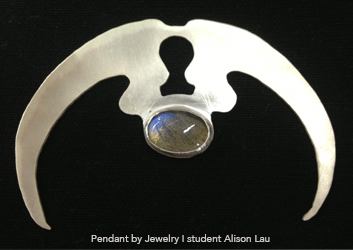 What to Bring:
You must wear close-toe shoes and secure long hair. We have some aprons available, you may bring your own. A sketchbook for your ideas and notes is handy.
Minimum number of students: 4
Instructor Biography: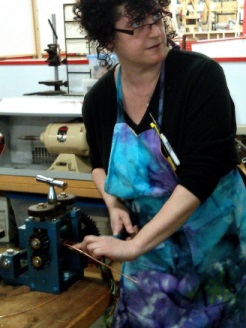 Sage Kochavi is excited to share her passion for jewelry making with students at the Artisan's Asylum.
She received a Certificate of Metalsmithing from the Worcester Center for Crafts and has been making jewelry since the early-90's. With 13+ years of jewelry instruction experience, she has taught beginner and intermediate jewelry at the Boston Center for Adult Education and at Stonybrook Fine Arts in Jamaica Plain before joining the Artisan's Asylum in 2011. She especially enjoys helping beginning jewelry students discover the pleasure of working with metal. Her wholesale line of silver and resin jewelry sold in over 50 craft galleries across the country. Sage currently channels her creativity into large scale, collaborative sculpture. She still thinks nothing compares to the satisfaction of a well-executed solder joint.
---


ARTISAN'S ASYLUM STUDENT POLICIES