Description
Event Schedule:
Session 1: Monday, Sept. 11, 12:15pm - 3:15pm

Session 2: Monday, Sept. 18, 12:15pm - 3:15pm
Session 3: Monday, Sept. 25, 12:15pm - 3:15pm
Session 4: Monday, Oct. 2, 12:15pm - 3:15pm
***No class on Columbus Day, Oct. 9th***
Session 5: Monday, Oct. 16, 12:15pm - 3:15pm
Session 6: Monday, Oct. 23, 12:15pm - 3:15pm
Class Description: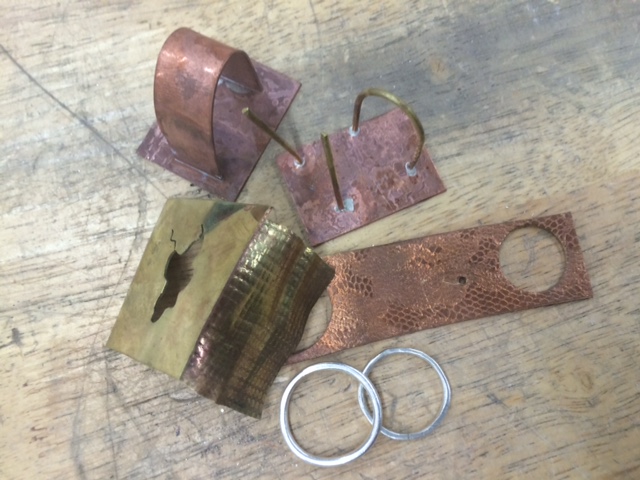 Through this 6-week class you will be introduced to basics of jewelry making. No prior experience is necessary, and by the end you will come away with new skills and with several finished pieces to take home and wear. We will work primarily in sterling silver, brass, and copper.
We will start with learning how to saw shapes and designs. Next students will learn basic soldering techniques to produce a simple silver ring. Second, students will learn to texture using the rolling mill, with different metals and finishes. We will then take these pieces and use cold connections (rivets) to fabricate them into a pendant.
Students will be introduced to the basics of stone setting and will be provided with one cabochon and bezel of their choice. We will then work on several projects (of your choosing) to hone your soldering technique.
This class is excellent preparation for working independently in the Artisan Asylum's studio space. Hands-on work-time is balanced with lessons and as well as time to interact with other students.
Class Goals:
Students will come away with familiarity of basic jewelry making skills: Sawing, Filing, Soldering, Polishing, Riveting, Surface Embellishment, Rolling-Mill, Bezel Stone-setting, Gas Tank Operation.
Project Goals: Students will complete a simple sterling ring, a riveting project, and a finished piece of jewelry with a bezel-set cabochon.
Prerequisites:
No experience required; students must be at least 18 years of age.
Materials Provided:
A materials fee of $40 included in the price of the class - covers the cost of metals, a cabochon gemstone, and consumables such as saw blades, drill bits, and solder.

What to Bring:
You must wear close-toed shoes and secure long hair. We have some aprons available, you may bring your own.
A sketchbook for your ideas and notes is handy.
Minimum number of students: 4
Instructor Biography:
Ilana Krepchin has a BA from Hampshire college in Photography and Anthropology, and extensive training in jewelry making from a number of venues including the Decordova Museum. Post-college she worked as the Associate Director of a small non-profit arts collaborative, running teen photography programs. During that period, she took a lot of jewelry making classes at the Cambridge Center for Adult Education and Metalwerx. When she left that job, she immersed herself in the world of jewelry production and craft shows. She worked for many years as a studio manager and production assistant for an established jeweler; and then went out on her own, joining Artisan's Asylum as a member. Check out her work at www.ilanakrepchin.com
---
ARTISAN'S ASYLUM STUDENT POLICIES
Purchase of a ticket expresses acceptance of A2's Refunds and Cancellation policies found here: https://artisansasylum.com/classpolicies/
Students: we love getting your feedback! Fill out this form to be heard!