Taco dinner and a night of comedy: in costumes. Help the comics create characters by bringing (family friendly) costumes, wigs, props, etc.
About this event
Dinner is served on Hallows eve - eve. And we are serving up a LOT OF LAUGHS too!!
Dinner begins at 6:00 with the great taste of Tacos from Tia Rosas!

Then it's YOUR turn to help set the stage with costumes provided by the audience. Bring (sanitized or new) hats, wigs, clothing and props for the JesterZ cast to wear and create characters for every scene and skit. Characters are in your hands to the JesterZ are at your mercy for over 1 hour of non-stop, side-splitting, improvised comedy!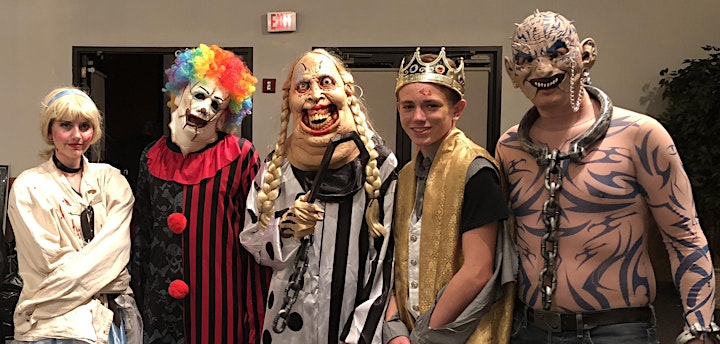 Dinner and show is OUTDOORS and located in the back yard event area and is accessed by parking in the SE corner of the parking lot.
Join us for dinner or just come for the show! Show begins approx 7:00 and seating for show only begins at 6:40.
This show is ALL-AGES appropriate and FAMILY-FRIENDLY.
Organizer of JesterZ Improv: A Costumed Comedy Show & Dinner
Clean Comedy Since 2001.
Comprised of professional actors, comedians, and stand up comics -The JesterZ provide instant improv comedy for the Phoenix metro area – made up on the spot! The audience plays an important role in each show: suggestions such as a name, a location, an attitude, an emotion, an accent, maybe a silly secret to be divulged all comes from YOU, the audience. 
The JesterZ know the games, but because the setup comes from the audience every scene is unique, and every show is a memorable experience. Shows are family sensitive – All ages are welcome and there is no swearing, vulgarity or off color content.
A GREAT place to take a first date – a birthday party – out of town guest – coworkers – friends & neighbors!! Come be part of the suggestion fun or just sit back, relax and enjoy the show!