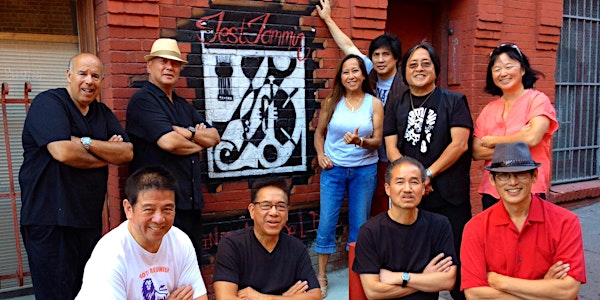 Jest Jammin's 50th Anniversary Celebration - Chinatown CDC Fundraiser
Location
St Mary's Cathedral
1111 Gough Street
San Francisco, CA 94109
United States
Refund policy
Refunds up to 7 days before event
Description
**TICKETS ARE SOLD OUT! THANK YOU FOR ALREADY MAKING THIS EVENT A SUCCESS**
It's time to Party for the "Cause" as Jest Jammin' has done for 50 Years!

As San Francisco's cost of living continues to rise and affordable housing is difficult to find, many working families and low-income seniors have no choice but to live in single resident occupancy rooms (SROs). Do you know that almost half of our Chinatown Community lives in these Single Rooms with no private bathrooms, toilets or kitchens?

Imagine a family of four jammed into a room that is about the size of a large walk-in closet, crammed with bunk beds, desks, dishware, clothing and other belongings that leave little space for residents to do more than sleep. The lack of space is stressful on families, making it difficult for children to study and play, for parents to have privacy, and for the children bring friends home.

That is why I am raising money in conjunction with Jest Jammin's 50th Anniversary celebration to help sustain affordable housing in Chinatown. Currently, Chinatown CDC is purchasing and rehabilitating SROs units to protect them from demolition, skyrocketing rents, and conversion into tech dorms. If this housing is lost, the Chinatown we all know and grew up with will be gone forever.

Please join us for a fun-filled evening! Dance to Jest Jammin', meet up with friends, and enjoy delicious food, on Saturday, October 20th at St Mary's Cathedral, from 8:00pm-Midnight. A great way to support a worthy cause and have a great time CELEBRATING 50 YEARS OF JEST JAMMIN'! Our goal for the evening is to raise $50,000 for our work to provide services to SRO families and seniors living in
Chinatown.

Thanks for celebrating a half century of Jest Jammin' & donating to the Cause!

Rev. Norman Fong
Co-Founding band member, Jest Jammin'
Executive Director, Chinatown Community Development Center