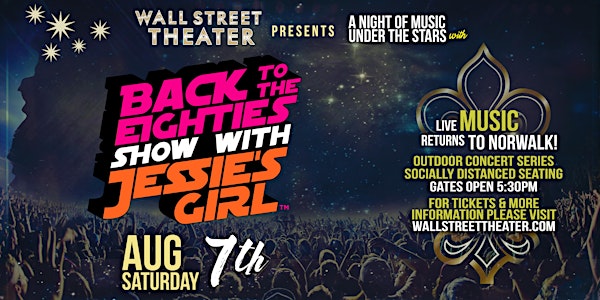 Location
Art Park at Wall Street
23 Isaacs Street
Norwalk, CT 06850
Back to the 80's with Jessie's Girl at the Wall Street Theater Outdoor Concert Series!
About this event
ALL TICKETS PURCHASED ARE TWO PERSON "PODS", TWO PEOPLE ALLOWED ENTRY PER TICKET FOR THAT "POD". BEVERAGES AND FOOD FOR SALE ON SITE, NO BYOB. RAIN OR SHINE, NO REFUNDS.
Back to The Eighties Show with Jessie's Girl is the World's Greatest Tribute to the music of the 80s! JESSIE'S GIRL's primary line-up includes a team of NYC's top rock and pop vocalists: Jenna O'Gara, Chris Hall, Mark Rinzel. They are backed by one of the tightest bands in the city comprised of 20+ year veterans of the NYC music scene: Eric Presti on guitar, Drew Mortali on bass, and Michael Maenza on drums, each with dozens of credits performing with authentic 80's icons who made the music famous to begin with!
In fact, BRET MICHAELS, MC HAMMER, COLIN HAY from MEN AT WORK, TIFFANY, DEBBIE GIBSON, TAYLOR DANE, MIKE SCORE from A FLOCK OF SEAGULLS, TONE LOC, ROB BASE and many more have all performed at the BACK TO THE EIGHTIES SHOW.
Before Covid 19, Back to The Eighties Show with JESSIE'S GIRL was a weekly show in NYC for over 8 years to Sold out crowds every weekend. The band is one of the hardest working bands around, does not stop with Saturdays or NYC! Their weeks are filled with high-profile appearances and private events around the US, bringing the BACK TO THE EIGHTIES SHOW to The Theater at Madison Square Garden for the I Want My 80s Concert, ABC / NY Magazine's launch party for THE GOLDBERGS, a Halloween bash with Academy Award winner JAMIE FOXX, a private birthday party for 80's icon NEIL PATRICK HARRIS and Coca Cola / Buffalo Wild Wing's massive "Tablegate" event in Tempe AZ opening for SMASHMOUTH!
The band has also recently enjoyed thunderous responses in packed rooms at prestigious regional venues such as Westchester's CAPITOL THEATRE and Long Island's PARAMOUNT THEATRE in Long Island, The Count Basie in NJ, Penns Peak in PA and so many other venues. They are the only band to play Every Year on The 80s Cruise and have firmed a deal to continue performing through 2023.
There is no decade like the Eighties and no party like THE BACK TO THE EIGHTIES SHOW with JESSIE'S GIRL.
FAQ:
What are the COVID requirements?
Masks must be worn while seated and watching the show, they can be removed only one eating and drinking. When leaving your designated space to use the bathrooms masks must be worn. Socially distanced spaces will be clearly marked; we ask our guests to respect those guidelines. Attendance is at the sole risk of the attendees, the venue accepts no liability.
What food and beverages will be available?
We will have water, soda and beer for sale - as well as food offerings for sale on site
Are there bathrooms available?
Yes! Bathrooms located right inside of the Wall Street Theater and will be open + available for patrons to use. Not portable, but clean, regular bathrooms
What am I permitted to bring into the venue?
We encourage patrons to bring lawn chairs or blankets to sit upon in their designated spaces. No grills or open flames of any kind.
Are dogs allowed?
No animals allowed. With the exception of service animals.
How do I get to the concert/ where should I park?
We suggest parking in the Yankee Doodle Parking Garage located - 3 Burnell Blvd, Norwalk, CT 06850. Then walk 5 mins to the ArtPark located behind the Wall Street Theater at - 23 Isaacs St, Norwalk, CT 06850.