Description
JESSICA TYSON
My BRCA Journey
Breast cancer affected me at a very young age. I lost my mother to breast cancer when I was only 7 years old. I still remember the last day that I saw her-- my dad and step mom had taken us to the hospital to visit. Up until that day, I had not been to the hospital at all. Looking back now, my parents must have taken me to see her that day because they knew the end was near. All I really remember from that day is going to the hospital, all of us leaving her room, and then my mother asking my step mom to stay behind so they could talk. I know now that my mom was asking my step mom to take care of the three of us, my brother, my sister, and me. We headed home from the hospital that day and the car was silent. I was 7, my brother 12, and my sister 16. As soon as we got home the phone rang and the voice on the other end told my dad that my mother had passed away. My brother and sister started crying, strangely I did not. I think due to my young age I had no idea what it all meant.
I remember being younger and staying weekends at my grandma's house. My grandma was a breast cancer survivor. One time, I walked in on her as she was changing and saw what looked like a huge hole on the left side of her chest--that image is forever stuck in my head. My grandma lived for many years but sadly, in 2009, she was diagnosed with breast cancer again and passed away in her late 70's.
My mother was diagnosed with breast cancer at 34 years old and died at 37. My mom also had a cousin that died of breast cancer in her 30's. My mom's aunt passed away from breast cancer in her 70's. A family so largely affected by cancer--my mom, my grandma, a cousin, an aunt. This is how cancer was on my radar.
"I have had yearly mammograms and breast ultrasounds every year since I was 24 years old--and every year I would be sitting and waiting thinking, "Is this going to be the time they find something--the year they will find cancer?"
For me, I have always felt that it wasn't a matter of IF I would get breast cancer but more of a matter of WHEN I would get breast cancer. I grew up without my birth mother and that really did something to me. I grew up with a fear of dying young, not living to see my children grow up and not being alive to know or spoil my grandchildren. I am married with 2 boys ages 8 and 10. My husband Telly and I have been together since 11th grade in high school--long before I knew anything about the BRCA gene or BRCA gene testing. I told him repeatedly that WHEN I got cancer I would have a mastectomy and a hysterectomy as I did not want to live in fear of more cancer. At that point, I didn't know you could have preventative surgery to lower your breast cancer risk before cancer actually struck. He understood my position and never questioned me. He continues to support me; since being tested for the BRCA gene he has been behind me 100% with all of my decisions.
In October, 2011, my older sister Stacy (41 years old) went to her OB/GYN and during her visit he suggested that she take the BRCA gene test. She really didn't know anything about the test but since her doctor suggested it, she took it. Two weeks later she went to get her results. Her doctor told her she was negative and that she had nothing to worry about and there was no chance of passing the gene on to her children. He folded up her results, placed them in an envelope and sent Stacy on her way. Around the same time, I saw a news story on Amy Shainman and her journey with the BRCA gene and hereditary cancer. After seeing the story, it got me thinking. I decided to meet with a genetic counselor. I called my sister to let her know that I was going to take the same genetic test she had taken.
Stacy gave me the envelope that contained her genetic testing results and I took it with me for my meeting with my genetic counselor. I told my genetic counselor that my sister Stacy was BRCA negative. My genetic counselor asked to see the paper with my Stacy's test results. Her mouth dropped. So did mine. We were both shocked. Stacy's OB/GYN had misread her BRCA test results. As the genetic counselor and I both looked at the paper, it clearly said "POSITIVE FOR A DELETERIOUS MUTATION". How could Stacy's doctor have read this test wrong? How could this happen? I had my own BRCA testing that day and then left the office to tell my sister her news. Needless to say, Stacy was devastated. I got her in to see the genetic counselor that same day. Stacy was already having some issues with her ovaries which concerned me--however, the doctors said they were just cysts and nothing to worry about. I never believed the saying "everything happens for a reason" (and I actually used to get very annoyed hearing people say it). Let's just say...now I am a believer.
As I expected my test came back positive. Stacy and I both began seeing doctors, scheduling tests, etc. I knew I was going to have a prophylactic (preventative) bilateral mastectomy. Stacy went ahead and scheduled her bilateral salpingo oopherectomy (this is the removal of both ovaries and both fallopian tubes, also known as a BSO). After her surgery, the pathology report came back--Stacy had cancer. She immediately began chemo treatments and had a full hysterectomy--fortunately after that surgery, the pathology report came back that she was cancer free. I then had a big scare as I had an abnormal spot show up on my breast ultrasound. That spot lead to an MRI and a phone call a few days before Christmas stating that I would need to have a biopsy. I thought to myself "this is it--cancer". Luckily, my biopsy came back all clear, no cancer. I knew I was going to schedule my prophylactic bilateral mastectomy but the waiting game after my biopsy just re-affirmed my decision to move forward sooner than later with the surgery.
I am about 5 months post-op from my prophylactic (preventative) bilateral mastectomy with immediate reconstruction. I opted to have a nipple sparing, skin sparing procedure. I can honestly say that the whole process was far easier than I thought it was going to be. I didn't have much pain at all, it was more of just a soreness. Everything is healing up nicely and my scars are already fading. I was even able to go back to work in 3 weeks.
The surgery reduced my risk of getting breast cancer from 87% to about 3%. I do have my moments when I miss my real breasts but then I stop and think "would I rather of kept them and risked losing my life to breast cancer and not see my children grow up?" The answer is always the same. I do not regret this decision at all and am grateful that this surgery was an option for me. I know I would have had this surgery even if reconstruction was not available. In the next few years, I am planning on having a hysterectomy. I am thankful for the knowledge I have gained, amazed at how empowered I feel, and grateful that my sister is alive. My sister and I have taken measures to ensure that breast and ovarian cancer will not affect us in the future.
Lastly, I want to emphasize the importance of seeing a genetic counselor if you are planning on having the BRCA gene test. It is so important to have a genetic counselor administer the test. You will be making important health decisions based on your test results. A genetic counselor knows how to counsel you before and after the genetic testing. They know how to correctly administer AND INTERPRET the test when it comes back. The national non profit organization FORCE -www.facingourrisk.org has great resources and can connect you with a genetic counselor in your area. For Palm Beach County FORCE support meetings and information please go to: http://floridaforce.eventbrite.com or call (561) 254-1867
Please note:
This is my story and contains information specific to my experience. Always do your own research and consult with your own medical professionals. This will help you make the best health decisions for yourself and your situation. If you don't know where to start, your best first step is to call a genetic counselor. To find a genetic counselor near you, contact the FORCE toll-free helpline at 1-866-288-7475, e-mail Palm Beach County FORCE Outreach Coordinator Amy Shainman at amys@facingourrisk.org, or call your local cancer or breast health center and ask them to connect you with their cancer risk assessment and genetic counseling program.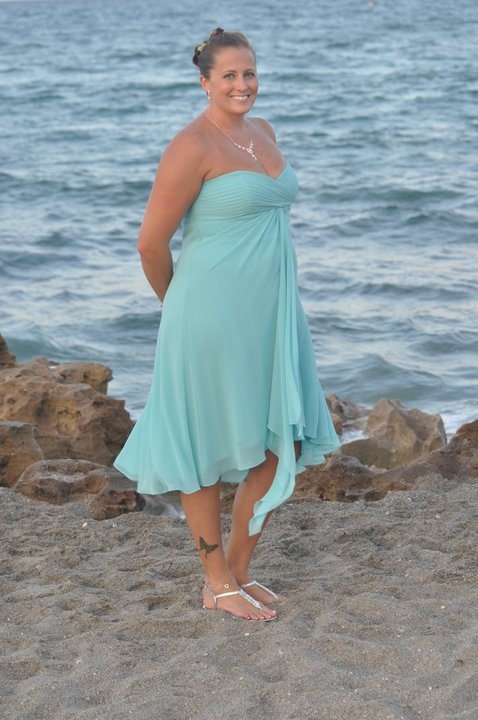 To view another BRCA story, please go to:
Debbie BRCA Story (EN ESPANOL)