About this Event
Jessica Rhaye
"Imagine wild camping, waking on a dewy morning, washing your face in a stream - that's how this record makes you feel." - AMERICANA-UK.com
Jessica Rhaye's latest release, Song In Me, embodies that ease with a collection of natural tunes that reflect the seasoned singer-songwriter's maturing sense of herself and the world.
Song In Me is Jessica's first collaboration with producer Dale Murray, who recorded its eight tracks in the living room of his country house in Port Howe, Nova Scotia, to get the warm, live feel that Rhaye sought.
Inspired by the likes of John Denver and Ryan Adams, Jessica's fifth full-length album shows the New Brunswick artist fully embracing her style. Unabashedly country on some tracks, she lets her rustic roots show as never before. Jessica, with her stunning vocals and lush melodies, has always moved easily between folk and Americana, but resisted the country label sometimes ascribed to her in the past. No more.
This album grew from a series of mellow Sunday-morning acoustic sessions with Chris Braydon, Jessica's long-time guitarist, and Sandy Mackay, a celebrated singer, songwriter and multi- instrumentalist, whose stand-up bass and playful spirit added a fresh element to the mix. The trio would meet weekly at her house, with its view over the Kennebecasis River and the woods beyond. The rural setting set the mood for a naturalist approach, and in the cozy confines of the threesome she felt encouraged to let her quirks - including idiosyncratic time signatures and unusual tempos - not just show but shine.
Song In Me shows a more outward-looking artist at work, one moving beyond personal experience.
Brent Mason
Brent Mason is a singer-songwriter who has traversed diverse territories of tune and theme in more than 20 years of music-making, bringing back souvenirs from a range of lyrical lands, from folk and rock to pop, country and beyond, and making them all his own.

He's something of a contradiction, that Brent: a folk singer who shuns that label, a solo performer who cares deeply about community, an instrumentalist whose guitar chops were hard-won over many years.

Mostly he's a storyteller.

Singing or speaking, Brent Mason's love of language shows. His live shows are legendary for their mix of narration and music, the former running from poetry to puns, the latter sampling from a menagerie of influences, from the novels of Jack Kerouac to music legends – Dylan, George Jones, Hank Williams, Johnny Cash, Lightnin' Hopkins, The Band. It is easy to picture Brent playing around a campfire, or on a boxcar, or at a halfway house. He is someone for whom the open road and the characters at the margins of society have always beckoned.

He's always been a writer, and came to his instrument later, after quitting a master's degree in environmental studies to join the carnival.

I really believed it was important to go down that lonesome highway," he says.

Despite the vintage of Brent's heroes and approach, he's no throwback. His music has a contemporary context, and influences. He is always pushing to make it new.

I hate the mundane, and I hate the predictable, he says. He follows ideas down narrative rabbit holes to see where they lead. Sometimes, the destination is discomfiting, as in the case of Song for Marc Lépine, about the perpetrator of the Montreal Massacre. ("Who is the man with the gun in his hand? Wouldn't we all like to know? Che Guevara's peeling off a wall.") Other times, there is a light at the end of the tunnel, and humour. Other routes open onto vistas of pure wonder, as with River Songs, his tribute album to New Brunswick's mighty St. John. It's an eclectic approach.

There's nuance, Brent concedes. But with ten albums to his credit he is at ease in his wide-ranging style, unapologetic in his multifarious approach.

All the Pretty Horses confirms CBC music critic Bob Mersereau's observation from when Old, New, Borrowed, Blue, Mason's penultimate album, dropped, that Brent is one of the most durable and prolific musicians on the East Coast. "You're up in the high ranks there, with a serious commitment to the job, and an obvious fan interest," Bob said on CBC Radio One at that time.

That album took the Folk/Roots Album of the Year at the 2012 Music NB Awards, where Brent was up for two other categories, as well. In 2010 he took the Popular Music Award at The Originals, part of Canada's Cultural Capital celebrations in Saint John. In 2007, he received the Stompin' Tom Award at the ECMAs for contributions to Atlantic Canada's musical traditions. He was nominated that same year for the ECMA for Folk/Roots Album of the year.

Mason has always been a solo performer, but he's no loner. He has played with a top roster of East-Coast talent, including Matt Andersen, David Myles, Catherine Maclellan, Ron Hynes, Joel Plaskett and others.

He has paid his dues. A director on the board of Folk Music Canada, he has served on committees for the East Coast Music Awards, the Canadian Country Music Awards and the Canadian Folk Music Awards, as well as the national Juno advisory committee for country music.

In his hometown, he is famous as the host of Open Mic night at O'Leary's. For Mason, "it's all about getting the moment going." And going. Now past its 20th having marked its thousandth edition in 2011, the weekly pub show is an institution, drawing a mix of seasoned session players and up-and-comers looking to hone their chops. Many a Maritime star has made a cameo on O'Leary's tiny stage, including Matt Mays, The Trews, the Trailer Park Boys, and George Jones' band.

Brent is as comfortable in front of a hometown crowd as he is on international stages or the small screen. His single Angel on the Tree was licensed for the CBC TV documentary Paramount. He wrote the original soundtrack for Grave Concerns, a nationally broadcast CBC TV series he wrote and hosted. In 2009, River Songs, his ECMA-nominated album inspired by the St. John River, was featured on that year's most-watched episode of Land and Sea.

His festival experience includes the Stan Rogers Folk Festival, Shivering Songs, Larlee Creek Hullabaloo, Saltyjam, and Lowell Celebrates Kerouac, in honour of the late author of On The Road. Kerouac biographer Dennis McNally called Wide Awake and Dreaming, Mason's ode to the famed beat author, "superb!"

Brent has played Nashville, and Norton, N.B.; Beijing and Brighton; Moncton and Manchester. Now, with some 400 songs under his belt, "I feel like I'm just figuring it out," he says.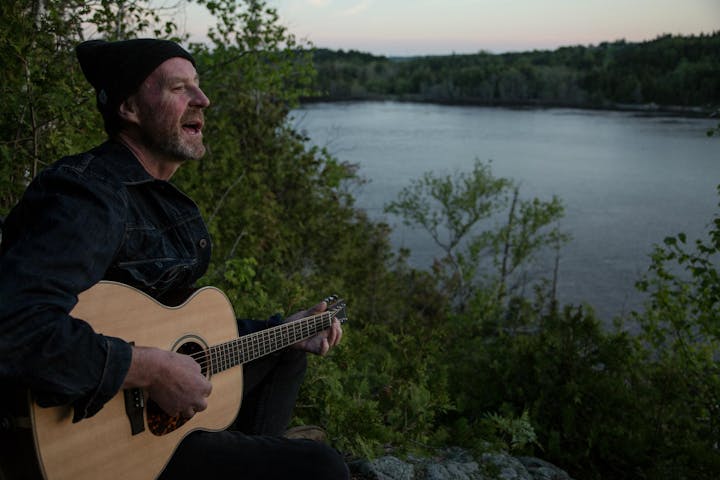 Performers
Date and Time
Location
Refund Policy