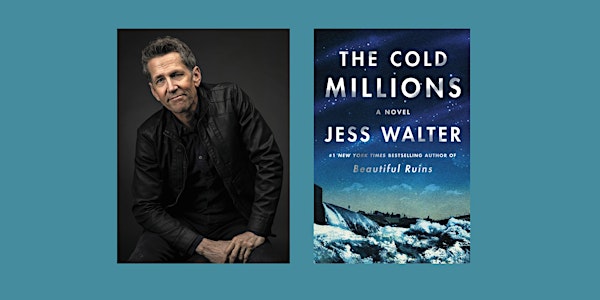 Jess Walter, author of The Cold Millions, with Karen Russell
Jess Walter, author of THE COLD MILLIONS, in conversation with Karen Russell - a ticketed virtual Boswell Book Company event
About this event
From Jess Walter, the author of the beloved bestseller Beautiful Ruins, comes his first novel in eight years. THE COLD MILLIONS is a rollicking historical novel about two orphaned brothers in 1910 Spokane. It's a town with mining and logging work during a time of rampant unemployment, terrible income inequality, and the rise of the Wobblies (the International Workers of the World or IWW) one of the most radical and progressive labor unions in American history.
For this event, Walter will be in conversation with Karen Russell, author of Swamplandia and Sleep Donation, a haunting novella praised by Stephen King, available in paperback on September 29.
The Dolan brothers live by their wits, jumping freight trains and lining up for day work at crooked job agencies. While sixteen-year-old Rye yearns for a steady job and a home, his dashing older brother Gig dreams of a better world, fighting alongside other union men for fair pay and decent treatment. Enter Ursula the Great, a vaudeville singer who performs with a live cougar, and who introduces the brothers to a far more dangerous creature: a wealthy mining magnate who will stop at nothing to keep his wealth and his hold on Ursula.
Dubious of his brother's idealism, Rye finds himself drawn to a fearless nineteen-year-old activist and feminist named Elizabeth Gurley Flynn, her passion sweeping him into the workers' cause. But a storm is coming, threatening to overwhelm them all, and Rye will be forced to decide where he stands. Is it enough to win the occasional battle, even if you cannot win the war?
Tickets are available for $23.19 (20% off the price of THE COLD MILLIONS), plus sales tax and ticket fee, and include "admission" on one device to the event. The first 60 folks to sign up will get a signed tip-in copy of The Cold Millions. Folks who sign up after that will either get tip-ins or a signed book with bookplate.