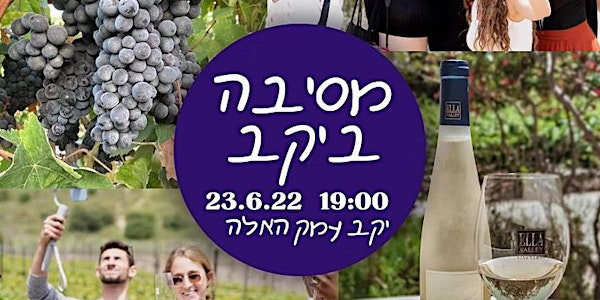 (Jerusalem) Party at the Winery! Bottomless Wine, Jazz & Night Out for You
Come celebrate the beginning of Summer with us at Ella Valley's beautiful winery at our PARTY AT THE WINERY!
When and where
Location
Emek ha-Ela Wineries Netiv HaLamed-Heh Netiv HaLamed-Heh, Jerusalem District 99855 Israel
About this event
(Hebrew Follows Below)
TIIF invites you to another PHENOMENAL Wine on the Vine event to start off the summer the right way!!
BOTTOMLESS WINE • JAZZ BAND • INCREDIBLE VIEWS
DATE: Thursday, June 23
TIME: 19:00
Location: Emek ha-Ela Wineries
What's Included:
Unlimited Wine
Transportation (make sure to choose that ticket option)
Jazz Music
Incredible company
*Cheese plates are available for purchase a la carte (Kosher)
Come celebrate with us at our PARTY AT THE WINERY at Ella Valley's beautiful vineyard. Take in a phenomenal night with an open wine bar featuring ALL of Ella Valley's most exquisite wines of the season!
Enjoy incredible live music with our unbelievable jazz band and have an unforgettable night with old friends and new ones in a stunning setting outside of the city in a beautiful vineyard. Come by yourself, come with friends, or bring a date with you for a special night to remember.
Pickup Details:
Jerusalem
TIME: 19:00
Location: Binyanei Hauma
Tel Aviv
TIME: 18:30
Location: Kikar Rabin
Please text 050-443-1013 for any questions.
We'll see you there!
This event is co-sponsored by JIC.
ABOUT JIC: Jewish International Connection: As a culture of migration takes over the world, it's vital that Jews are able to stay connected to their tribe. Whether they're looking for a warm welcome, a network of personal or professional connections, or a lasting relationship, JIC acts as a landing pad for young ambitious Jews around the world. With four branches around the world, New York, Miami, Tel Aviv, and Jerusalem, and connections to Jews everywhere, JIC helps migrating Jews establish themselves in their chosen city through exciting meetups and programs that nurture community, continuity, and connection to foster belonging and build meaning.
הצטרפו אלינו לערב מדהים ומיוחד שעוד לא חוויתם כמותו ובאו לחגוג את תחילת הקיץ באחד היקבים הכי יפים בארץ!
פרטי האירוע:
במקום מקסים וקסום רק 35 דקות מתל אביב ישנו יקב מיוחד עם נופים מרהיבים, אווירה מעולה ואנשים מדהימים. יקב עמק האלה! נמאס לכם לבקר באותם מקומות שוב ושוב ולראות את אותם האנשים שאתם כבר מכירים? בואו לחוות משהו אחר ומיוחד מחוץ לטרפת העירונית הרגילה. בואו לבד או עם חברים, בואו עם עצמכם או עם בני זוג לדייט מיוחד..רק תבואו. כי הולך להיות ערב מעולה!
יום חמישי, 23.06.22
שעה: 19:00
מה: מסיבה ביקב
איפה: יקבי עמק האלה
מה כלול בכרטיס שלי?
יין ללא הגבלה
הסעה הלוך ושוב מאירוע (יש לבחור כרטיס כולל הסעה או בלי)
הפעות של להקות מדהימות
נופים מרהיבים ביקב קסום
*ניתן לרכוש פלטות של גבינות ומטבלים במקום (הכל כשר)
הסעות יוצאות מ:
תל אביב
שעה: 18:30
מיקום: כיכר רבין
הסעה חוזרת לתל אביב ב23:30
ירושלים
שעה: 19:00
מיקום: בנייני האומה
הסעה חוזרת לתל אביב ב23:30
לפרטים נוספים נא לשלוח הודעה לסיון ב 050-443-1013
נתראה שם!