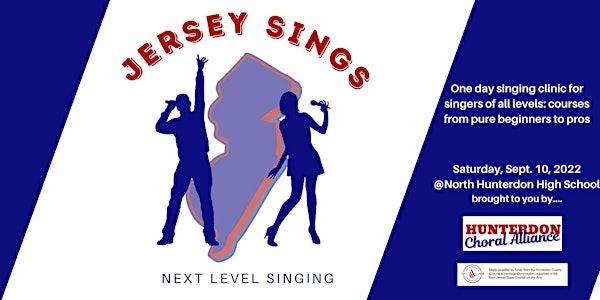 Jersey Sings! A Free Level Up Your Singing Event
One day singing clinic set up as a series of sessions in various tracks, from beginners to pros. Level up your singing with top clinicians.
When and where
Location
North Hunterdon Regional High School 1445 New Jersey 31 Clinton Township, NJ 08801
About this event
Jersey Sings is an action packed day of classes on vocal techniques and singing sessions where all participants will learn popular songs in one of three Jersey Sings choruses. The event is FREE for participants thanks to the support of the Hunterdon County Cultural & Heritage Commission. Separate "tracks" of events and activities are designed to meet the different degrees of experience of the participants, from beginner to pro ensuring everyone reaches that next level of singing.
What will the day entail?
Attendees should choose a track that suits their experience level. The attendees in each adult track will learn a song together that they will sing with a Hunterdon Choral Alliance chorus, while our Next Generation youth track will learn a song of their own. The day of classes and singing sessions will finish with a performance where attendees and Hunterdon Choral Alliance singers will have the opportunity to show off what they have learned to the rest of the event participants. Complimentary lunch will be available.
What is the cost to participate?
There is NO cost to participate. Donations to the Hunterdon Choral Alliance are welcome and may be considered a charitable contribution for tax purposes as the Alliance is a 501(c)(3) organization.
What are the "tracks"?
The day of singing is set up for everyone to grow their skills and knowledge as singers. From novice singers to professionals, there are a series of sessions geared for various levels of experience:
Ready Set Sing – for adults (18+) that have been casual singers, perhaps at home or along with the crowd at a concert or birthday party. Have wanted to learn how to sing and see if they have what it takes.
Experienced – adult singer that has some experience singing either in a chorus, solo or small ensemble. They may have a basic to intermediate level of comfort reading sheet music. Have performed for audiences. Looking to build on singing skills or even just ready to shake off the rust and sing actively again.
Masterclass – adult singers with many years of experience singing for audiences, either as a soloist or in ensembles. Comfortable sight-reading music and blending their voice with others. Comfortable singing melody or harmony. Seeking new tools to use in building more vocal artistry into performances.
Next Generation – high school singers seeking an opportunity to learn vocal techniques and apply them in a contemporary a cappella chorus. May have experience singing in choruses or interested in choral opportunities outside of school.
What song(s) will we be singing?
Ready Set Sing and Experienced track participants will learn Leonard Cohen's "Hallelujah" in delightful four-part harmony with the Hunterdon Harmonizers (all voices welcome).
Masterclass members will sing "Pure Imagination" from "Charlie and the Chocolate Factory" arranged by Ben Bram, the Grammy award-winning arranger for Pentatonix and a cappella groups in "Pitch, Perfect" "The Sing Off" and "Glee". They will be joined by Vocal Synergy.
Next Generation – "SING!" as performed by Pentatonix
Who are the teachers?
Ken Bryson
Mr. Kenneth Bryson currently serves as a Director of Choral Activities in Northern New Jersey as well as actively maintaining his private vocal studio. Additionally he serves as a mentor for The Juilliard School's Mentorship Program. Formerly Mr. Bryson served as a Director of Music at St. John's Lutheran Church in Summit, NJ. Mr. Bryson is also a published author whose article "Teaching a Student with Dyslexia" originally in the NATS March 2013 Journal of Singing has received much support and attention from some of the industries leading experts from around the world. He is also a member of The New York Singing Teachers' Association (NYSTA), National Association of Teachers of Singing (NATS), NAfME (National Association for Music Education) and ACDA (American Choral Directors Association). In June 2010 Mr. Bryson was selected as one of 12 young educators from across the United States to participate in the highly selective NATS Intern Program. In January 2016 Mr. Bryson's vocal studio was a featured invited performer with the Performing Arts Educators 10th Anniversary performance at Carnegie Hall in New York City.
Mr. Bryson received his bachelor of music degree from The Cincinnati College-Conservatory of Music and went on to earn a master's degree at The Juilliard School. He completed additional studies at the Pennsylvania Academy of Music.
Dana Goodstein
Dana Goodstein received her bachelors degree in Music Education with a concentration in Voice and a minor in Disabilities Studies from the University of Delaware. At UD, she was the assistant director and Vice President of Deltones a capella, directed two elementary musicals, and vocal coached student run productions. Dana currently teaches General Music, Choir, and Theatre at Lafayette School in Chatham, New Jersey. Dana's love for music began at a young age singing "42nd Street" in a recording booth in Nashville when she was 8 years old. Over the years, Dana's love for music and theatre blossomed performing in Summit High School's productions along with the Papermill Playhouse Broadway Show Choir. Since then, Dana has developed a love for directing and started the first ever 5th Grade Musical at her school. She plans to continue fostering the love for musical theatre in her students with a show each year.
Traveling is one of Dana's biggest passions. She has spent many summers with The Delaware Choral Scholars traveling to places like Israel, Greece, Malta, France, and Croatia singing with this esteemed group. She is also a member of the Gordon Institute for Music Learning and has her Level 1 Certification in General Music.
Pat Cerillo
Mr. Cerillo has a bachelor of arts degree in music and political science from Lycoming College, and a law degree from the Ohio Northern University, Claude W. Pettit College of Law. An accomplished vocalist, a cappella performer, trumpet and piano player, Cerillo's barbershop quartets have performed as a guest of Les Paul, at the Iridium Jazz Club in Manhattan, at the Stone Pony in Asbury Park, at the Count Basie Theater in Red Bank and also opened for Jeremy Jordan of Broadway fame at the Union County Performing Arts Center. Pat has served as part of the musical leadership of the Hunterdon Harmonizers for over two decades and is also an active performer with the Brothers in Harmony chorus in Hamilton, New Jersey and the ever popular Ovation Quartet.
Matthew Marinelli
Matthew Marinelli, a baritone and instrumentalist, is a recent graduate of Westminster Choir College with a Bachelor of Arts in Voice Performance. During his college years, he performed as both a vocalist and guitarist with the Westminster Choir as they toured throughout the United States, Spain, and China, and can be heard singing bass on their Martin Mass for Double Choir album. He also performed with Westminster's early music choir, Kantorei, as both a vocalist and mandolin player, and spent two years as music director of Westminster's all men's a cappella group, Soulfege.
In addition to his time in choral ensembles, Marinelli performed professionally and as a student in numerous operas including as the voice of a lead marionette in Cimarosa's Il Matrimonio Segreto and Figaro in Mozart's Le Nozze Di Figaro!
He currently teaches music lessons in piano, voice, guitar, and ukulele and sings professionally with several groups including the Philadelphia Symphonic Choir as well as the Hunterdon Harmonizers. Marinelli is well versed in many genres including classical, folk, bluegrass, country, blues, jazz, and rock.
Don Reckenbeil
Don served as the musical leader of the Hunterdon Harmonizers from 1998 through 2021, and has molded their unique a cappella sound and performance acumen. He is a certified director with the Barbershop Harmony Society, and a talented and prolific arranger. Besides being an excellent teacher and leader, he has also performed in several top-level barbershop quartets, and is active in his church music programs. Don now resides in Florida and makes frequent appearances with the Harmonizers from time to time.
Charles Ross
Charlie has over 30 years of directing and musical experience leading several church choirs and barbershop choruses. Charlie also has many years of theater experience playing many roles, as well as managing and technical experience working behind the scenes. He has performed with the Ridge Light Opera and is an accomplished soloist.
Charlie was a founder of the Atlantic Harmony Brigade – an annual congregation of barbershop quartet singers who learn a challenging common repertoire of songs and form countless quartets in a weekend of harmonic bliss. Charlie has performed at the highest levels of choral competition within the Barbershop Harmony Society and is an active quartet singer, currently singing lead with Vocal Synergy's "Cohesion" quartet.
Charlie studied voice for many years under Emile Renan in New York (Metropolitan Opera). Charlie is an executive with a global promotional marketing firm in Whitehouse Station, NJ and is an amateur astronomer.