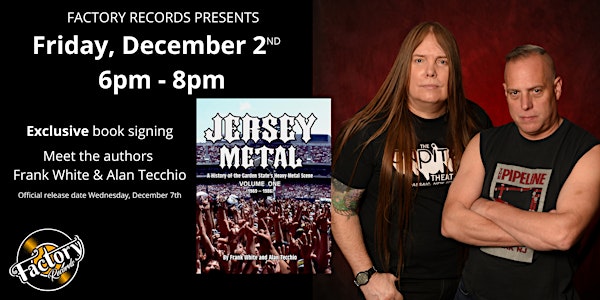 Jersey Metal Book Signing
Jersey Metal EXCLUSIVE book signing with Frank White and Alan Tecchio **Official release date is Wednesday, December 7th**
When and where
Location
Factory Records 158 West Clinton Street Dover, NJ 07801
About this event
Frank White has been a music photographer for forty-seven years, selling his photos nationally and internationally to a variety of music magazines, record companies, music TV programs, DVD companies, book companies and the Rock N' Roll Hall Of Fame. Frank also started The Frank White Photo Agency in 1986. He toured with bands as their photographer in the late 1980's and early 1990's and was the photographer for the Uncle Floyd TV show in 1998. Frank became an author in 2018 with two books in print to date. He has now become a co-publisher with Alan and they both started WT Publishing LLC.
Alan Tecchio has been a singer in Metal bands starting in the early 1980's with Prophecy, Aggressor, Hades, Non Fiction, Watchtower, All Time Low, Seven Witches, Power and more recently with Level Fields and Mike LePond's Silent Assassins. He has also been a writer, columnist, and graphic designer for nearly thirty years and has interviewed dozens of Metal bands
In Jersey Metal, Frank and Alan team up to offer a unique autobiographical perspective on NJ's Heavy Metal music history through photos, ads interviews and band bios. Jersey Metal Volume One 1969 to 1986 covers the early years to the mid 1980's of the formation of Heavy Metal here in New Jersey and how it became such an important part of the music scene in the Garden State. The book covers the Metal scene when bands started out as cover bands that rose to worldwide successful acts to local cover Metal bands, Metal tribute bands, original local Metal bands, and Metal bands that toured throughout the state over the years. There is also respect paid to the venues these groups frequented, the radio stations, record companies, stores, and the Jersey shore that all helped grow New Jersey's wild Heavy Metal scene.