Description
Sabado 21 de Diciembre 2019
Concierto Navideño con
Jerry Rivera y su Orquesta
w/ Special Guest
N'RUMBA
DJ Pablo Cano Sandoval
Doors: 8pm
Show: 9pm
21+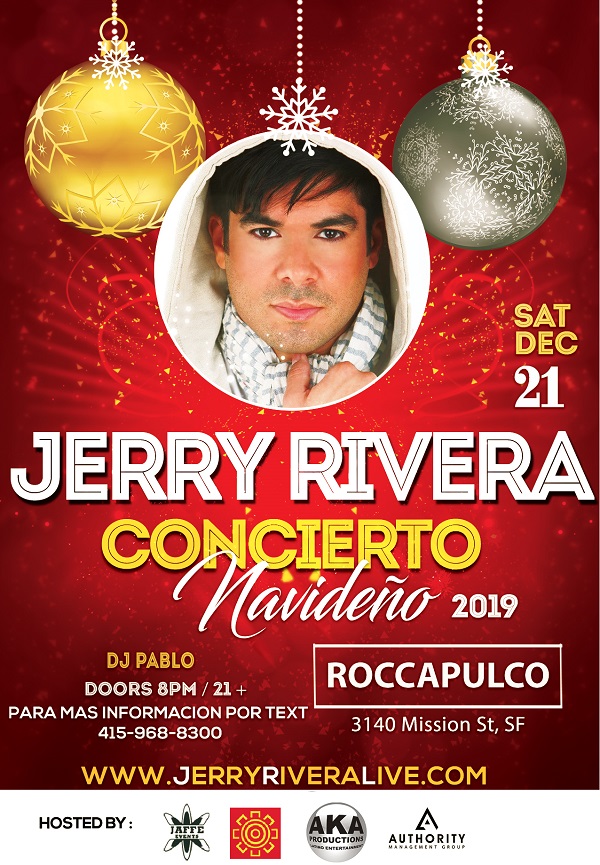 Jerry Rivera is a Grammy-nominated, multi-platinum salsa singer from Puerto Rico,
Rivera began to be known as "El Bebé de la Salsa" (the baby of salsa) after recording his first album, Empezando A Vivir, . This project generated the hit, De La Cabeza A Los Pies ("From Head to Toe"). His second album, Abriendo Puertas ('Opening Doors'), produced the hit songs Esa Niña ('That Girl'), Dime ('Tell Me'), Nada Sin Ti ('Nothing Without You'), and Como un Milagro ('Like a Miracle') became number one hits first in Puerto Rico, then among the Hispanic populations in the United States and finally across Latin America.
His third album, Cuenta Conmigo ('Count on Me'), won three Platinum Record awards in the United States, Puerto Rico, Venezuela and Colombia. It became the most-sold salsa album in history, a record previously held by Willie Colón,[4] and held the number-one spot in the Latin American Billboards for three consecutive months. Its hit songs included the Cuenta Conmigo, Me Estoy Enamorando ('I'm Falling in Love') and Casi Un Hechizo (Neary A Charm). The number one hit for the album was Amores Como El Nuestro(written by Panamanian songwriter Omar Alfanno) (Love like ours) which is considered to be the best song by Rivera. Rivera was awarded two Premio Lo Nuestro Awards for "Singer of the Year" and "Album of the Year" and Sony Records presented him with three Crystal Awards.[5]