About this Event
Jermaine Dupri, born as Jermaine Dupri Mauldin, is a popular record producer, rapper, and record executive from America. He is famous for his albums 'Life in 1472' and 'Instructions'. Besides this, he has produced many songs including 'Totally Krossed Out', 'Da Bomb', 'Hummin' Comin' at Cha',' Heart Mind & Soul', 'Other Side', 'One in a Million' and 'Traces of My Lipstick', to name a few. The rapper has worked with numerous artists in his career, the popular ones being 'Kris Kross', 'Usher', 'Mariah Carey', 'Monica', 'Janet Jackson', 'Alicia Keys', 'Da Brat', 'Jay-Z', 'Aretha Franklin' and 'Bow Wow'. Apart from being a rapper and record producer, Dupri is a songwriter, DJ, and a television producer as well. He was also a dancer in the hip-hop dance group 'Whodini' during his childhood days. He had started 'Rap Corna Guuds', his own store before becoming a rapper. Today, Dupri has become a household name and millions of people follow him on Instagram, Twitter, YouTube, and Facebook.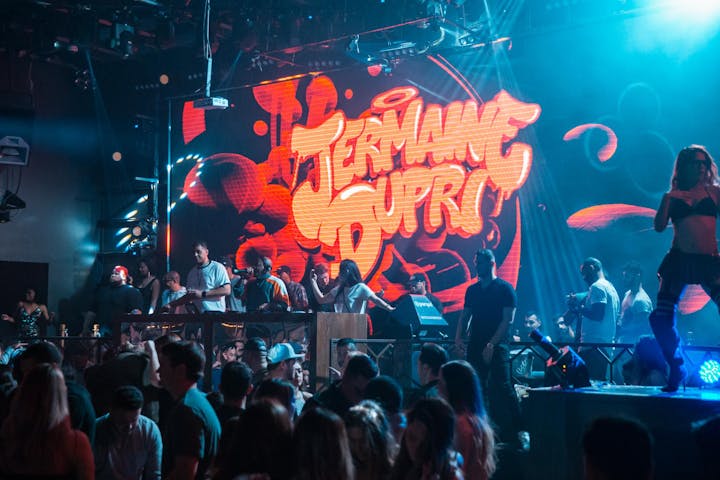 Parq is downtown San Diego's hottest nightclub. Parq features a 10,000 square feet main room, the largest HD LED wall on this side of the world (30 feet by 12.5 feet), aerial dancers, the industry's best hosts, 19 VIP tables and so much more...
Seeing is believing. #COMEPLAY at Parq, San Diego's newest playground!
FAQ:
This event is 21+.
Dress code is strictly enforced. Parq Nightclub is an upscale music and concert venue. Dress code is strictly enforced by Parq management. Board shorts, any shorts, or gym attire is not permitted. No sandals, flip flops, jerseys, gym shoes, sneakers, timberlands, or any work boots will be permitted in. No baseball caps, or hats, of any kind. No ripped denim or baggy clothing. No gang affiliated colors or attire will be permitted entry. No lewd or lascivious acts will be tolerated and absolutely no drugs or drug paraphernalia. Parq Management reserves all rights to deny entry and enforce dress code. It's is our mission and goal to keep our guests safe and out of harm's way.
Tickets are non-refundable.
All attendees must have a valid ID.
MUST PRESENT HARD OR E-TICKET UPON ENTRY.
Performers
Date and Time
Location
Refund Policy