Description
A Celebration of African and Caribbean Culture, Cuisine and Night Life!
SATURDAY, April 29 2017 at 7:30 PM - 2:00 AM (EST)
WHERE
Club Above
214 N. Main Street Ann Arbor, MI 48104
18 and up all night! >>> 21 to drink!
WHY?
Enjoy the vibes and energetic sounds of the Diaspora while enjoying African/Caribbean cuisine.
AFRICAN & CARIBBEAN CUISINE BY
&
Layout of Event:
DOORS OPEN 7:30 PM
Taste & Network [7:30 PM - 10:00 PM]
Party [10:00 PM - 2:00 AM]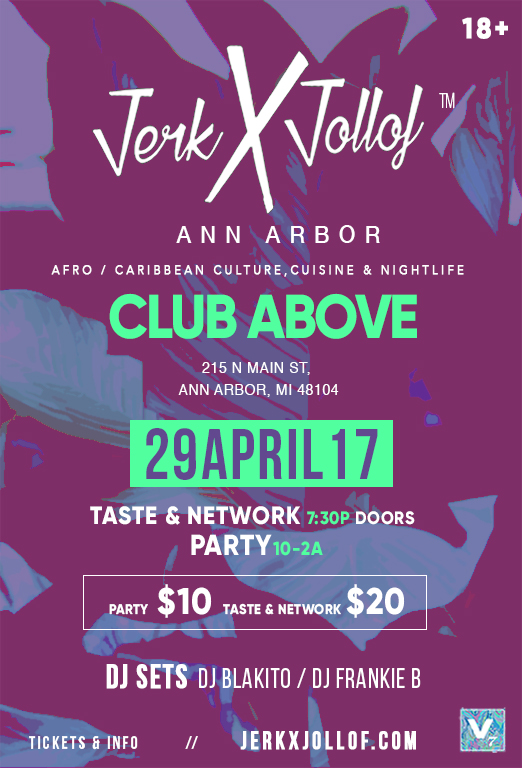 Disclaimer:
With ticket purchase, you consent to featured video and photo coverage of Jerk X Jollof experience.
LEGAL: Must be 18+ to attend. As a condition of your attendance at "JERK X JOLLOF", you agree and irrevocably consent to your image and/or likeness being captured on film and or video, the benefit of which shall vest in JERK X JOLLOF, LLC, it's licensees, successors and assigns, and may be distributed throughout the world in perpetuity, without limitation. All sales are final. With RSVP and/or ticket purchase you agree to receive communications from JERK X JOLLOF, LLC and Chukwudi Nwamba.