Jeremy Pinnell at Eddie's Attic in Decatur, GA!
About this event
Jeremy Pinnell
When Jeremy Pinnell released OH/KY in the summer of 2015 to stunned acclaim, it felt like an entire career compressed into one knock-out album. Hailed as, a "Mind-blowingly good" (Greg Vandy/KEXP) " "tutorial on classic country music" (Popmatters), Pinnell's debut immediately differentiated as authentic and unflinching. Dogged touring through Europe and the States and celebrated radio sessions followed, cementing Pinnell's position as a no-fuss master of his craft.
His 2017 album, Ties of Blood and Affection presented a canny lateral move. Instead of doubling down on the stark themes and values of his debut, the sophomore album found Pinnell finding comfort in his own skin, achieving the redemption only hinted at in his previous batch of haunted songs.
If the third time's a charm, Pinnell is all shine and sparkle on the forthcoming Goodbye LA. Produced by Texan Jonathan Tyler, the tunes buff the wax and polish the chrome on Country music's deeper roots. Rooted in his steady acoustic guitar, Pinnell's songs are shot through with honest and classic elements. The rhythm section, all snap and shuffle, finds purpose in well worn paths. The pedal steel and Telecaster stingers arrive perfectly on cue, winking at JP's world-wise couplets . Here slippery organ insinuates gospel into the conversation. You can feel the room breathe and get a sense of these musicians eyeballing each other as their performances are committed to tape. And through it all comes this oaken identity, the devastating centerpiece of his work. Honest and careworn, Jeremy's voice can touch on wry, jubilant, and debauched - all in a single line. At his best, Jeremy Pinnell chronicles the joy and sorrow of being human, which is the best that anyone could do.
HERE'S WHAT PEOPLE HAVE BEEN SAYING.
"Hardscrabble honky-tonk at its best, nodding to Johnny Cash and Buck Owens in equal measure. Ties of Blood and Affection is a stellar collection that could earn Pinnell comparisons to Sturgill Simpson." - ROLLING STONE
• "Kentuckian Jeremy Pinnell hits all the country-tune sweet spots. His voice is strong and a little mournful - - you can feel his ache seep through the speakers as you listen -- and the rhythm section shuffles along gently. Weepy pedal steel licks feel just right as Pinnell sings a regretful refrain of 'I did it again,' a familiar sentiment for any of us who've ever done a little backsliding." - THE BLUEGRASS SITUATION •
• "Sorrow and loss are deeply woven in to the country music fabric, but they're especially critical elements to the new LP by Jeremy Pinnell, OH/KY. With a gruff voice and a strong grasp on what real country sounds like, Pinnell spins a series of compelling yarns on the album that document the hardships of the past 18 years of his life, from drug addiction to failed relationships. These tunes are a tutorial on classic country music." – POPMATTERS
Kristina Murray
Not long after Kristina Murray moved to Nashville in summer of 2014, she accepted a friend's offer to start singing at the American Legion Post 82. Tucked away on the fringes of East Nashville, the Legion had not yet become the city's best destination for hearing traditional country music from a new generation of aspiring artists. From the stage, she watched as the crowds during Honky-Tonk Tuesdays grew over time, from about a dozen listeners to a full dance floor. All the while she nurtured her natural talent for songwriting and performing, collecting and crafting material that would form her second album, Southern Ambrosia.
Resplendent with pedal steel and electric guitar, the project draws on her love of classic country and Southern rock – and both influences get their rightful due on Southern Ambrosia (produced by Nashville musician and producer Michael Rinne). The album title comes from a lyric in "Strong Blood," nestled between references to the famous peaches of her native Georgia as well as the Allman Brothers' iconic album, Eat a Peach.
She explains, "In classic mythology, Ambrosia is the nectar from the gods – and to me, Southern Ambrosia is something that the South gives us that the rest of the world can't, which are these incredible, delicious peaches. And the Allman Brothers were very significant in my musical development—my folks always listened to their records and growing up in Georgia, that's such a huge influence all around. Duane Allman is still my favorite guitar player! So I wanted to honor those two truths."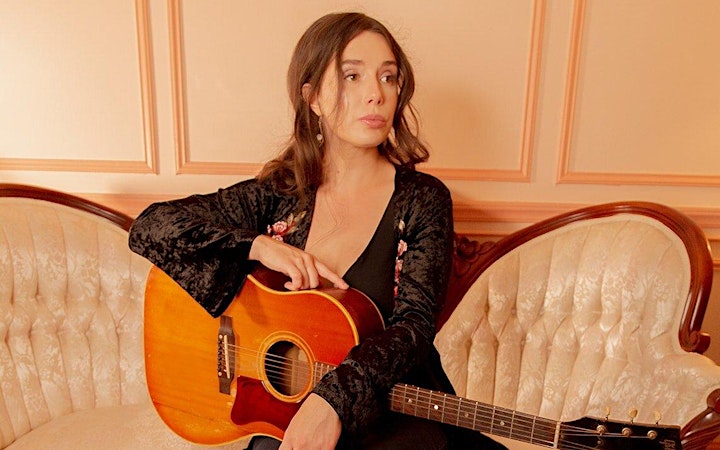 Performers
Date and time
Location
Refund policy