A night of smokin" blues via St. Louis and Dallas, Texas!
About this Event
Born and raised in St. Louis, Jeremiah Johnson is the voice of Mississippi River blues blending with the struggles of everyday life. He began learning guitar at age 6, drawing inspiration from his rich St. Louis blues heritage and legendary guitarists, like Alvin Lee, Eric Clapton and Hank Williams Sr. and Jr. With these influences, Johnson began building his musical foundation.
After relocating to Houston, TX, in 1999, Johnson finished in first place for three consecutive years at the Houston Regional Blues Challenges, sponsored by the Houston Blues Society. Johnson returned to St. Louis in 2009, and merged Texas style with STL blues to create the unique sound you hear today. The 10 years Johnson lived and performed in Texas changed his musical style in ways you can still hear in his music today. In 2011, Johnson was the proud winner of the St. Louis Blues Society IBC Challenge and went on to the semifinals to represent St. Louis in Memphis, TN. One year later, Sirius XM's B.B. King's Bluesville picked up the Jeremiah Johnson Band, where they can be heard nationwide, and they have been playing his music ever since. You can also hear Jeremiah Johnson on Touch Tunes Jukeboxes in bars/clubs across the US and on radio stations around the world. In September 2014, Johnson filmed his docu-concert, Ride the Blues, directed by Australian Producer/Director Gary Glenn, at the historic Capitol Theater in downtown Burlington, IA. The film is live music video about Johnson's rise to prominence, featuring intimate interview segments, still photography, guitar solos and stunning vocals. Donations from concert attendees were generously given to the theater and to the National Blues Museum, connecting Johnson's roles of musician and music advocate. 2014 Johnson records Grind, produced by Devon Allman, features Grammy award winner Yonrico Scott on drums. Grind has been featured on SiriusXM's B.B. King's Bluesville, and on the international radio show "Confessing the Blues", broadcasting on 50 stations in 10 countries worldwide. Grind reached the #8 slot on the Billboard Blues Charts the week of November 7th, 2015.
Johnson follows the success of Grind with a self-produced release, Blues Heart Attack, released worldwide on July 22, 2016. This unique record is a blend of Johnson's entire musical career. "It's a combination of our earlier works, and then Grind," he explained. "There's horns and keyboard reminiscent of Brand Spankn' Blues, but also some heavy guitar driven tracks. It's the evolution of everything in a Blues Heart Attack." Special guest performers include Tom 'Papa' Ray on harmonica, and Nathan Hershey on keys. Blues Heart Attack reached #5 on the Billboard Blues Charts following its release in 2016.
After signing a record deal with Ruf Records in March of 2018, Jeremiah immediately went to Texas to record his debut Ruf Records release,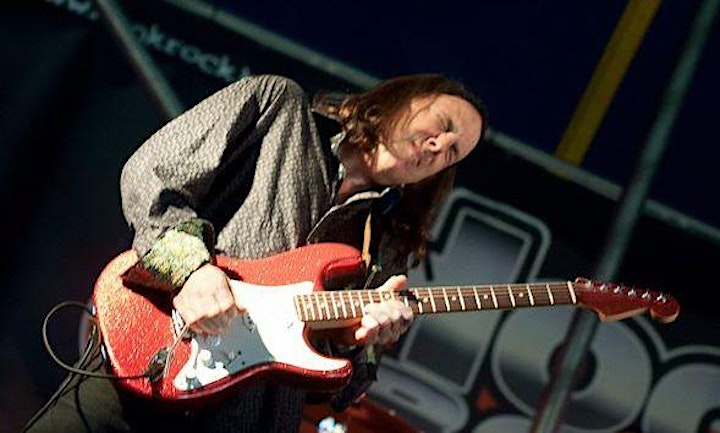 Jim Suhler and his band Monkey Beat have been on the music scene now for over twenty two years and have built a fanbase worldwide. The Dallas, Texas based group are known for their no holds barred approach to blues inspired rock 'n roll and roots music. Their four Lucky Seven releases, two releases on Underworld Records and Jim's solo acoustic CD 'Dirt Road' on Topcat records have shown an amazing depth of songwriting and playing, and their constant touring both in North America and Europe has garnered many admirers and accolades.
The band has worked in the past with noted producers Terry Manning (ZZ Top, Led Zeppelin, Stax records, etc.), and Jim Gaines (Santana, Stevie Ray Vaughan) and Grammy Award winning producer/songwriter Tom Hambridge. Jim is also well known as lead guitarist with George Thorogood & the Destroyers since 1999, and has had his songs used in feature films (Spun, Wallace & Grommit) and is a multiple nominee in the prestigious Dallas Observer Music Awards, plus he is a member of BUDDY, Texas' oldest music magazine Texas Tornado Hall of Fame.
Performers
Date and Time
Location
Refund Policy