Description
Singer, songwriter, guitarist, and rock & roll aficionado, Jere Mendelsohn, is excited to open for fellow New Jersey natives, Southside Johnny and The Asbury Jukes.
On the heels of his recently released album, "Old Sins, Long Shadows," Jere has worked up the songs from the record with a lock-tight band made up of some of Southern California's premier players. Jere's timeless songwriting and inspired approach have been likened to The Smithereens, The Beatles, John Hiatt, and the late, great Tom Petty, making him the perfect fit on a bill with Southside.
November 3, 2017 at The Rose in Pasadena, CA
Doors 6:00 PM Music at 7:00 PM
Jere Mendelsohn: 8:00 PM
Southside Johnny and The Asbury Jukes: 9:00 PM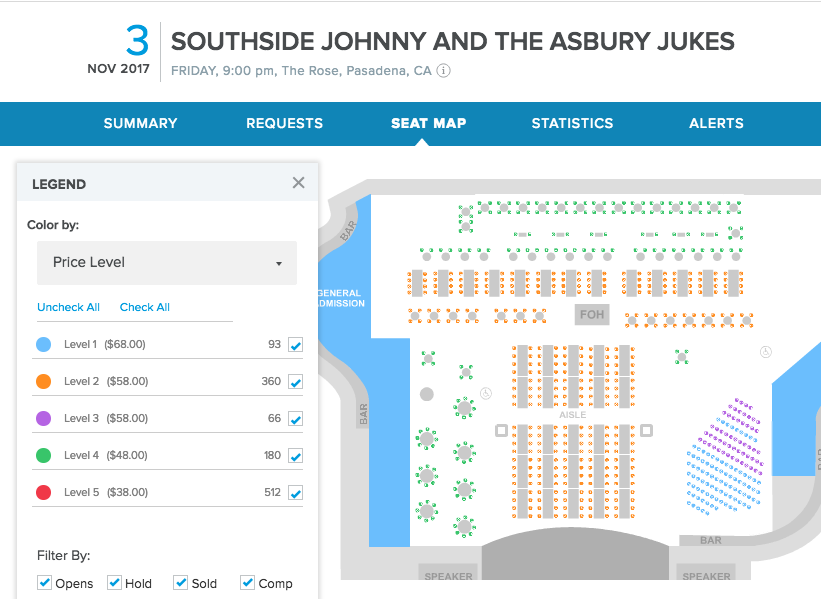 Multiple ticket prices available:
$38: Standing Room Only
$48 & $58: Seats and tables available, see seating chart
$68 seats: Sold Out!
Tickets are going quickly for this event that you won't want to miss! Buy your tickets now through this Eventbrite page and support Jere directly. Please do not buy tickets via Ticketmaster or The Rose's website or Jere will not be credited with the sale.
ALL SEATS MUST ARRIVE BY 7:00 PM
If you purchase a ticket at a table you are required to purchase dinner. Minimum spend is $25.0 per person. You must arrive by 7:00 PM.
Under 18 Must Be Accompanied by a Paying Adult.
A note from Jere Mendelsohn about his most recent album:
I conceived Old Sins, Long Shadows as an anthology of musical short stories linked by themes such as love, loss, romance, sorrow, innocence, searching, and yearning. I wanted to recapture the joy I first felt (and continue to feel) making music by putting a contemporary spin on specific styles, eras, and in some cases, artists that resonated with me emotionally, and made my kid's world come alive through sounds and lyrics. I'm an admitted Romantic and a sucker for a great melody (my 60s influence), as well as a guitar solo junkie (my 70s adolescence). Collaborating with an exceptionally talented and sympathetic team of friends, we captured the spirit, emotions, and vibe of a time when songs were an integral part of our lives, whether alone in our rooms, huddled together over a turntable, or blasting from a choir of transistor radios belonging to fellow-travelers stretched along a sunny strand of beach.
"Old Sins, Long Shadows" is my jingle-jangle morning; I invite you to come follow.
About Southside Johnny and The Asbury Jukes:
Southern California music lovers, you are in for a rare treat, when East Coast rock icons Southside Johnny And The Asbury Jukes invade the stage at The Rose for the very first time!
For Southside Johnny and the Asbury Jukes – 'comfortable' has never been a word associated with their brand of raucous, roots-tinged rock and bluesy reverie. The Jukes have more than 30 albums on their resume, thousands of acclaimed live performances across the globe, and a vibrant legacy of classic songs that have become "hits" to their large and famously-dedicated fan base.
Southside Johnny and the Asbury Jukes first achieved prominence in the mid-1970s, emerging from the same New Jersey Shore music scene as his now legendary contemporary and friend Bruce Springsteen. Southside's first three albums, I Don't Want To Go Home, This Time It's for Real, and Hearts of Stone, were produced by band co-founder Steven Van Zandt (E Street Band, The Sopranos), and largely featured songs written by Van Zandt and/or Springsteen. The Van Zandt-written "I Don't Want To Go Home" became Southside's signature song, an evocative mixture of horn-based melodic riffs and sentimental lyrics. In 1982 Rolling Stone Magazine voted Hearts of Stone among the top 100 albums of the 1970s and 1980s. With their classic blend of hard-core R&B and street-level rock, molten grooves, soulful guitar licks and blistering horn section, Johnny and his Jukes continue to put their unique stamp on the Jersey Shore sound, while recalling the glory years of Otis Redding and similar Stax Records titans.