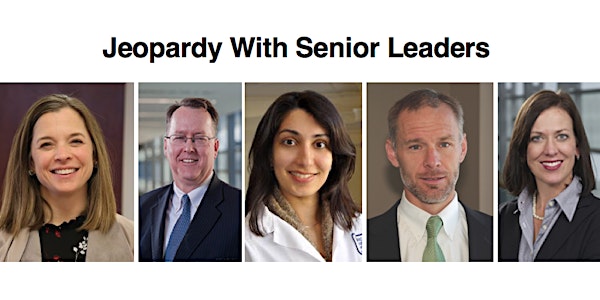 Jeopardy With Senior Leaders
When and where
Location
Brigham and Women's Hospital, Zinner Breakout Room
Description
Interested in connecting with other young professionals and notable hospital leaders while playing a friendly game of Brigham-based Jeopardy?
Join the BWH YP in welcoming:
Kelly Fanning, MBA, Senior Director of Population Health Management for BWPO and Executive Director for Ambulatory Services.
Bill Johnston, MPA, Chief Operating Officer and Treasurer for the BWPO and Senior Vice President for Ambulatory Services.
Sonali Desai, MD, MPH, Medical Director for Ambulatory Patient Safety, Medical Director of Quality for the Department of Medicine, Associate Physician at BWH and Assistant Professor of Medicine at HMS.
Tom Walsh, MBA, Vice President of Analytics, Planning and Performance Improvement.
Shelly Anderson, MPM, Senior Vice President for Brigham Health Strategy, Clinical Operations and Imaging Services.
Come to learn about these leaders and their important roles in the hospital, and show your knowledge of Brigham!
Food will be provided. Registration is required and will be first come, first served.