JENSEN 6/27/17 PRE-CONFERENCE: Mean Girls: Behind the Screen - Addressing & Preventing Bullying, Cyberbullying & Relational Aggression

Tuesday, June 27, 2017 from 1:00 PM to 4:00 PM (PDT)
Event Details
1:00 pm - 4:00 pm
Mean Girls: Behind the Screen
Addressing & Preventing Bullying, Cyberbullying & Relational Aggression
Steph Jensen
 Technology and social media plays an increasingly large role in the social development of our kids today.  Studies show that the average child (ages 7-17) spends up to 10 hours a day in front of a screen or device.  Social media platforms have become a staple for young girls in their effort to stay connected to peers and parents. As girls spend more time trying to stay "connected" on-line, they actually become more disconnected.  Studies show a correlation between the amount of time spent on social media and personal life dissatisfaction.  Girls create elaborate identities and personas on-screen; but do you ever wonder what is going on behind the screen? As girls experience the turbulent times of childhood and adolescence they often turn to social media to cover their fears, confusion and anxiety from the outside world.  If left untreated, girls are twice as likely as boys to develop an internalizing disorder such as depression or anxiety by mid-adolescence.  The better we understand what is hidden behind the screen of "mean girls" the more effective we become in promoting the healthy development of confident, strong and happy girls.
Objectives:

Learn how social media affects brain development

Develop an understanding of how social media can impact mental health.

Discover Strategies to teach Netiquette: Send means Said

Create a plan for effective communication in the digital and real world

Apply Aggressors Anonymous: Tools to Address Social Media Addiction
About the Presenter: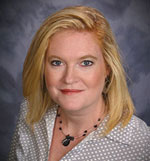 Steph Jensen has held positions as classroom teacher, team leader, administrator, trainer, education consultant and national speaker. She also holds a master's degree in clinical counseling focusing on her efforts on adolescent and family issues. In recent years Steph has applied her passion for adolescents to focus on the dynamics of relational aggression, cyberbullying and sexualized bullying. She has spoken at national conferences and school districts across the country - combining research, practical strategies, prevention planning, parent education, crisis intervention, and curriculum implementation in her presentations. She is the author of Thrive in the Hive and Princess Priscilla and the Bully-Bee Day.
When & Where

Caesars Palace
3570 S. Las Vegas Blvd
Las Vegas, NV 89109


Tuesday, June 27, 2017 from 1:00 PM to 4:00 PM (PDT)
Add to my calendar
Organizer
Developmental Resources Conferences
AccuTrain's Developmental Resources division is a leader in providing instructor-led continuing education. Calling upon nationally renowned authors and experts in the areas of relational aggression, behavior management, groundbreaking teaching strategies, working with students with emotional/behavioral challenges, school safety and innovative counseling techniques, Developmental Resources offers a host of webinars, public seminars, on-site training options and national conferences.
For questions about this event, email pd@accutrain.com or call 800-251-6805.
HOW TO REGISTER:
We also accept registration forms and school purchase orders by:
Fax: 888-372-6061
Mail:
AccuTrain/Developmental Resources
208 Ash Ave., Suite 103
Virginia Beach, VA 23452
Email: pd@accutrain.com

JENSEN 6/27/17 PRE-CONFERENCE: Mean Girls: Behind the Screen - Addressing & Preventing Bullying, Cyberbullying & Relational Aggression