Description
The Interval at Long Now welcomes

Jennifer Petersen (UVA; fellow at CASBS at Stanford)

When Freedom of Speech is More Than Words: Expression from Film to Code
Check-in begins 6:30pm; talk will start 7:30pm sharp at The Interval at Long Now

By law "speech" once meant "words," literally. The interactions of culture, technology and the law have over time broadened that definition and expanded protections to cover images and gestures. Drawing on material from her forthcoming book, Dr. Petersen will review that progression.
How did we get from pre-01920s legal cases, when image and gesture in silent film was judged too "primitive" to be protected, to the 01940s when utterances in film start to be recognized as First Amendment rights? And what can we learn from that history, a century later, as computer programs and algorithms make their first appearances in Freedom of Speech cases? Where do we stand and how will we evolve on the question of whether machine actions "speak"?

On Murder, the Media, and the Politics of Public Feelings:
[Petersen] breaks new ground by showing how national and local media coverage interact and how popular emotion and public legislation work together.
— John D. Peters, author of Courting the Abyss: Free Speech and the Liberal Tradition
Long Now members can view a free livestream of this event online.
Join Long Now for access to live streams of our Seminars and Interval events.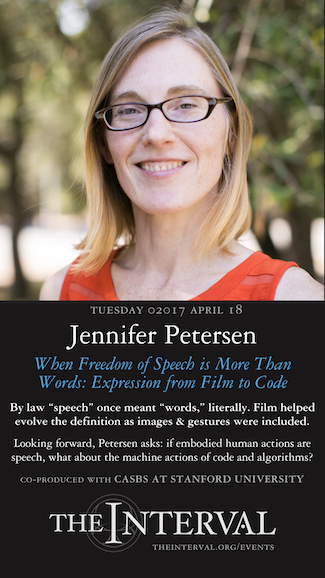 Jennifer Petersen is an associate professor in the department of media studies at the University of Virginia where she is also a fellow at the Institute for Advanced Technology in the Humanities. Her interests focus on media and law, technology studies, historical understandings of emotion, and conceptions of the public sphere.

She is working on a new book that examines how underlying legal understandings of what constitutes "speech" within free speech law have changed over the 20th century, from a narrow conception of verbal and written discourse to a broad conception of affective and aesthetic expression (e.g. nude dancing, abstract painting). Research on this project has been published in New Media & Society and Cinema Journal and has been supported by the National Endowment for the Humanities.
This project continues Petersen's research on the way that media technologies and cultures shape legislative processes and the content of the law. Her first book, Murder, the Media, and the Politics of Public Feeling (Indiana, 02011), charted the way different emotions were encouraged in media discourse on the murders of Matthew Shepard and James Byrd Jr., and the role these feelings played in the formation of activist publics and the passage of hate crimes legislation in the wake of each murder.
Petersen earned her PhD in the Radio-Television-Film Department of the University of Texas at Austin. She also received an MA in Journalism from UT-Austin, and a BA in literature from University of California at Santa Cruz.
This event is co-presented by the Center for Advanced Study in the Behavioral Sciences (CASBS) where Jennifer is currently a fellow.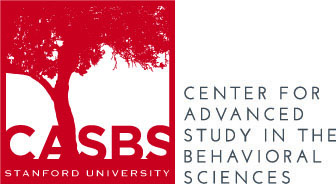 Since 01954 CASBS has been a preeminent national and international locus for cutting-edge, interdisciplinary, and transformative thinking and research on some of the most important challenges and issues. Its aim is discovery in the service of advancing social science methods, theories, and topics that address and answer socially significant questions. At the heart of the CASBS enterprise is its residential fellowship program, which attracts the finest minds from psychology, sociology, economics, political science, anthropology, history, philosophy, linguistics, and related disciplines.
Long Now members hear about Interval events first: become a member today
Above: still from Max Linder's L'Ingénieux attentat (01910). Below: from Thomas Edison's The Magician (01900)