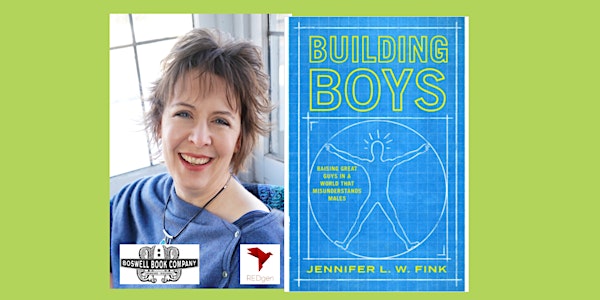 Jennifer LW Fink, author of BUILDING BOYS - an in-person Boswell event
Jennifer LW Fink, author of BUILDING BOYS - an in-person Boswell event
When and where
Date and time
Starts on Tuesday, April 11 · 6:30pm CDT
Location
Boswell Book Company 2559 North Downer Avenue Milwaukee, WI 53211
About this event
Boswell Book Company hosts an evening with Jennifer LW Fink, author of Building Boys: Raising Great Guys in a World that Misunderstands Males.
We want to raise well-rounded human beings—we're just not quite sure how best to do it. Building Boys is written by an in-the-trenches #boymom who intimately understands male development and the challenges currently facing boys and their families. Fink offers ten rules that parents can use to guide their parenting choices throughout their sons' lives—guidelines that are as relevant to parenting toddlers as they are to parenting teenagers. These rules range from emphasizing emotional intelligence to letting your son struggle and ultimately accepting him as he is. Fink explains both the science and research behind each rule as well as stories and anecdotes from families, including her own. Parents are taught how to apply the rule to a variety of common parenting challenges. And because these rules are broad, they are as applicable to boys with ADHD, autism and learning challenges are they are to neurotypical boys.
From Michael Reichert, author of How to Raise a Boy: "Building Boys starts with a critical acknowledgement - that boys confront a world of stereotypes - and offers a roadmap for parents wanting to help them hold onto their true selves. At a time when masculinity itself is weaponized, it is refreshing to hear from a savvy mother who simply wants all our sons to flourish."
Jennifer L.W. Fink has been parenting boys for two decades. An award-winning freelance journalist, she is the author of the book The First-Time Mom's Guide to Raising Boys: Practical Advice for Your Son's Formative Years. She's also the founder and creator of BuildingBoys.net, a website and global community for parents of boys, and co-host of the podcast ON BOYS: Real Talk about Parenting, Teaching, & Reaching Tomorrow's Men.
Click here to order your copy of Building Boys. Signed copies and personalization available on pre-orders. Please note that signed copies will not be shipped until after the event.