Event Information
Location
Jessen Auditorium
200 West 21st Street
Austin, TX 78712
Join us for a lecture and book signing with Pulitzer Prize–winning Author Jennifer Egan
About this event
Author Jennifer Egan (A Visit from the Goon Squad, Manhattan Beach, and The Candy House) will discuss some circuitous paths that have led to unexpected leaps in her fiction writing, including reporting about closeted gay teens for The New York Times Magazine in the early aughts, and reading The Three Pigs to her kids. Egan will retrace the steps whereby fiction arose and took shape from those duties, thus demonstrating that virtually anything—and therefore everything—can be bent to the purpose of innovative storytelling. Book signing and reception at the Harry Ransom Center following the lecture.
This event is presented in connection with the 2022 International David Foster Wallace Society Conference. Egan has noted, "Wallace was an innovator extraordinaire; his leaps, both as a fiction writer and as a journalist, helped me to see the infinite possibilities of both forms—and the deep storytelling links between them."
Sponsored by the International David Foster Wallace Society and the Harry Ransom Center.

Event Registration & What to Expect
Please register via Eventbrite to attend this in-person event.
Member/Conference attendees and general check-in stations will be located outside of the Jessen Auditorium.
The lecture will take place in Jessen Auditorium.
Doors will open at 6:00 p.m. and the event will begin at 6:30 p.m. Seats not claimed by 6:20 p.m. may be released.
The lecture will run for 45-60 minutes.
Please note: Only copies pre-purchased through the Ransom Center are eligible to be signed by the author.

There won't be a live stream or recording available.
A reservation does not guarantee a seat. Line forms upon arrival of the first patron, and doors open 30 minutes in advance. Attendees must present printed or electronic confirmation for entrance. Seats not claimed by 6:20 p.m. may be released.
Questions? Please email webmail@hrc.utexas.edu or call 512-471-8944.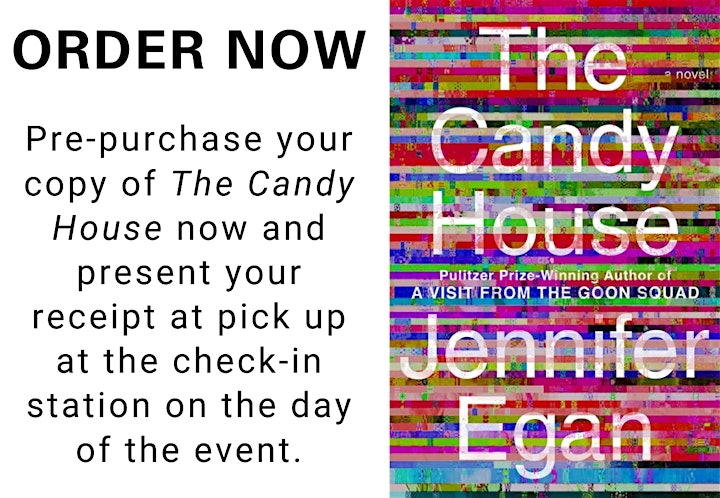 By Pulitzer Prize–winning Author Jennifer Egan
Named a Most Anticipated Book of the Year by Time, Entertainment Weekly, Vogue, Good Housekeeping, Oprah Daily, Glamour, USA TODAY, Parade, Bustle, San Francisco Chronicle, The Seattle Times, The Boston Globe, Tampa Bay Times, BuzzFeed, Vulture, and many more!
From one of the most celebrated writers of our time, a literary figure with cult status, a "sibling novel" to her Pulitzer Prize– and NBCC Award–winning A Visit from the Goon Squad—an electrifying, deeply moving novel about the quest for authenticity and meaning in a world where memories and identities are no longer private.
The Candy House opens with the staggeringly brilliant Bix Bouton, whose company, Mandala, is so successful that he is "one of those tech demi-gods with whom we're all on a first name basis." Bix is 40, with four kids, restless, desperate for a new idea, when he stumbles into a conversation group, mostly Columbia professors, one of whom is experimenting with downloading or "externalizing" memory. It's 2010. Within a decade, Bix's new technology, "Own Your Unconscious"—that allows you access to every memory you've ever had, and to share every memory in exchange for access to the memories of others—has seduced multitudes. But not everyone.
In spellbinding interlocking narratives, Egan spins out the consequences of Own Your Unconscious through the lives of multiple characters whose paths intersect over several decades. Intellectually dazzling, The Candy House is also extraordinarily moving, a testament to the tenacity and transcendence of human longing for real connection, love, family, privacy and redemption. In the world of Egan's spectacular imagination, there are "counters" who track and exploit desires and there are "eluders," those who understand the price of taking a bite of the Candy House. Egan introduces these characters in an astonishing array of narrative styles—from omniscient to first person plural to a duet of voices, an epistolary chapter and a chapter of tweets.
For more information on this speaker please visit www.prhspeakers.com.
Date and time
Location
Jessen Auditorium
200 West 21st Street
Austin, TX 78712