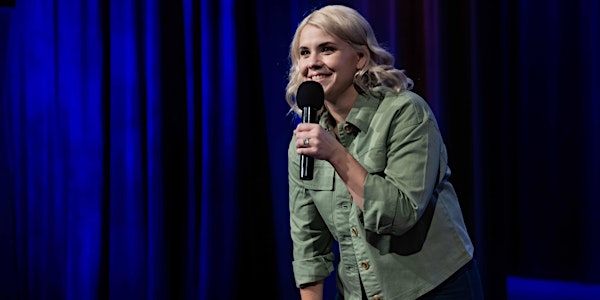 Jenna Kim Jones: Who Is She?! - Stand Up Comedy!
Jenna Kim Jones is your kind of comedian if you love funny, observational, self-deprecating, slice of life comedy that's safe for work.
Date and time
Starts on Saturday, July 1 · 7pm EDT
Location
Charles Wadsworth Auditorium 25 Jefferson Street Newnan, GA 30263
About this event
Introducing Jenna Kim Jones - the comedian for the everyday woman. With three kids and a happy marriage, Jenna brings a fresh perspective to the world of comedy as she shares real- life humor that anyone can relate to. Her live shows leave women everywhere raving about how she finally speaks to them on their level.
Jenna started performing stand-up during her time working at 'The Daily Show with Jon Stewart' and has since released 3 audio specials, all of which have featured on SiriusXM's 'Laugh USA', and one video special for 'Dry Bar Comedy' which has received millions of views online. Jenna has been described as Anjelah Johnson meets the female version of Jim Gaffigan, Jerry Seinfeld, and Brian Regan all rolled into one winning package.
Jenna's comedy is clean, allowing the whole family to enjoy her straightforward and genuine take on life, all while remaining original and unadulterated. Jenna is a comedian who is truly able to connect with the everyday woman: from Millennials feeling seen and understood, to Grandmothers who can easily associate with her timeless recounting of the follies and pitfalls of life.
It's her unpretentious, authentic, and fresh comedy style that shows she really is THE comedian of the moment, able to uniquely speak to the everyday woman by regaling audiences with a Walmart full of relatable topics. From the funny day to day realities of shopping at Costco, to the unwanted suggestions of her mother, to the ridiculous lengths women go to for their perfect pregnancy photos.
Jenna is one of comedy's rising stars in her ascendancy. Selling out comedy-clubs across America, she's also a regular feature on Laugh USA and Jeff Foxworthy's and Larry the Cable Guy's 'Comedy Roundup' Channels. Year to date, Jenna is the 8th overall and 2nd most played female comedian across all 10 SiriusXM comedy channels. Which can only mean one thing: the people have spoken, and they want more of Jenna!
This show will be audio and video recorded and widely distributed through public platforms such as Spotify, Apple Music, YouTube.
Frequently asked questions
Can I get a refund on my tickets?
What kind of comedy is this show? Is it dirty?
What time should I get to the venue?