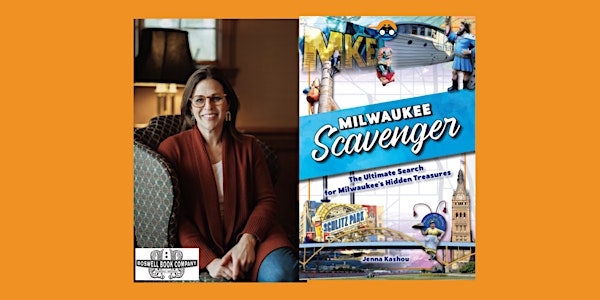 Jenna Kashou, author of MILWAUKEE SCAVENGER - an in-person Boswell event
Jenna Kashou, author of MILWAUKEE SCAVENGER - an in-person Boswell event
When and where
Location
Boswell Book Company 2559 North Downer Avenue Milwaukee, WI 53211
About this event
Boswell Book Company hosts an evening with Jenna Kashou for her new book, Milwaukee Scavenger.
They say: "There's always good things brewing in Milwaukee!" Indeed there are, and you won't have to hunt too hard to find them. Milwaukee Scavenger invites you to discover the city with new eyes. Explore each neighborhood starting in Shorewood, then south to Bay View and west to Wauwatosa. Older neighborhoods might contain clues too, like Lincoln Village, Avenues West, or Sherman Park. Exploring by foot or bike might help you get the best vantage point, but be sure to check out the chapter on Milwaukee's streetcar, The Hop.
Each chapter is designed to help you discover or rediscover historic landmarks, natural wonders, dazzling works of art, and new hot spots in the city. See how fast you can guess all the clues in your own neighborhood and beyond! Milwaukee native, Jenna Kashou always enjoys exploring and writing about the people and places she encounters in MKE; her scavenger hunt will challenge visitors and locals alike to explore the city one neighborhood at a time.
Jenna Kashou is a journalist specializing in all things lifestyle and spreading love for MKE. Find her published work in Milwaukee Magazine, MKE Lifestyle Magazine, The Business Journal, and more. She is also the author of 100 Things to Do in Milwaukee Before You Die. She has always had an enormous sense of pride for her hometown and for many years, kept up on the hottest spots for Milwaukee Magazine as her alter ego, Girl About Town.
Click here to order your copy of Milwaukee Scavenger. Signed copies and personalization available on pre-orders. Please note that signed copies will ship after the event.