A Virtual Reading of Vanessa Garcia and Jake Cline's new play Jenna and The Whale, directed by Conor Bagley.
About this Event
About JENNA AND THE WHALE:
Following a surfing accident off the coast of Dunes Beach, Florida, Jenna wakes to find herself in the company of a young man named Jonah. He tells her that they are inside the belly of a whale, that he has been here for three years and that there is no chance of escape. Jenna refuses to accept that and she becomes determined to free them both. Meanwhile, as members of Jenna's hometown worry about her fate, an unexpected visitor arrives to challenge the bonds and beliefs of this already fractured community.
Written: by Miami playwrights Vanessa Garcia (Amparo; Grace, Sponsored by Monteverde) and Jake Cline (Purple Hearts), Jenna & the Whale is about life, death and who we are in a community and as individuals. It's about the things we can and cannot see, the things we know and the things we grapple to understand.
Directed: by Conor Bagley
Cast: Dianne Garriga, Melissa Ann Hubicsak, Gabriel Bonilla, Rachel Pickup*, Rebecca Jimenez, Orlagh Cassidy*, Orlando Mendez | * These actors are appearing courtesy of Actors' Equity Association.
City Theatre (@CityTheatreMIA) and Broadway Virtual are proud to present the South Florida Virtual Streaming Premiere of JENNA AND THE WHALE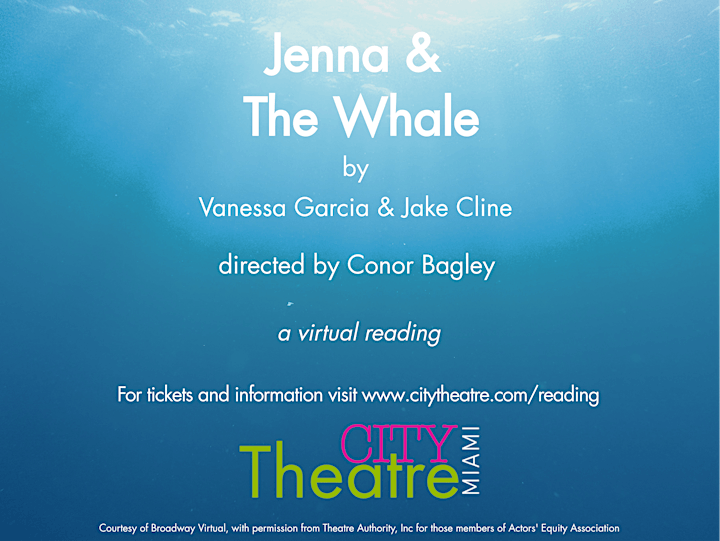 Date and Time
Location
Refund Policy