Jenkins User Conference 2017 Israel (TLV, Intercontinental David)

Thursday, July 13, 2017 from 8:30 AM to 5:30 PM (IDT)
Event Details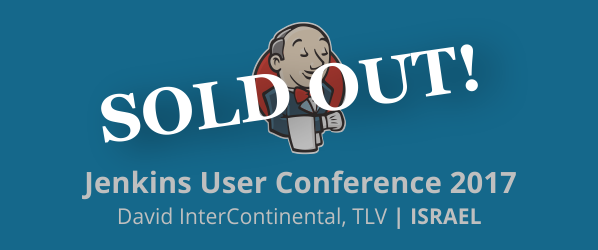 Jenkins User Conference hits Israel for the sixth year in a row!

During the past years, the Jenkins User Conference in Israel (JUC-IL) successfully drew in thousands of attendees; this year we plan on continuing the success!
As always, JUC Israel will bring together the largest gathering of Jenkins users in the country, including Jenkins experts, continuous delivery thought leaders and companies offering complementary technologies for Jenkins.
The Jenkins User Conference (JUC) provides the perfect venue for Jenkins experts and newbies alike to share knowledge, network and further expand the community. As always, JUC 2017 features a keynote by Jenkins founder Kohsuke Kawaguchi, and additional tracks of presentations by Jenkins experts from the community.
Breakfast, lunch, happy hour, snack and collectible Jenkins conference mementos are included for everyone.
Come learn how to optimize Jenkins across the software delivery process!
Agenda
8:00 - 9:15
Registration (Light Breakfast)
9:15 - 9:30
Building The Future – CI/CD a Hint to 2018 Market
Shlomi Ben Haim / Co-Founder & CEO, JFrog
9:30 - 10:10
Keynote & Opening Remarks
Kohsuke Kawaguchi / CTO & Creator, Jenkins CI
10:10 – 10:50
The Future of DevOps, Continuous Update Requires Liquid Software
Fred Simon, Co-Founder & Chief Architect / JFrog
10:50 – 11:15
Coffee Break
11:15 - 11:45
FrogFather Track
SuperFrog Track
BatFrog Track
SpiderForg Track (NewBees)
How to Visualize Daily Dev Executions In Jenkins (and Why You Can't Afford Not To)

Dori Exterman / IncrediBuild

CI At Scale: Creating a CI Flow for 50 Teams

CI & CD with Dynamic Pipelines

Lidor Gerstel / Cellebrite Mobile

CI + Intro to Jenkins (Simple Setup and Your First Job) + Plugins

11:45 - 12:15

How I Achieved My Rockstar Dream with Jenkins

Eliran Shani / Blazemeter

Auditing Your CI's Security with Jenkins

Eyal Ben Moshe / JFrog

Production in a Box
12:15 - 13:15
Lunch
13:15 - 13:45
Microsoft and Jenkins Love Story - the Complete DevOps Pipeline

Baruch Waknine - Microsoft

More Than a Gut Feeling: A Metrics-Driven Approach to Code Quality
Docker, Jenkins, Docker 

Anton Weiss / 

Otomato

Software


Pipeline & Advanced Usage




(Master/Slaves, Setup Automation etc.)

 

13:45 - 14:15

Scaling Jenkins in the
Enterprise with CloudBees

Kohsuke Kawaguchi / CTO & Creator of Jenkins CI, CloudBees

X Tips [x>5] for Building a Bulletproof Deployment Pipeline with Jenkins
Modern DevOps With Jenkins in C/C++ Projects

Diego Rodriguez-Losada / Conan.io

14:15 - 14:30
Coffee Break
14:30 - 15:00

Lessons Learned on Creating an Open Source Product
(for Open Source Jenkins) In an Enterprise Company

JavaScript Journey – A New Era

Elad Hirsch - Bituach Yashir

Using Jenkins to Achieve Immutable Infrastructure

Erik

Zaadi

, Noa

Kurman

/ BigPanda

Create a CI/CD Infrastructure with Jenkins on Azure Using DC/OS and Kubernetes

 

15:00 - 15:30

## Docker - A Pink Tale

 

Challenges for Git in the Enterprise and How to Address Them

Sven Erik Knop / Perforce


Infrastructure as Code with Terraform



Kiril Nesenko / VMware




Yaron Schneider

 / Microsoft

15:30 - 16:00
Beer Time
16:00 - 17:00
On-Demand Group Discussions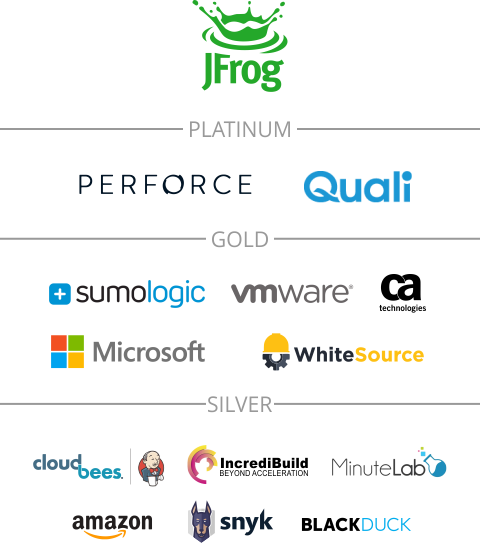 When & Where

David Inter Continental
Kaufmann St 12, Tel Aviv-Yafo,
Tel Aviv, 61501
Israel

Thursday, July 13, 2017 from 8:30 AM to 5:30 PM (IDT)
Add to my calendar
Organizer
Über Scandio:
Wir bei der Scandio sind seit über zehn Jahren ein Team voller technikbegeisterter Consultants, Entwickler und Problemlöser. Dank unseres umfangreichen Know-hows und unseren Partnerschaften mit Atlassian und anderen Unternehmen ist es uns möglich, stets die perfekte Lösung für unsere Kunden aus verschiedensten Branchen zu finden. 
Über JFrog:
Mit mehr als 4000 Kunden, 60.000 OpenSource Installationen und Millionen von Anwendern weltweit ist JFrog die führende universelle Lösung für Software Management für alle DevOps Bedürfnisse. JFrog bietet eine erstklassige Infrastruktur für Software-Management und -Distribution. Durch die Integration mit allen wichtigen CI / CD- und DevOps-Tools bietet JFrog Artifactory ein durchgängiges, automatisiertes und sicheres Management von Software Artefakten von der Entwicklung bis zur Produktion.