Jenkins User Conference 2016 Israel (Daniel Hotel, Herzliya)

Sunday, July 3, 2016 from 8:00 AM to 6:30 PM (IDT)
Event Details
 Sold Out!
We are sold out. To sign up for the waiting list, please send a request to

juc-il@jfrog.com
 Jenkins User Conference hits Israel fifth year in a row!
 Come learn how to optimize Jenkins across the software delivery process!
With more than 100,000 active installations and more than 1,000 plugins Jenkins is no doubt a leader in the CI and CD domain. Our 2015 Jenkins User Conference in Israel drew more than 700 developers, and was so successful that this year we know it will be a blast!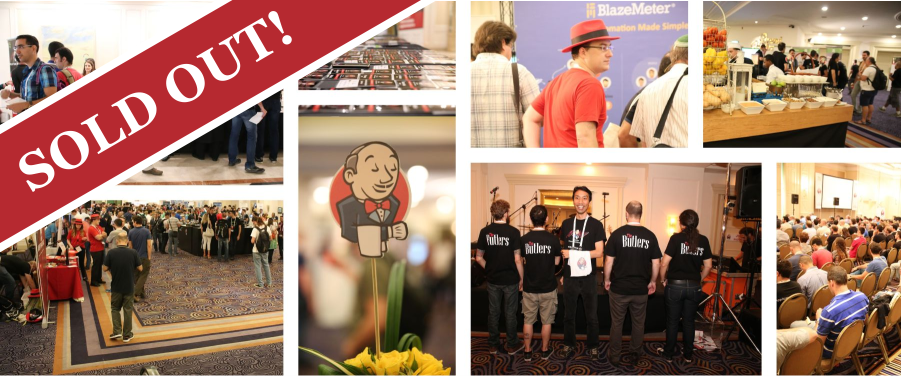 The Jenkins User Conference focuses on the use of Jenkins for continuous integration (CI) and continuous delivery (CD) as the fundamental best practice for enterprise software delivery. Our presenters are experienced Jenkins developers, build managers, QA, DevOps practitioners, IT managers/executives, architects and IT operations who are luminaries within the Jenkins community. They represent the many organizations around the world that are leveraging the use of Jenkins within the software delivery lifecycle.
We welcome you and other leading Jenkins developers, QA, DevOps and operations personnel to the Jenkins User Conference World Tour. As the organizing sponsor of the Jenkins User Conferences, CloudBees has helped the community grow the Jenkins User Conferences worldwide over the last four years. In 2015, the community saw a 70% increase in attendance over 2014.
JUC 2016
In 2016, the World Tour will bring together the full strength of the Jenkins community—now over 100,000 installations strong—and the ever-expanding Jenkins partner ecosystem, allowing attendees to learn, explore, network face-to-face and to shape the next evolution of Jenkins development. Kohsuke Kawaguchi will kick off the event with a keynote address and lead us into the conference. Come get the knowledge you need to make your current and future Jenkins projects a success. 
Agenda
8:00 – 9:00
Registration (Light Breakfast)
9:00 – 9:30
Welcome and Announcements
9:30 – 10:10
Keynote Address & Opening Remarks
(Kohsuke Kawaguchi, CTO and Creator, Jenkins CI)
10:10 – 10:50
Embracing Technical Failure
(Yoav Landman, Co-Founder & CTO, JFrog)
10:50 – 11:15
Coffee Break
11:15 - 12:00
50 Shades of Scaling:
Beyond Master/Slave Architecture
(Dori Exterman, IncrediBuild)
Testing Without tests
Diffy/MonkeyTest etc.
(Maxim Guenis, IronSource)
12:00 - 12:45
Expanding Your CI – Real world Testing With Containers and Sandboxes
(Roni Dover, Quali)
Continuous Deployment Into the Unknown with Artifactory, Bintray, Docker and Mesos
(Gilad Garon and Kiril Nesenko, VMware)
13:45 - 14:30
Continuous Performance: Overcoming the Tyranny of Milliseconds
(Alex Haiut, BlazeMeter)
Predicting Success in DevOps
(Sven Erik Knop, Perforce Software)
14:30 - 15:15
Gerrit & Jenkins Workflow -
Jenkins as Code Reviewer
(Ilia Meerovich & Boaz Shuster, Red Hat)
"Sfere": Making Sense of Thousands
of Jenkins Job Results.
(Or Ben-Zeev, HPE)
15:25 - 16:10
Jenkins and the Future
of Software Delivery
(Anton Weiss, Otomato)
From Microservices VM's and
Puppet to Docker and Kubernetes
(Saar Demri, Liveperson)
16:45 - 17:30
Nodepool as Jenkins Nodes Sheepkeeper - Pet vs. Cattle
(Ilia Meerovich, Alex Braverman, Red Hat)
Enforcing Jenkins Best Practices
(David Hinske, Goodgame Studios)
17:30 - 18:30
Lighting talks:
Micro-services CI Best Practices
(Nir Koren, Liveperson)
Jenkins Templates to the Rescue
(Vladi Ifat, Nice Systems)
Software Distribution with Jenkins Pipeline
(Eran Blumenthal, JFrog)
Using Jenkins Pipeline to build Warp-Drive Components
(Eyal Ben Moshe and
Roman Gurevitch, JFrog)
Get answers to all your Jenkins questions
Q&A with KK
Have questions about Jenkins User Conference 2016 Israel (Daniel Hotel, Herzliya)?
Contact JFrog
When & Where

Daniel
60 Ramat Yam Street
Herzliya, 46851
Israel

Sunday, July 3, 2016 from 8:00 AM to 6:30 PM (IDT)
Add to my calendar
Organizer
JFrog
With more than 3,500 customers and over two billion monthly downloads on its binary hub, JFrog is the leading universal solution for the management and distribution of software binaries. JFrog's products, JFrog Artifactory, the Universal Artifact Repository; JFrog Bintray, the Universal Distribution Platform; JFrog Mission Control, for Universal DevOps flow Management; and JFrog Xray, Universal Component Analyzer, are used by DevOps engineers worldwide and are available as open-source, on-premise, and SaaS cloud solutions. Customers include some of the world's top brands, such as Amazon, Google, Uber, Netflix, EMC, Cisco, Oracle, Adobe, and VMware. The company is privately held and operated from California, France, and Israel. Find more information at jfrog.com.
Jenkins User Conference 2016 Israel (Daniel Hotel, Herzliya)