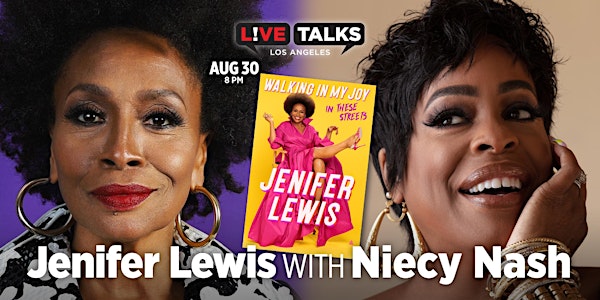 Jenifer Lewis with Niecy Nash
Jenifer Lewis in conversation with Niecy Nash discussing her collection of essays, "Walking in My Joy: In These Streets."
When and where
Location
Glorya Kaufman Performing Arts Center at Vista Del Mar Child and Family Services 3200 Motor Avenue Los Angeles, CA 90034
About this event
Join us for an in-person* Live Talks Los Angeles event:
Tuesday, August 30, 2022, 8pm
*Virtual event airs on September 6 at 6pm PT/9pm ET
Jenifer Lewis with Niecy Nash
discussing her book of essays, "Walking in My Joy: In These Streets"
TICKETS:
$46 General Admission + a signed copy of the book
$20 General Admission
Additional books available for purchase at event
Masks required for entry
Full vaccination proof required for entry
Tix also include opportunity to watch the virtual event
The virtual version of this event airs on September 6, at 6pm PT/9PM ET.
Tickets for the virtual event can be purchased here (includes the book)
ASL interpreter provided upon request.
*** PLEASE NOTE MASKS ARE REQUIRED FOR ENTRY INTO THE VENUE. PROOF OF FULL VACCINATION REQUIRED
Presented in association with Glorya Kaufman Performing Arts Center
Walking in My Joy is a collection of electric stories by the one and only, super hilarious Jenifer Lewis. Her commentary on what's happening in the world today, told through her outrageous real-life adventures, will have you laughing out loud, while her insightful messages touch your soul.
Jenifer Lewis is an award-winning actress, entertainer, activist and bestselling author. She starred on ABC's Black-ish, as the hilarious grandmother Ruby Johnson. She has appeared in over 400 episodic television shows, 68 movies, 40 animations, and 4 Broadway shows. Her credits include: The Fresh Prince of Bel-Air, Friends; A Different World; Twenties;Castaway; What's Love Got to Do with It;The Preacher's Wife; Think Like a Man; Madea's Family Reunion; Strong Medicine; The Princess and the Frog; Mickey Mouse Funhouse; Rugrats, Cars 1, 2, and 3; American Dad; andHairspray. She has performed in more than 200 concerts worldwide including, sold out audiences at Lincoln Center and Carnegie Hall. This year, she will begin a new television series, I Love That for Youfor Showtime.  She appeared at Live Talks Los Angeles when her memoir, The Mother of Black Hollywood, was published in 2017.  Watch the video.
Niecy Nash is an actress, comedian and television host, best known for her performances on television. Her credits include: Clean House on the Style Network, for which she won an Emmy; she played the role of Deputy Raineesha Williams in the comedy series Reno 911!; as nurse Denise "DiDi" Ortley in the HBO comedy Getting On; as Lolli Ballantine on the TV Land sitcom The Soul Man; Denise Hemphill in the Fox horror-comedy series, Scream Queens. and as Desna Simms, in the TNT crime comedy-drama Claws. Nash played the role of civil rights activist Richie Jean Jackson in the historical drama film Selma directed by Ava DuVernay. In 2019, she starred as Delores Wise in DuVernay's miniseries When They See Us, for which she was nominated for a Primetime Emmy Award for Outstanding Lead Actress in a Limited Series or Movie. In 2020, she portrayed feminist leader Florynce Kennedy in Mrs. America. In 2021, she served as a guest host of the show The Masked Singer for five episodes.
"If you want to walk in your joy, Lewis advises, you must love yourself, set boundaries, and remember that you oversee your happiness."-- Starred Booklist .
A self-described "traveling fool and nature freak," Jenifer takes readers with her all over the world, from Cape Town to Bali; Washington, DC, to the Serengeti; Mongolia to St. Petersburg; and Argentina to Antarctica to demonstrate how she walks in her joy by seeking pleasure in everyday encounters. Every step of the way you'll be doubled over with laughter as she faints at the Obamas' holiday party; awakens to a swollen face and has to go to the hospital during the height of the Covid pandemic; an alien visitation; a successful takedown of a conman; as well as meeting a handsome Maasai warrior and being chased by a Cape buffalo.
An actress, activist, and mental health advocate, Jenifer Lewis imparts ways to love yourself that will allow you to deflect negative energy and keep people who may come to take your joy in check. She stresses the importance of fully living to your greatest ambitions and taking the time to admire the world's natural gifts. She also encourages embracing each other's uniqueness as a way of finding societal healing. Walking in My Joy is a riveting and enthralling journey.