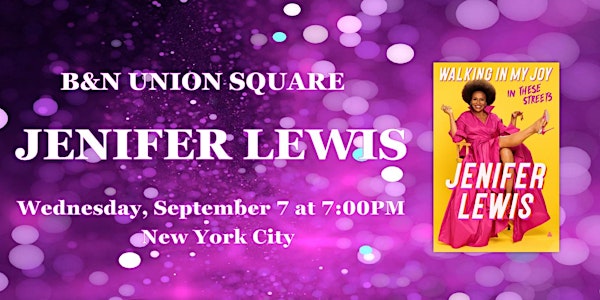 Jenifer Lewis discusses WALKING IN MY JOY at B&N - Union Square
Barnes & Noble - Union Square welcomes Jenifer Lewis to discuss WALKING IN MY JOY on Wednesday, September 7 at 7:00 PM ET
When and where
Location
Barnes & Noble 33 East 17th Street New York, NY 10003
Refund Policy
Refunds up to 1 day before event
About this event
Join Barnes & Noble - Union Square on Wednesday, September 7 at 7 PM ET, as we welcome the one and only, super hilarious Jenifer Lewis to discuss her new book, WALKING IN MY JOY: In These Streets
WALKING IN MY JOY: In These Streets is a collection of electric stories from the author of the hugely successful Mother of Black Hollywood.
Her commentary on what's happening in the world today, told through her outrageous real-life adventures, will have you laughing out loud, while her insightful messages touch your soul.
....................................................................................................................
**PLEASE BE AWARE THAT THESE GUIDELINES ARE SUBJECT TO CHANGE DUE TO CHANGING COVID-19 REQUIREMENTS**
To make this event safe and enjoyable for all attendees, please read the below guidelines ahead of buying a ticket, so you know what to expect on the day. To avoid disappointment, we must stress that there will be no access to the event for non-ticketholders.
Barnes & Noble reserves the right to make new rules and orders in its sole discretion with regard to COVID-19 at any time and any person not abiding by the Barnes & Noble directives will be refused entrance or directed to leave the premises.
TICKETING INFORMATION
PRE-SIGNED BOOK ADMISSION - $31.56 (Admission + one pre- signed copy of WALKING IN MY JOY): **LIMITED QUANTITY AVAILABLE**: A ticket PER PERSON includes:
Due to health and safety and space limitations, those without a ticket will not be permitted into the event space.
Please arrive by 7:00 PM in order to secure your seat in the event space. Late arrivals may only have access to standing room.
GUIDELINES
Masks are required at this event.
There will not be a live signing or photo-op at this event. All books will be pre-signed.
Ticket holders will be admitted into the event beginning at 6:30 PM the day of the event. Please have a copy of your ticket available (either printed out or on your phone) for check in.
In order to attend this event, ticket holders should:
Have not had any contact in the last 14 days with a confirmed COVID- 19 patient.

Not be subject to a quarantine order.

Not traveled in the past 14 days to any state or country that New York has designated as an area requiring isolation upon returning to the state.

At the time of the event, have not experienced in the last 72 hours any body temperature above 100 degrees Fahrenheit or any new symptoms associated with COVID-19. People with COVID-19 have had a wide range of symptoms reported – ranging from mild symptoms to severe illness. Symptoms may appear 2-14 days after exposure to the virus. People with these symptoms may have COVID-19: fever or chills; cough; shortness of breath or difficulty breathing; fatigue; muscle or body aches; headache; new loss of taste or smell; sore throat; congestion or runny nose; nausea or vomiting; and/or diarrhea.
Due to health and safety and space limitations, those without a ticket will not be permitted into the event space.
All event guidelines are subject to change.
If you have any additional questions, please call the store directly at: 212-253-0810.
Please note that Eventbrite is the only authorized dealer for this event. Each person must have a ticket to enter.
**For information on the Audiobook edition of WALKING IN MY JOY, please click here.**
REFUNDS
Attendees can receive refunds up to 1 day before your event start date.
If you are unable to attend the event, Barnes & Noble - Union Square will hold your book for seven days after the event. Please contact the store to arrange your pickup.
Should this event be canceled due to changing COVID-19 concerns, all customers will be refunded their ticket price to the original method of payment per Eventbrite's refund policy.
Event guidelines are subject to change.
_______________________________________________________________________________________
About Jenifer Lewis:
Jenifer Lewis (deemed a "national treasure" by TV Guide.com) has appeared in more than three hundred television and film roles. She currently stars on the hit ABC show black-ish. She lives in Los Angeles with her bichon frise, Butters Lewis, and has a drag queen named Shangela living in her basement.
About WALKING IN MY JOY:
A self-described "traveling fool and nature freak," Jenifer takes readers with her all over the world, from Cape Town to Bali; Washington, DC, to the Serengeti; Mongolia to St. Petersburg; and Argentina to Antarctica to demonstrate how she walks in her joy by seeking pleasure in everyday encounters. Every step of the way you'll be doubled over with laughter as she faints at the Obamas' holiday party; awakens to a swollen face and has to go to the hospital during the height of the Covid pandemic; an alien visitation; a successful takedown of a conman; as well as meeting a handsome Maasai warrior and being chased by a Cape buffalo.
An actress, activist, and mental health advocate, Jenifer Lewis imparts ways to love yourself that will allow you to deflect negative energy and keep people who may come to take your joy in check. She stresses the importance of fully living to your greatest ambitions and taking the time to admire the world's natural gifts. She also encourages embracing each other's uniqueness as a way of finding societal healing. Walking in My Joy is a riveting and enthralling journey.