About this Event
w/ TBA
at The Mothlight
Sunday, May 10th
Doors 7pm, Show 8pm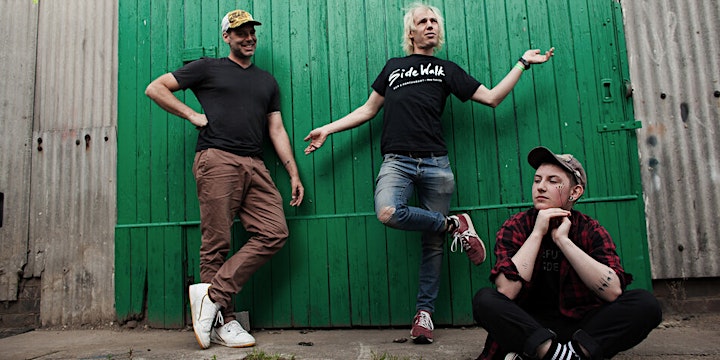 Jeffrey Lewis & The Voltage (NYC, Don Giovanni Records/ Rough Trade Records) play a crazy, original mix of scuzzy urban indie-rock, literate lyrics and comic book punk, like a 21st Century mash-up of Sonic Youth, Pete Seeger and R. Crumb. Jeffrey has done tours in Europe and America and Australia and Asia and elsewhere (averaging over 100 gigs every year since 2001), as well as sometimes playing as the opening act for bands like the Mountain Goats, Daniel Johnston, Stephen Malkmus & The Jicks, The Fall, Pulp, Roky Erickson, The Vaselines and other luminaries. With current bandmates Brent Cole on drums and Mem Pahl on bass, Jeffrey Lewis & The Voltage have released a killer new full-length album "Bad Wiring" (see rave reviews below!)! Bad Wiring was recorded in Nashville with producer Roger Moutenot (Yo La Tengo, Lou Reed, Sleater-Kinney), and released November 2019 with a cross-country USA tour, followed by a UK tour, followed by a European tour, and now finally a Southeastern USA tour-route in May 2020 as the album-release touring continues!
RIYL: Modern Lovers, Yo La Tengo, Violent Femmes, Daniel Johnston
MUSIC VIDEOS from the new BAD WIRING album:
Video for "LPs" is here!
Video for "Except For the Fact That it Isn't" is here!
Video for "In Certain Orders" is here!
STREAM ALBUM TRACKS from BAD WIRING here:
https://jeffreylewis.bandcamp.com/album/bad-wiring-2
LIVE FOOTAGE:
Jeffrey Lewis & co Live in NASHVILLE:
https://www.youtube.com/watch?v=qwTNmvLdPww
Reviews are coming in for the new album Jeffrey Lewis & The Voltage: Bad Wiring (released Nov 2019):
"Bad Wiring finds Lewis and bandmates Mem Pahl and Brent Cole hurrying between melodic garage-punk and raw acoustic grooves to great effect. But it's his terrific wordplay—sharp, funny, poignant and much more—that really dazzles" *******- Uncut
"Thick with the evergreen anti-folkie's charm." **** - Mojo
"Electrifying, again." **** - Q Magazine
9/10 - Peterborough Telegraph
"A second. That's all he needs to dazzle." - Les Inrockuptibles (original French review here)
"Immediately indispensable" - Section 26 (original French review here)
"One of the most extraordinary voices in contemporary music returns... for the euphoric and highly addictive Bad Wiring. Immediate, charming and perhaps the best delivery to date from one of the very most singular voices." - Deluxe Magazine (Albums of the Year)
"Cult New York City indie rocker Jeffrey Lewis has a genius for conversational lyrics about life … his cred is impeccable. This may be a minority opinion, but Jeffrey Lewis should be at least as popular as fellow awkward-voiced troubadours the Mountain Goats." - The Seattle Stranger
"Ascerbic wit, droll delivery, self-deprecating humor and devastating observations of beauty and humanity" - The Daily Times, Knoxville
"Terrific stuff... one of the most consistently enjoyable records Lewis has made in his 18-year career. Confessional, cathartic and full of his trademark charm and quirks... the jittery "Except For The Fact That It Isn't"... has more energy than a nursery school full of kids out of their minds on Skittles."********- HotPress
"Rocks harder than ever... The "and about our relationship" refrain of "My Girlfriend Doesn't Worry" will have you replaying the album instantly" [grade A-] - Robert Christgau, Consumer Guide
"While his tunes may appear shambolic, feisty and disjointed, they're much more like three-minute masterpieces than mere doodles.... Lewis is ably supported by Mem Pahl (bass) and Brent Cole (drummer) as they make the fantastic real. And who could ask for more in a song?" - London In Stereo
"Bad Wiring is an electrifying addition to the Jeffrey Lewis canon, and possibly his best studio album yet." **** - The Skinny
"Alt-folk garage-rock wisdom... There's a strong suggestion that this is the best album his written to date and after listening to just a handful of songs you'd be hard-pushed to disagree – you'll also be left wondering why in the hell Lewis is not better known than he is, this album is filled with unforgettable songs that set his songwriting apart from anything else you're likely to hear today." - Folk Radio UK
"A sprawling collection of musical creativity… Eighteen years in he's not just still releasing records, he's releasing quite possibly the best record he's ever made. Bad Wiring, Jeffrey's collaboration with current backing band The Voltage, feels like a crowning moment." (Top 5 Albums of the Year 2019) - For the Rabbits
OLDER PRAISE for JEFFREY LEWIS & CO!
"Weird? Very... but also downright inspiring" (four of five stars) - Rolling Stone
"Jeffrey Lewis is slowly but surely on a trajectory to immortal cult-status." - Line of Best Fit
"Bands as magical and genuinely original as this are as essential as oxygen." - Culture Delux
"Hands down my favorite contemporary songwriter" - Ben Gibbard (Death Cab For Cutie)
"[Jeffrey Lewis is] The best lyricist working in the US today." - Jarvis Cocker (Pulp)
"I discovered [Jeffrey's] music via 'Sad Screaming Old Man' which is one of my favorite songs ever written. …I have great respect for [his] formidable skills." - Dave Berman (Silver Jews)
"Ramshackle and beautiful noise… Lou Reed's natural successor as punk poet of the New York streets" - Louder Than War
"One of our cleverest, hardest-working, most underrated songwriters" - Magnet
"The Big Apple's best-kept secret.... Genius… mind-blowing." - NME
"Bizarre but brilliant" - Uncut
"Dazzling" - Mojo
"Jeffrey is the only artist I've sent fan mail to." - Jens Lekman
"Really great and impressive and inspiring and exciting... There's not a lot of people that can tell a story and use language like that in music." - Will Oldham
"Ideas burst from Jeffrey Lewis… ramshackle fuzzbomb jams… inspirational." (four of five stars) - The Guardian
"Lewis is as close to unmissable as music gets" - Unwashed Territories
"There's no doubt that he's one of the best lyricists currently producing music" - The Portland Mercury
"Lewis is a writer of the highest calibre… his sharp, poignant, witty vignettes are pearls, absolute jewels… a master craftsman." - We Are Noise
"Despite playing to a full house, I can't help but feel that Jeffrey Lewis has consistently dipped below the mainstream radar… Jeffrey Lewis is no doubt one of the great songwriters of his generation: he is dedicated, inventive and challenging." - Slate The Disco
"Always, without fail, ridiculously entertaining. A unique and naturally gifted songwriter... Lewis is the indie poet laureate." - SoundBlab
"Jeffrey Lewis never lets you down ...bursting with passion and humor and wonderful songs... the guy's a genius!" - Quim
"An almost unrivaled lyrical genius... still daft humorous songs, still riotous punk rackets and still the slow quiet ones that… burrow into your skull and haunt you with their poignancy. Jeffrey, you've worked your magic again." - For The Rabbits
"A true independent icon... We bask in the absolute insane glory of Jeffrey Lewis, a creative quite unlike any other we have seen or probably ever will see." - Bido Lito
http://www.thejeffreylewissite.com/
Performers
Date and Time
Location
Refund Policy