Join us at Fisk University for the 21st annual Jefferson Street Jazz & Blues Festival on July 24th! Ticket sales start July 1st.
About this event
The summer of 2021 welcomes the 21st annual Jefferson Street Jazz & Blues Festival celebrating the vitality of the Jefferson Street community through its arts, music and food culture. Join us at Fisk University for a day of music, arts and food featuring local and national jazz & blues artists and food & retail vendors from the North Nashville community.
With thousands of attendees, each year, the Jefferson Street Jazz & Blues festival builds cultural awareness, attracts diversity and commemorates the historic Jefferson Street Corridor through the sounds of jazz, blues, funk, gospel, soul and R&B. Not just a music festival, this event pays homage to the historic treasures and challenges that make the Jefferson Street community a unique and vital part of Nashville.
Ticket proceeds go towards the fundraising efforts of the Fisk Jubilee Singers in honor of their 150th anniversary. Ticket sales begin July 1, 2021.
Headlining the event is R&B Group After 7. VIP Ticket holders will get the chance to meet and greet with After 7 at a special location.
Grammy and American Music Award nominees After 7 (Melvin Edmonds, Kevon Edmonds and Keith Mitchell) are best known for their dynamic and distinctive R&B sound. The group marked a 32-year musical milestone in 2021. In May 2019, the group mourned the sudden loss of Melvin Edmonds. Later that year, vocalist, Danny 'SkyHigh' McClain joined Kevon Edmonds and Keith Mitchell to create a masterful woven tapestry of music for their highly anticipated album titled UNFINISHED BUSINESS.
Lineup:
12-3pm Free Children's Pavilion
3pm Gates Open for Festival Seating
3:55pm Fisk Jubilee Singers
4 Blair Bryant
4:45 Herschel Bailey
5:30 CoJo Ko
6:15 Brassville
7 Stacy Mitchhart
7:45 Geo Cooper & Friends of Autumn
8:30pm Joe Johnson and Friends featuring Angela Winbush & **After 7**
Learn more at www.nashvillejazzandbluesfest.com.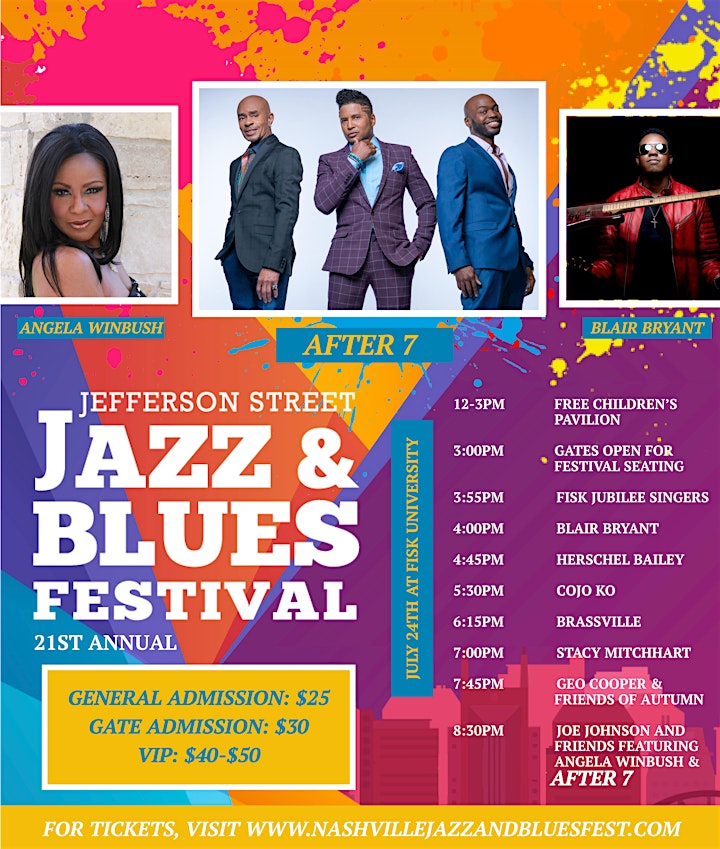 Organizer of Jefferson Street Jazz & Blues Festival 2021
Jefferson Street once was considered the Soul of Nashville. Today, the Jefferson Street United Merchants Partnership (J.U.M.P.) is a bridge from the rich heritage of the past to the promising sustainability of the future.
J.U.M.P. serves as a Chamber of Commerce for historic Jefferson Street and the north Nashville community that surrounds it. The organization also maintains the economic sustainability of this historic corridor of Nashville through advocacy efforts as well as providing support for both business owners and residents.
For more info call 615.726.5867