Jeff Kashiwa WSAX Jazz Brew Fundraiser

Saturday, March 3, 2018 from 7:00 PM to 10:00 PM (EST)
Event Details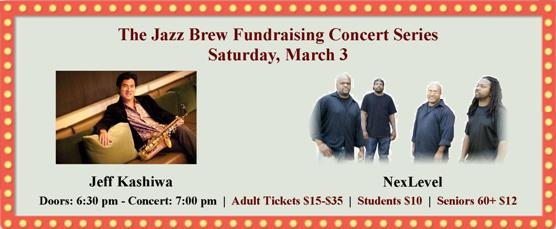 The December 9th 3rd Annual WSAX Jazz Brew Fundraising Concert kicked off the series in spectacular fashion with Paul Taylor exciting the audience and setting the stage for more to come in 2018.  On March 3rd we continue with more great sounds and live jazz entertainment as the series brings legendary saxophonist, recording artist, composer, educator and 10 year member of the Rippington's, Jeff Kashiwa, along with Homegrown hitmakers, NexLevel, to the Walter Armes Learning Center Auditorium At Whitehall-Yearling High School on Saturday, March 3, 2018.
Tickets are available now.  We need your support to ensure we build and maintain a great jazz station here in Central Ohio and Keep Jazz Alive.  Consider buying a ticket to this exciting SEMM Foundation, Jazz 98.5 FM, Jazz Brew Fundraising Concert and help us keep the momentum going with the 2018 Jazz Brew Concert Series.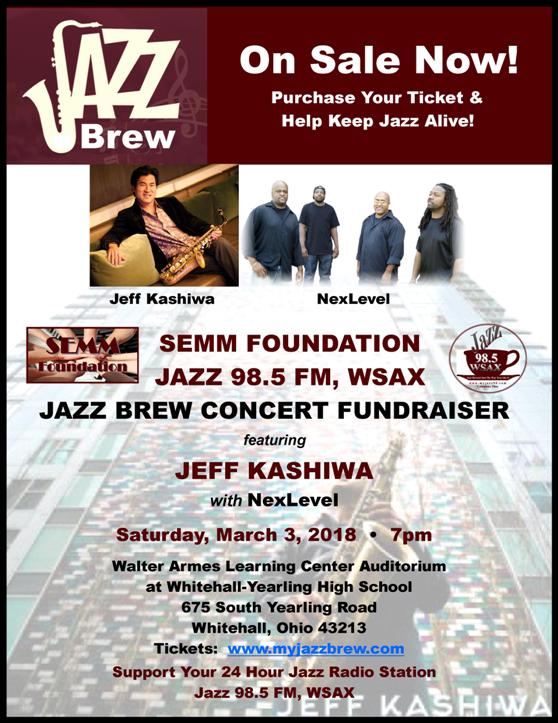 Seattle native, Jeff Kashiwa became known as one of the most compelling young saxophonists in contemporary jazz during his first year with The Rippingtons. Kashiwa performed hundreds of shows all over the world and appeared on many of the band's classic recordings.
Having established himself in the 1990's as one of the most diverse saxmen in contemporary jazz during his decade long tenure with The Rippingtons, Kashiwa's instincts led him to more dynamic endeavors through his solo career. Kashiwa now has nine CDs released under his own name and has continued to record as a guest artist with many other artists as well. In 2004, Kashiwa founded The Sax Pack, a trio of saxophone headliners, featuring himself, Steve Cole and Kim Waters. The group released two CDs together and charmed audiences with their Rat Pack style reparte' in tours across the U.S. and abroad.
In 2006, Jeff reunited with The Rippingtons for their 20th Anniversary Tour and continues to record and tour with the group as often as his busy schedule will allow. In addition to touring with The Sax Pack and his own group, Kashiwa has expanded his career to include the realm of music education, teaching various courses through the music program at Shoreline Community College in Seattle.
His brand new CD Let It Ride features a host of great musicians in the world of Contemporary Jazz; Russ Freeman, David Benoit, Chuck Loeb and Tom Schuman of Spyro Gyra. Let It Ride has been in the top 4 Best Sellers in Smooth Jazz on Amazon.com for the past few weeks.
Joining Jeff Kashiwa, fresh off their spectacular Jazz Brew 3rd Annual Fundraiser performance with Paul Taylor and their summer Jazz At The Amp performance is our own national recording group, NexLevel, known for wowing and amazing audiences around the country, doing hits from their new CD "Midnight Blue".
This concert is presented by SEMM Foundation and your jazz station, Jazz 98.5 FM, WSAX.  Proceeds from this fundraiser also benefit the Walter Armes Learning Center Auditorium Improvement Campaign.

Join us for another great evening of live jazz brewed just the way you like it starting at 7:00 pm.  Bring your heart, soul and passion and support keeping jazz alive.
For complete concert details, visit www.myjazzbrew.com.  Central Ohio deserves a great jazz radio station.  Thank you for supporting your 24 hour non-profit jazz radio station, Jazz 98.5 FM, WSAX-LP and for helping keep jazz alive.
Venue map / Walter Armes Learning Center Auditorium
When & Where

Walter Armes Learning Center Auditorium
Whitehall-Yearling High School
675 South Yearling Road
Whitehall, OH 43213


Saturday, March 3, 2018 from 7:00 PM to 10:00 PM (EST)
Add to my calendar
Organizer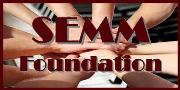 SEMM Foundation is a non-profit organization dedicated to supporting music education, entertainment and broadcast media services.  Jazz 98.5 FM, WSAX-LP Radio Station, is owned and operated by SEMM Foundation, whose mission is to keep the art of jazz music alive through education, promotion and support to our community, students, musicians and supporters. Donations, concert and event proceeds benefit the SEMM Foundation music education programs and helps support the operations of Columbus' new Jazz 98.5 FM radio station. For more information, visit our corporate website at http://www.semmfoundation.org or station website at http://www.myjazz98.com.