About this Event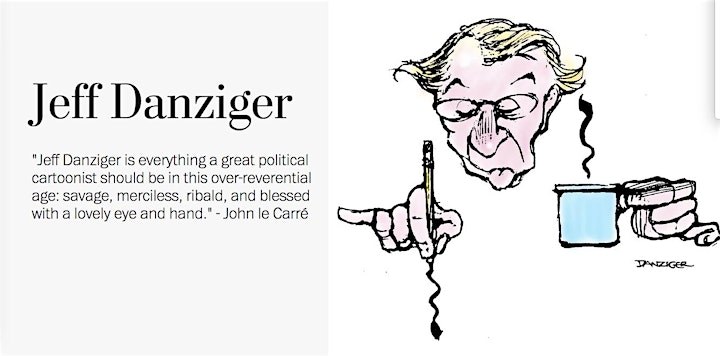 It's not often we find someone with a view of the world so perfectly attuned to this particular moment in time. This is Jeff Danziger, though. And now, he is prepared to emerge from that place of light and dark where he works his magic....bringing along some of his amazing cartoons and equally amazing wit to amuse, delight and entertain us.
But lest you think he is all puff and no substance, Jeff is also one of the founders of the multi-national gathering of the world's greatest of their craft -- Cartoonists for Peace. And he is the winner of the Thomas Nast Award and the Herblock prize for cartooning.
A lunch and viewing not to be missed !
To make sure no one is disappointed, I importune you to register early !
The date: Wednesday, February 19, 2020
The time: Noon.
The place: The National Arts Club, 15 Gramercy Park South.
PLEASE NOTE: You may reserve via Eventbrite by linking to
https://www.eventbrite.com/e/jeff-danziger-a-cartoonist-view-of-the-world-tickets-90236262089
When you reach that site, click on the word "TICKETS" and follow the directions. You will then receive an email confirming your reservation.
You can no longer reserve by emailing Michael Serrill, but you may continue to reserve by calling the Silurian reservation line at 212-532-0887. Please spell your name clearly and include a contact number or an email address. Lunch prices are $55 for members, $65 for guests, payable at the door by cash (exact change, please), check or credit card. Regardless of how you reserve, if you're bringing a guest, make sure to give us your guest's name. Each member is allowed to reserve for one guest, with additional guests put on a waiting list, pending a final count.
One other reminder. Because we must give a final tally to the National Arts Club at noon on February 17 — the Monday before the luncheon — we cannot cancel any reservations after that time. No-shows will be asked to pay for their seats.
David A. Andelman
President Silurians Press Club