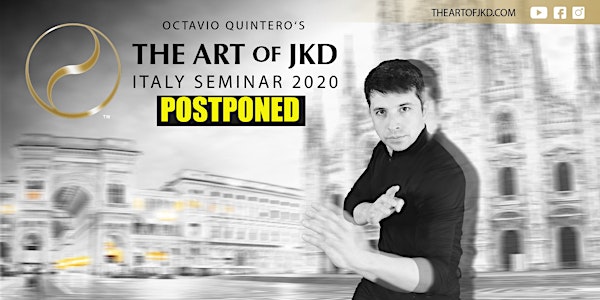 Jeet Kune Do MARTIAL ARTS & FITNESS in ITALY - by OCTAVIO
MARTIAL ARTS & FITNESS TRAINING in ITALY! Learn POWERFUL insights on HOW to apply COMBAT PRINCIPLES BRUCE LEE used in his MARTIAL ART!
When and where
Date and time
May 9, 2020 · 10:30am - May 10, 2020 · 3:30pm CEST
Location
Gonzaga Sport Club 17/A Via Luigi Settembrini 20124 Milano Italy
About this event
Italian (English text below)
ARTI MARZIALI E FITNESS in ITALIA! Impara COME applicare i POTENTI PRINCIPI DI COMBATTIMENTO utilizzati da BRUCE LEE nelle ARTI MARZIALI!
Octavio Quintero terrà un seminario di Jeet Kune Do, Arti Marziali e Fitness Performance!
Octavio insegnerà il suo metodo sviluppato per aiutare gli studenti a conseguire velocità e potenza, attraverso l'allenamento, la corretta struttura ed i principi fondamentali del movimento.
Se desideri apprendere un metodo innovativo finalizzato a generare forza, controllo e concentrazione, registrati oggi!
"The art of jkd (Total balance) è un sistema fortemente e direttamente ispirato dai principi del Jeet Kune Do. Il nostro obiettivo principale è quello di aiutarti a raggiungere l'equilibrio nella tua vita" - O.Q."
Cosa stai cercando ?
Velocità?
Potenza?
Allenamento fisico?
Apprendere e comprendere il JKD?
Vorresti diventare un istruttore in futuro?
Il metodo sviluppato da Octavio può guidarti in tutti gli aspetti fondamentali del condizionamento fisico, degli obiettivi strategici del combattimento, oltre che aiutarti a migliorare te stesso!
Chi è Octavio?
Octavio è uno degli insegnanti di arti marziali più ricercati al mondo. E' l'ideatore dell'innovativo metodo di coaching "The Art of JKD Total Balance".
Octavio insegna da oltre 15 anni e si è allenato con grande dedizione per oltre 25 anni nelle arti marziali, studiando con i più grandi tra gli allievi diretti di Bruce Lee.
Il vantaggio del metodo sviluppato da Octavio risiede nell'approccio di facile comprensione, in ciò che è apparentemente complicato.
I concetti che comunemente sono attribuiti al Jeet Kune Do risultano essere spesso fuorvianti, non contribuendo alla crescita di coloro i quali sono intenzionati ad un allenamento totalizzante al 100%. Attraverso il programma sviluppato da Octavio, potrai iniziare, crescere e mettere in pratica!
"Comprendere i potenti e significativi principi che ti indicherò, non equivarrà a praticare più o meno correttamente il Jeet Kune Do. Saranno i principi stessi a diventare fonte di insegnamento!" – OCTAVIO
English
Octavio Quintero will be teaching a 2 Day Jeet Kune Do Seminar in Martial Arts and Fitness Performance! This will help participants attain core principles of movement, development of speed and fundamentals to train with the right structure.
If you want to learn a completely new way of control and focus then buy your ticket today, as this is a rare opportunity to either start, restart and improve your well being.
"The Art of JKD (Total Balance) is a system that is heavily driven by direct principles in Jeet Kune Do. Our main focus is to help you attain balance in your life." - O.Q.
What are you looking for?
Is it speed?
Is it power?
Is it learning to work on yourself physically?
Is it to feel good about the direction of JKD?
Is it to be an Instructor in the future?
If you don't know where to start, then Octavio can guide you on how you close the loop to all aspects of physical conditioning, strategic combat goals and to better yourself entirely!
Who is Octavio?
Octavio is one the worlds most sought out teachers in martial arts. After starting a new movement, The Art of JKD Total Balance has gained momentum due to the effectiveness Octavio's power coaching methods for his clients. It has taking Octavio years of hard work & study in Bruce Lee's instruction and he has been mentored by the greatest of his orginal students. He's been teaching for over 15 years and has been training for more than 25 years in the Martial Arts. What gives Octavio's program an edge is the easy to understand approach in what many find complicated.
The general random thoughts and expressions many people give about Jeet Kune Do, does not support the growth of someone who wants to train 100%. In Octavio's program, you have some place to start, grow and APPLY!
"If you understand principles that I have in stored for you, then it's not a matter of whether you're practicing The Art of JKD right or wrong. Principles become your teacher!" - OCTAVIO
About the organizer
Angelo is a Mentor in The Art of JKD and is personal student under Octavio Quintero.