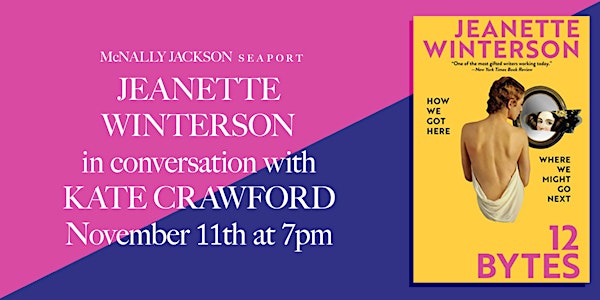 Jeanette Winterson in conversation with Kate Crawford
Jeanette Winterson and Kate Crawford discuss Jeanette's thrilling new book, 12 Bytes, the future of AI, and the ethical questions it raises.
By McNally Jackson Independent Booksellers
Date and time
Thursday, November 11, 2021 · 7 - 9pm EST
Location
McNally Jackson Books Seaport 4 Fulton Street New York, NY 10038
About this event
From the New York Times-bestselling author of Why Be Happy When You Could Be Normal?, Jeanette Winterson, comes an original and entertaining new collection drawing on her years of thinking and reading about artificial intelligence in its bewildering manifestations. She looks to history, religion, myth, literature, the politics of race and gender, and computer science to help us understand the radical changes to the way we live and love that are happening now.
When we create non-biological life forms, will we do so in our own image? Or will we accept the once-in-a-species opportunity to remake ourselves in their image? What do love, caring, sex, and attachment look like when humans form connections with non-human helpers, teachers, sex workers, and companions? And what will happen to our deep-rooted assumptions about gender? Will the physical body that is our home soon be enhanced by biological and neural implants, keeping us fitter, younger, and connected? Is it time to join Elon Musk and leave Planet Earth?
With wit, compassion, and curiosity, Winterson tackles AI's most interesting talking points, from the algorithms that data-dossier your whole life, to the weirdness of backing up your brain.
"This novel is talky, smart, anarchic and quite sexy. You begin to linger on those three s's when you speak the title aloud."–Dwight Garner, New York Times
"Winterson has stitched together that rarest of beasts: a novel that is both deeply thought-provoking and provocative yet also unabashedly entertaining (I laughed out loud more times than I could count). Frankissstein, like its protagonist Ry, is a hybrid: a novel that defies conventional expectations and exists, brilliantly and defiantly, on its own terms."–Sarah Lotz, New York Times Book Review
"A brainy, batty story– an unholy amalgamation of scholarship and comedy. [Winterson] manages to pay homage to Shelley's insight and passion while demonstrating her own extraordinary creativity… This is no work of conventional literary history. I''s just a jump to the left… The dialogue is slick and funny, often delightfully obscene, but beneath all the kookiness, Winterson is satirizing sexual politics and exploring complicated issues of human desire… A bag of provocative tricks and treats. With diabolical ingenuity, [Winterson's] found a way to inject fresh questions about humanity's future into the old veins of Frankenstein."—Ron Charles, Washington Post
Our bar will remain open following the event until 9pm. We ask that all guests show proof of vaccination on arrival, and encourage you to wear a mask. Spaces are limited.