Location
TIAA Bank Field, Lot J
1 TIAA Bank Field Dr
Jacksonville, FL 32202
FREE to attend! Test drive the latest EVs, meet local EV drivers, show off your EV, learn how to switch to driving electric! Rain-or-Shine
About this event
We're excited to host our third EVent, and hope we can build on the success of the last two. Join us and found out why thousands of your neighbors are already driving electric!
SCROLL DOWN FOR IMPORTANT EVENT DETAILS!
The EVent will feature:
EV Test Drives from local dealerships
EV Car show featuring local owners (including EVs from Tesla, Ford, Chevy, Nissan, KIA, and more)
Display electric vehicles from JEA, JTA and more
eBike test rides
Food Trucks (3 Kings Seafood & More and Kat's Kitchen)
Two Nikola Tre all-electric semi trucks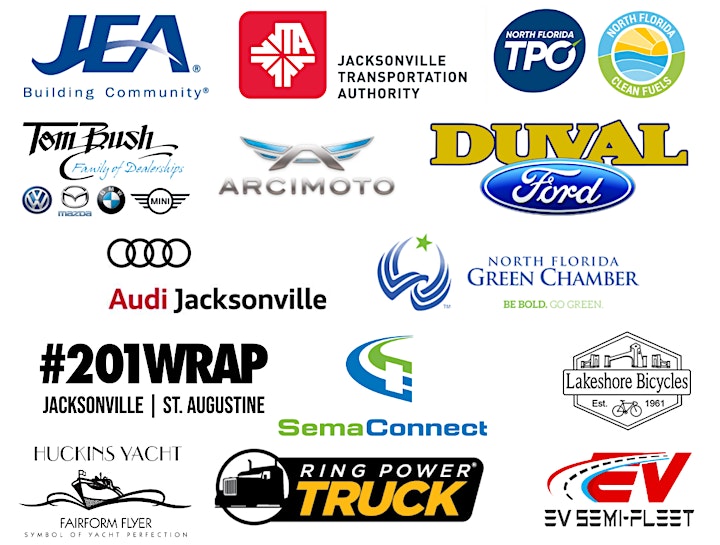 IMPORTANT DETAILS FOR ALL ATTENDEES
Below is a map showing the event layout. To access the parking lot, please enter using Gator Bowl Drive. All event activities will be near the north-west side of the parking lot, near Gate 1.
If you plan to test drive dealership vehicles, you will be required to bring your drivers license and hard copy car insurance. Additionally, you will be asked to sign waivers for each dealership as well as the stadium. A QR code for the stadium waiver can be found below, or it can be scanned at the event
There will be a shuttle from the event to Pier EB to view the hybrid yacht. The shuttle will leave from the parking lot at 10:20a, 10:40a, 11a, 11:20a, 11:40a, 12p, and the last shuttle will leave at 12:20p. Please, no more than 16 people per trip.
Do not touch EV car show vehicles without permission from the owner
Food Trucks and restrooms are located inside Gate 1 of the stadium
IMPORTANT DETAILS FOR EV CAR SHOW
Set-up for the EV car show starts at 9:30
Try to park near EVs of the same make/model
You are not required to stay the entire time, but you are welcome to!
Dealerships offering EV test drives:
Other participants: