Description
JEA Advisers Institute brings journalism teachers from across the country together for a week of adviser-specific training and networking.
Take a look at this summer's program for details about sessions and speakers.
*New at the 2018 Advisers Institute*
JEA will offer a New Voices preconvention workshop at Advisers Institute from 1-5 p.m. July 9. The hands-on workshop will be responsive to the needs identified in advance by participants. Topics can range from the first steps of finding a sponsor to the final steps of educating stakeholders following passage.
After the workshop, this community will continue as a supportive component for those working to pass legislation.
The workshop is of no cost to those registered for Advisers Institute, however, preregistration is required. One person per state group will be contacted prior to the beginning of the workshop. Please, no more than four participants per state. Please contact Lori Keekley with questions.
DATES AND TIMES
The 2018 JEA Advisers Institute runs Monday, July 9 – Thursday, July 12. Monday's events include registration from 6-6:30 p.m. with the first conference session starting at 6:30 p.m. On Tuesday, breakout sessions begin at 8 a.m. and end at 5:50 p.m. On Wednesday, all attendees will participate in our team storytelling workshop. This all-day event gets everyone out of the hotel to experience Vegas. Instruction ends at noon on Thursday.
LOCATION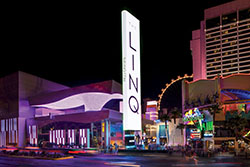 The LINQ Hotel is the official hotel of the Advisers Institute and provides excellent quality at an incredibly low room rate. We encourage all attendees to stay at the LINQ, which will house all conference activities.
To reserve rooms visit https://aws.passkey.com/go/SQJEA8 to receive the special group rate. of $104 per night (inclusive of resort fee) plus 12 percent tax. The cut-off date to receive the special group rate is June 9, 2018. All reservations must be guaranteed with a deposit for the first night's guestroom and tax charge. If reservation is guaranteed to a credit card, the first night's guestroom and tax charge, per guestroom, will be billed immediately to the cardholder's account.
All reservations made via the call center (at 1-866-523-2781) will be assessed a fee of $15 per reservation. Hotel accepts Visa, MasterCard, American Express, Discover, or Diners Club. Check-in time is 4 p.m. and check-out time is 11 a.m.
PROGRAM
Regardless of your experience level or the type of publications you advise, the Journalism Education Association Advisers Institute has programming specifically for you:
differentiated instruction strategies
technology in the classroom
subject-specific professional learning community participation
curriculum alignment to state and national standards
essential learner outcomes in a 21st-century classroom
media literacy, ethical journalism
best practices in creating formative and summative assessment tools
preparation and testing for Certified Journalism Educator and Master Journalism Educator status
TRANSPORTATION
For attendees flying in, McCarran Airport serves all major airlines. A taxi is generally the best way to get to the hotel, and fare with tip generally costs about $20.