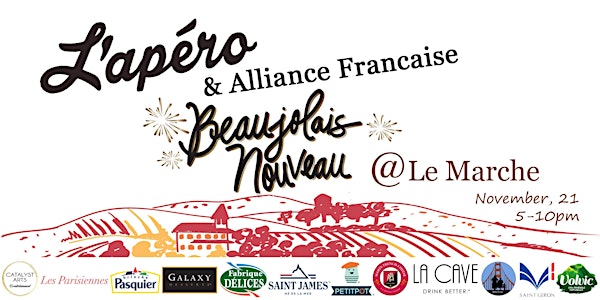 Je peux pas, j'ai Apero-Beaujo!
When and where
Location
Le Marche 1144 sutter street san francisco, CA 94100
Refund Policy
Contact the organizer to request a refund.
Eventbrite's fee is nonrefundable.
Description
JOIN US TO CELEBRATE BEAUJOLAIS NOUVEAU!
Celebrate Beaujolais Nouveau dressed up with a mariniere (navy stripe shirt)! Beaujolais Nouveau is one of the most iconic wine celebration event in France every year happening on the third week of November. What it is about is just good simple FUN! Tough night ahead les amis!

The L'Apero killer deal for the Beaujolais party is : $25 per ticket ($35 at the door) that includes 2 glasses of Beaujolais Nouveau, one plate of Marin french cheese and Fabrique Delices Charcuterie and one sweet from Galaxy dessert and Petit pot. If that's not a deal then let us know Tintin! Ca tape!
Apero special: $8 glass on Beaujolais Nouveau glass (after the two included in your ticket). We know you can drink moussaillons!
For the few, the proud, who dont't drink beaujolais, some Volvic and St Geron will be offered by BWR Group. Miko is our man at BWR. Great guy. If you have too much Beaujolais, great idea to say hi to Miko.
Enjoy the San Francisco voted best empanadas with the participation of El Sur. Marianne will be with us that night and we love her food, her team and her too! You will be able for $10 to enjoy 3 mini-empanadas (choices of 5 ingredients). Vamos!
Be surprised by the perfomance of Catalyst arts entertainment...you will be able to get some great Instagram shot guaranteed. Surprise, surprise...And if this surprise is not enough for those who love pictures, we have the Citroen Club who is joigning us 2 or 3 cars will be parked in front of party.
Shop some 100% Parisiennes second hand clothes from Les Parisiennes. Karen is your host. She is so Parisienne, you'll see!
For the grand finale! Win prizes (people need to be present at the time of the prize draw to get their prizes - will be at 9pm):
# an in home wine tasting for 6 offered by Fred of La Cave ($320 value)
# a ride through San Francisco and the GGB on an sidecar by Rides by me. This is ZE best unique way to bring a date and conclude, great for family coming to visit you and SF or just for fun or a cool present for birthdays/anniversaries/work stuff. Jerome is your guide and he knows SF better than most of us. He has a big hearth and love to show the secrets and beauty of SF. Ici, c'est San Francisqui!
# ZE best mariniere there is on earth made in Normandie by Saint James, s'il vous plait. They just came out with a collaboration with Avenir...ca cartonne. You should check it out...
Ticket: $25 presale / $35 at door.
Tickets are going to go fast, better hurry, moussaillons.
The only requirement for the evening is to wear a "marinière" (sailor striped shirts/sweaters).
What is Beaujolais Nouveau Day?
Beaujolais nouveau is a red wine made from Gamay grapes produced in the Beaujolais region of France. It is the most popular vin de primeur (meaning a wine being sold in the same year in which it was harvested) fermented for just a few weeks before being released for sale on the third Thursday of November where we get to celebrate the arrival of the new wine.
Tuto: Get Ready for this Event!
Because it's only once in a year, we have put together a little workout program to make sure you'll be ready for this event. Attention, staff might check your exercise at the door. We strongly encourage you to start your training sooner than later. There you go: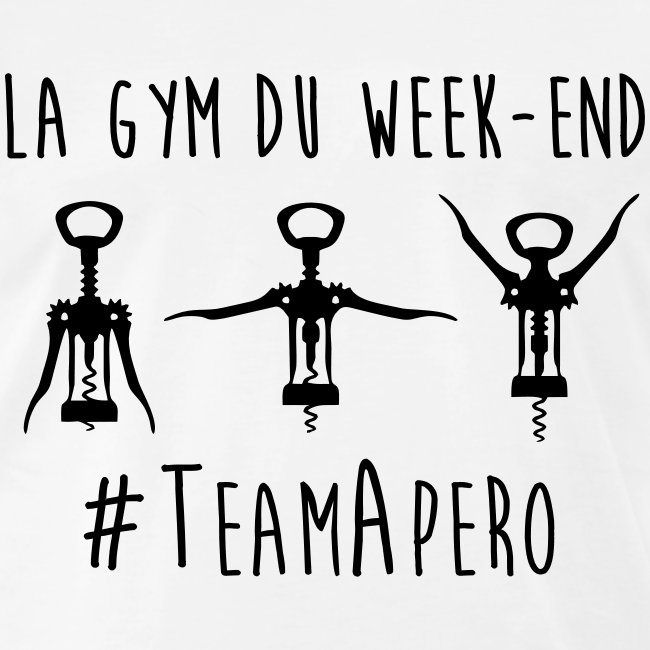 The hosts

L'Apero is a Francophone/Francophile community of Hospitality and Gastronomy enthusiasts that meet for casual networking in San Francisco, Napa Valley, Silicon Valley, and Los Angeles.
www.lapero.org

PS you must be 21 years or older to attend this party. Capitain Haddock will be at the door checking. Better behave moussaillons!