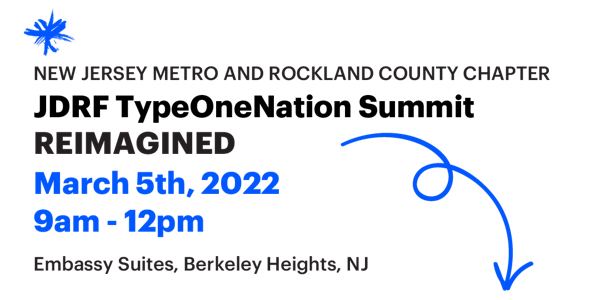 JDRF New Jersey Metro and Rockland County Chapter TypeOneNation Summit
Join us on March 5th, 2022 for our TypeOneNation Summit at Embassy Suites, Berkeley Heights
When and where
Location
Embassy Suites 250 Connell Drive Berkeley Heights, NJ 07922
About this event
Mark your calendar for an opportunity to connect with other newly diagnosed T1D's and families in your area. Hear and learn from keynote speaker Dr. Sanjoy Dutta, JDRF Chief Scientific Officer on current diabetes research and progress. Enjoy a breakout session from either Gary Scheiner, MS, CDCES on Sports/Exercise and Blood Glucose Control or Tonya McGahey, MA, BSN, RN, CDCES on Removing the Fear of Diabetes. Throughout the event, chat with some of the industry leaders and local vendors about products, resources, and support.
Breakout Opportunities:
Sports/Exercise and Blood Glucose Control with Gary Scheiner
People with type-1 diabetes engage (and excel!) in a variety of sports. Given that glucose control influences athletic performance, this program focuses on strategies for managing blood sugar during all levels of exercise, from general daily activity to fitness workouts to heavy competition.
Removing the Fear of Diabetes with Tonya McGahey
Many people living with T1D or their caregivers are fearful about some aspect of the disease. The daily ongoing demands of managing T1D as well as any diabetes emergencies, development of complications, carb counting or even changes in your treatment plan like changing insulins or starting a new CGM, can add to the emotional burden of diabetes.
In this breakout session, Removing the Fear of Diabetes we will cover topics like hypoglycemia, under and overdosing, frustrating and troublesome carb counting, and lastly how we can change the way we think (or overthink) the technology that we have come to count on.
The educational program and conversations will be geared towards an adult audience. Childcare is not available.