JCP Community Shabbat: Friday Evening Services & Dinner - Feb 8, 2019
Description
We will begin at 6:00 PM with a short community-wide Friday Evening Service led by our 2nd, 3rd & 4th grade learners. The service is open to everyone, and no RSVP is needed.
After the service, enjoy a delicious Shabbat dinner together with your JCP family!
Following dinner, there will be games and activities for children.
Adults will hear from our special guest speakers, Pastors Gabby Cudjoe Wilkes and Andrew Wilkes of The Double Love Experience congregation in Brooklyn, who will share their experiences in justice-rooted ministry, and speak to the ways in which Blacks and Jews can work together in American civic life.
Generously sponsored by Stacy and Jonathan Pollack.
---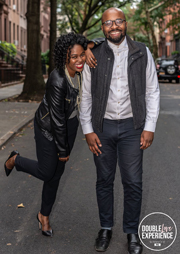 PASTOR GABBY

Pastor Gabby Cudjoe Wilkes is a licensed minister whose work is situated at the intersection of faith & culture. Her work in ministry began as a gospel music publicist and event planner. From 2005-2015, Pastor Gabby worked in the field of entertainment as a publicist, event planner, and brand strategist. During that time she did publicity for gospel music artists such as Mary Mary, Erica Campbell, Jonathan McReynolds, Trin-i-Tee 5:7, BeBe Winans, Mathew Knowles & Music World Entertainment, eOne Music and others.

From 2013-2018 Pastor Gabby served as the Co-Pastor to the young adults of The Greater Allen Cathedral of New York, under the leadership of the Reverends Drs. Floyd & Elaine Flake.

Pastor Gabby is committed to the work of justice both domestically and abroad. She took a delegation of 6 seminarians and 1 undergraduate student to Flint, Michigan in 2016 to both respond to the Flint Water Crisis and to document the ways in which black & brown communities who seem to be overlooked or ignored by the federal government deal theologically with the uncertainties and the theodicy that natural disasters can bring. Pastor Gabby studied theology for a 3 month term in Cambridge, England in 2017 and traveled to Ahmedabad, India for a 10 day travel seminar in 2016.

Pastor Gabby is an advocate of women in ministry and an inaugural member of the Millennial Womanist Project, a cohort of black women millennial faith leaders across the nation. She is the co-host of the digital interview series, Womanists Taught Us. Pastor Gabby holds an M. Div. from Yale University, where she received the Charles S. Mersick prize in preaching, a B.A. in Public Relations from Hampton University where she was a William R. Harvey Leadership Institute Fellow and an M.A. from New York University, a joint program through the Steinhart School of Culture and the Stern School of Business. Pastor Gabby is the 2016 recipient of the Queens, New York Guy R. Brewer Religious Leadership Award. She and her husband, Pastor Andrew Wilkes were featured in Essence Magazine.com, in April 2016, on love and ministry.

Pastor Gabby is a contributing writer alongside some of the nation's leading faith leaders, to the newly released book (2017): Mr. President: Interfaith Perspectives on the Historic Presidency of Barack H. Obama. She is the former senior brand strategist to the Dwight Hall Center for Social Justice and Public Service at Yale University. Follow her @GabbyCWilkes

PASTOR ANDREW

Pastor Andrew Wilkes is an ordained minister whose calling is rooted in the joy-bringing, justice-rooted ministry of Jesus Christ. A native of Atlanta, GA, Pastor Andrew received his call to a preaching ministry at the age of 15 while serving in the auxiliary ministries of Zion Hill Baptist Church. Pastor Andrew was licensed to preach the Gospel as a student at Hampton University, where, as a pre-college student, he co-organized a campus wide Bible Study to provide an interactive format for discussing Scripture and everyday life. At the age of 26, Pastor Andrew was ordained to Christian ministry in the National Baptist Convention at Zion Hill Baptist Church, under the leadership of Rev. Dr. Aaron Parker. Pastor is a proud graduate of Hampton University, Princeton Theological Seminary, where he received the Elder Garnett Hawkins award for Academic Excellence, and the CORO Fellowship for Public Affairs in New York City. Pastor Andrew currently works with the Civics Education Organization, Generation Citizen as their Senior Policy & Advocacy Director.

Pastor Andrew most recently served on the pastoral staff of the Greater Allen A.M.E. Cathedral of New York for over five years, under the leadership of Revs. Dr. Floyd and Elaine Flake. In that capacity, he founded and led the Micah 6:8 social justice and advocacy ministry and was appointed co-pastor to Young Adults alongside Min. Gabby Cudjoe-Wilkes. He also served as the Executive Director of the Drum Major Institute, founded by Dr. Martin Luther King Jr., and currently serves as a board member of Habitat for Humanity - New York State and the Labor Religion Coalition of New York. Rev. Wilkes is the principal of Wilkes Advocacy Group and a PhD candidate in Political Science at the Graduate Center, City University of New York and a Graduate Teaching Fellow at the City College of New York. Pastor Andrew is the recipient of numerous awards, including: the Guy R. Brewer Distinguished Leadership Award, the 2015 recipient of The New York Theological Seminary's Micah Institute Courage Award, the 2013 recipient of Reverend Jesse Jackson's Rainbow Push Advocacy Award, and the 2013 Frances Hesselbein Leadership Institute Next Leader of the Future Award. He is the proud husband of Min. Gabby Cudjoe-Wilkes and the author of Freedom Notes: Reflections on Faith, Justice and the Possibility of Democracy. You can follow him on social media at: @andrewjwilkes