JCIST TALKS_PELİN ÖZKAN

Thursday, March 15, 2012 from 7:30 PM to 9:00 PM (EET)
Event Details
SEVGİLİ JCI AİLESİ VE DEĞERLİ MİSAFİRLERİMİZ!
YÖNETİCİ KARİYER ETKİNLİĞİMİZ BU SENE DE HIZLA DEVAM EDİYOR !
MART AYI KONUĞUMUZ MEDIACAT GENEL MÜDÜRÜ SN. PELİN ÖZKAN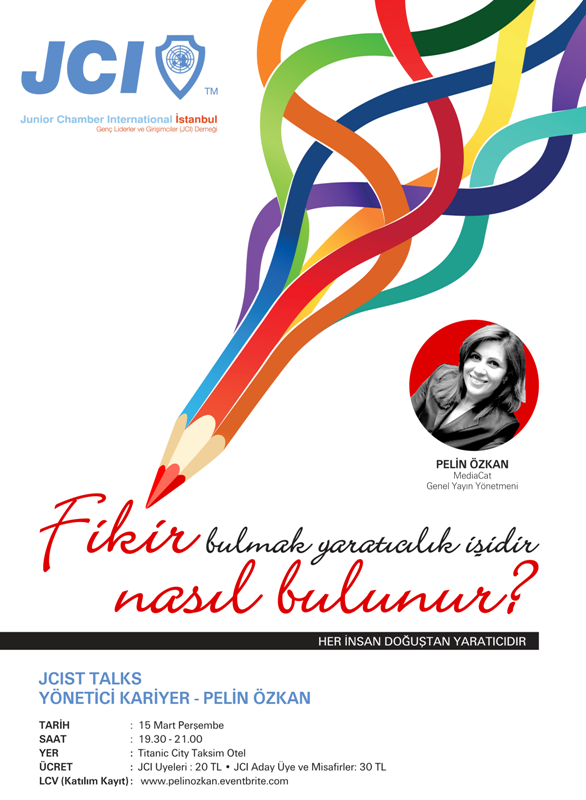 PELİN ÖZKAN KİMDİR?
ODTÜ Fizik bölümü mezunu. Öğrencilik yıllarında reklamcılığa başladı. 12 yıllık reklamcılık hayatından sonra 1993 yılında MediaCat'i yayınlamaya başladı.
MediaCat'in ve yan yayınlarının yanısıra pazarlama ve iletişim kültürü dergisi Pİ, PR Plus, Marketing Research, MediaCat Youth, MediaCat Cannes Lions gibi dergilerin, Out of Home dergisi ve  Digital Age  dergilerinin yayın yönetmenliğini yürütüyor. Ayrıca Farmaskop ve Herkese Sağlık dergilerinin de yayın yönetmeni. Sayıları 500'e yaklaşan MediaCat Kitaplarının yayın yönetmenliğini de sürdüren Özkan'ın reklam dünyasının ustalarıyla ilgili "Hayatımız Reklam" isimli bir kitabı var.
Pelin Özkan 5 kişilik bir ekiple birlikte MediaCat Communication Institute çatısı altında her yıl onlarca workshop, birkaç büyük seminer, 3 büyük zirve (Medya Zirvesi, DigitalAge Summit, MediaCat Marketing Forum) Felis yaratıcılık ödülleri, MediaCat Out of Home Ödülleri ve DigitalAge ödülleri gibi yarışmaları gerçekleştiriyor.
Türkiye'nin en büyük B2B yayıncısı ve en büyük iş dünyası bilgi platformlarından biri olan Kapital Medya şirketinin de yöneticisi olan Pelin Özkan 50 kişilik bir ekiple her gün daha yeni ve yaratıcı  fikirler bulmak için çalışıyor.
GÖRÜŞMEK ÜZERE!
SAYGIN ZİBELLER
YÖNETİCİ KARİYER PROJE DİREKTÖRÜ
Attendee List
Sort by:

Date

|

First Name

|

Last Name
When & Where
Lamartin Cad. No: 47 Taksim
Istanbul, 34437
Turkey

Thursday, March 15, 2012 from 7:30 PM to 9:00 PM (EET)
Add to my calendar
Organizer
JCI İSTANBUL, dünya çapında faaliyet gösteren Genç Liderler ve Girişimciler Federasyonu; Junior Chamber International'ın İstanbul Şubesidir. 1992'den bugüne JCI İstanbul gerek projeleri gerekse eğitimleri ile genç lider ve girişimcilerin bireysel gelişimlerine katkıda bulunarak, toplumda pozitif değişimi sağlamak için çalışmaktadır.
Yasal Statü: JCI Türkiye, "Genç Liderler ve Girişimciler (JCI) Derneği" adı altında dernek statüsünde çalışmaktadır. Dernekler kanuna uygun olarak hazırlanmış bir tüzüğü vardır.
Yıl boyunca gerçekleştirilen projelerimizin birinde ya da hepsinde aktif görev alıp kendinizden bir değer katarak ve etkinliklerimize de katılıp renklendirerek "aday üyelik" süreciniz başlamış olur. Bu vesile ile her bir yönetim kurulu üyesi başta olmak üzere, proje direktörlerimiz, üyelerimiz ve senatörlerimiz sizleri daha yakından tanıma fırsatı bulur. Değerlendirme süreci sonunda e-posta / telefon yolu ile "üyelik" teklif edilir. Kabul etmeniz durumunda ise özel bir gecede "üyelik pini"niz takdim edilir.
JCI'in sertifikalı eğitmenleri tarafından verilen ve yıl içinde birden fazla gerçekleştirilen sunumlar ile derneğimizi daha yakından tanıyabilirsiniz. Ayrıca yılda bir defa Ocak ayında ücretsiz gerçekleştirilen "Projektör" etkinliğimiz ile de o yılın Yönetim kurulu üyelerini, direktörlerini ve şubemize ait tüm projeleri çok daha iyi tanıma/öğrenme fırsatı bulabilirsiniz!
DAHA FAZLASI İÇİN;
Hem sitemizi www.jciistanbul.com ziyaret edin, hem de etkinliklerimizde bizlerle birlikte olun!
Tüm sorularınız için jciistanbul@gmail.com adresimize mail gönderebilirsiniz...
Görüşmek üzere,
JCI İstanbul