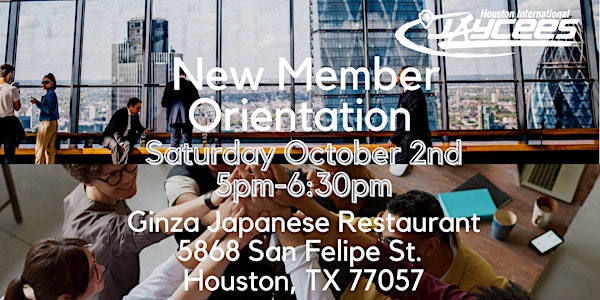 JCI New Member Orientation @ Ginza Japanese Restaurant
What does it mean to be a Jaycee (JCI Member)? Join us and find out! New, old, and prospective members are all welcome!
When and where
Location
Ginza Japanese Restaurant 5868 San Felipe Street Houston, TX 77057
About this event
What is JCI?
This is the best event to come and learn about JCI, an enormous, global organization with over 120 countries that strives to make young professionals from 18-40 into the future leaders of tomorrow. Come and learn what JCI is all about and how this member driven organization will help new members reach their goals, professionally and personally, in the New Member Orientation.
Come and joins us to learn more about JCI, the leading and developing young professional organization worldwide while eating great sushi at Ginza Japanese Restaurant!
The JCI (Junior Chamber International) member orientation will cover the following topics:
The goal of any New Member Orientation program is to acquaint your new members to both the organization and each other. Knowing the ins-and-outs of the organization is only one aspect of being a part of JCI. It is an avenue to know more about our organization.
• Member Opportunities and Benefits
• Available Resources
• Chapter Structure and Meetings
• Active Citizen Framework and UN SDGs
• Projects
• Partners, Events and Honors
• Questions
It is open to ALL new members and existing members, and for those who are interested in learning more about The Houston International Jaycees, Junior Chamber International (JCI), JCI USA, and Texas Jaycees!
DATE: Saturday October 2nd
Time: 5-6:30 PM
Reserve your spot fast!!
The Houston International Jaycees' purpose is to help young professionals between the ages of 18 and 40 develop and prepare them to undertake social responsibility by serving the community. We help members develop personal and leadership skills and give them the tools they need to build the bridges of success for themselves in the areas of business development, management skills, individual training, community service, and international connections. Service to the community allows members to acquire knowledge and skills, using them to enhance the human character and strengthen our community.
If you have any questions, please contact Gabriella Bashorun, VP of Business Development at jcihoustonintl@gmail.com
Check out more about the Houston International Jaycees, the 2020 JCI USA Chapter of the Year at https://jcihoustonintl.org/