JCHSEM Quarterly Partnership Luncheon October 2018
Description
JCHSEM will be holding their Quarterly Partnership Luncheon on Friday, October 19 at noon at Shepherd University's Applied Business Lab.
Shepherd University is located at 301 N. King St, Shepherdstown, WV 25443. For a map of the campus see below: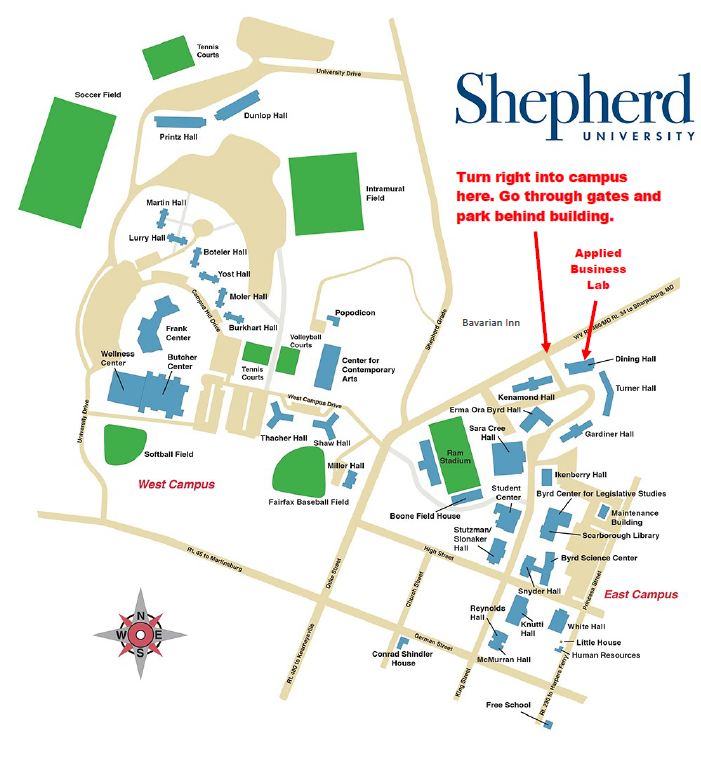 The cost of the lunch is $14.00 per a person (including tax and gratuity), payable to Shepherd University by cash or credit. The menu will be served buffet style and consist of:
Hamburgers; Hotdogs; and Barbequed Chicken

Assorted buns, lettuce, tomatoes, pickles, onions, condiments

Potato Salad and Macaroni and Cheese

Fresh baked Cookies and Brownies

Choice of canned soft drink or bottled water
You must pre-register to attend this event prior to Monday, October 15. Due to the nature of this event, the registration is limited to the first 40 people who sign up.
If you need assistance with your registration, please contact Brandon Vallee at 304-724-8914 or email him at bvallee@jeffersoncountywv.org. Attendees should begin to arrive at 11:45 am for a noon start time.
Our speaker for this event will be Carla Hunter, with the American Red Cross, who will be discussing the American Red Cross' Pillow Case Project. The Pillow Case Project is one way to educate 3rd to 5th graders Emergency Preparedness, Disaster Supply Kits, Fire Safety, and Coping Skills. Ms. Hunter will be discussing the history of the program, the goals of the program, and its impact on Jefferson County.