JCC International Mobile Photography Exhibition

Tuesday, August 16, 2016 from 5:30 PM to 7:00 PM (EDT)
Event Details
5:30-7 pm - Meet the photographers and join us in the gallery for our awards ceremony and light refreshments. A FREE talk at 7 pm by internationally-recognized photographer, Rad A. Drew, directly follows the reception.
This exhibit highlights the best in the emerging art of mobile photography. The competition is open to local, national and international photographers. Winners were chosen in the following categories: Black & White, Portrait, Landscape & Nature, Architecture & Design, and Other.
2016 WINNERS ANNOUNCED
Best of Show - Winter Dune Flight by Rebecca Bruyn
Black & White
1st Place - Girl with Sunflower by Eliza Badoiu
2nd Place - Fishing Pier by Rachael Sokolowski
3rd Place - Let's Talk About by Waldemar Blazej Nowak
Honorable Mention - Waiting to be Ridden by Mark Murphy
Honorable Mention - Trekking in the Snow by Binh Nguyen
Portrait
1st Place - Snowfall Reflections by Eliza Badoiu
2nd Place - True Grit by Marian Rubin
3rd Place - Tongues & Quiet Sighs by Jane Schultz
Honorable Mention - Sleepless by Angie Lambert
Honorable Mention - Feeling Like a Fish by Irene Oleksiuk
Landscape & Nature
1st Place - Winter Dune Flight by Rebecca Bruyn
2nd Place - She May Be Gone by Angie Lambert
3rd Place - Morning Dew by Lisa Benjamin
Honorable Mention - Autumn on the Lake by Irene Oleksiuk
Honorable Mention - A Bench by the Lake by Marian Rubin
Architecture & Design
1st Place - Red Tower by Sukru Mehmet Omur
2nd Place - Reflections by Waldemar Blazej Nowak
3rd Place - Looking Up by Rebecca Bruyn
Honorable Mention - St. Dunstan's by Rinkey Boleman
Honorable Mention - Harbor Lights by Rachael Sokolowski
Other
1st Place - Robotic by Jane Schultz
2nd Place - Red & White by Sukru Mehmet Omur
3rd Place The Wanderer by Mark Murphy
Honorable Mention Existence by Jane Schultz
Honorable Mention For Estelle - I am Happy Your Hair is Flying Free Again by Michelle Robinson
The competition was open June 6 through July 8 at midnight EST. For information about how to enter, see our event about the JCC International Mobile Photography Competition. 
The  Awards Reception is from 5:30-7 pm followed by a talk by internationally recognized photographer, teacher and competition juror, Rad A. Drew. 
This competition was judged by a jury of renowned national and international photographers:
JOANNE CARTER
Joanne Carter is the founder and editorial director of TheAppWhisperer.com. A professional photographer and associate of the British Industry of Professional Photographers (BIPP), Joanne is also a professional journalist, specializing in technology. She is a contributor to national and international publications, including DPreview.com, The Times, The Sunday Times, The Guardian, Professional Photographer, NikonPro, Graphix, Digital Arts, Readers Digest, Popular Photography & Imaging and ePhotozine.com. Joanne has also been a lead and group overall judge for the Mobile Photo Awards for the past two years.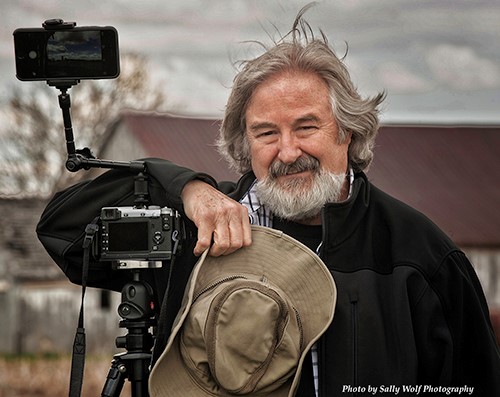 RAD A. DREW
Rad is a professional photographer, teacher, and tour leader based in Indianapolis. His iPhone art, recognized internationally since 2012, has exhibited in galleries around the world. Rad is a contributor to today's most comprehensive how-to book on iPhone photography, The Art of the iPhone Photography; Creating Great Photos and Art on Your iPhone. He teaches, speaks, and presents around the country, and his photo tours to destinations including Cuba, Cape Cod, New England, the south of France, and Tuscany, offer great ways to learn while photographing beautiful parts of the world. To view Rad's work and to learn more about his classes and tours, visit his website at http://www.RadDrewPhotography.com.
FREDDIE KELVIN
Freddie is a fine arts photographer with a particular affinity for supporting the performing arts, photographing landscapes and creating abstract images. He is a freelance photographer for Dance Kaleidoscope and the Indianapolis Symphony Orchestra. He has been an Artist-in-Residency in the Western Galilee, Israel in 2011 and again in 2015. In the fall of 2014 and 2015, he was Artist-in-Residence at Park Tudor School, Indianapolis. Exhibitions of his work include the Jewish Community Center, Indianapolis (2009), Clowes Memorial Hall, Indianapolis (2011), Hilbert Circle Theater-home of the Indianapolis Symphony Orchestra (2013 and 2014) and Kuaba Gallery (2013 and 2015). His work has been represented at Kuaba Gallery since Dec 2012.  His photographic works can be seen on his web-site freddiesfotosforever.com.
JCC art programs and gallery are made possible in part through the generous support of The Indianapolis Foundation.
When & Where

Arthur M. Glick JCC
6701 Hoover Rd
Indianapolis, IN 46260


Tuesday, August 16, 2016 from 5:30 PM to 7:00 PM (EDT)
Add to my calendar
Organizer
JCC Indianapolis

The JCC Indianapolis's mission is to enrich the community by perpetuating Jewish tradition and heritage while celebrating diversity of beliefs through arts, education, health and wellness programs. JCC Indianapolis is located at Arthur M. Glick JCC, 6701 Hoover Road and is a beneficiary agency of the Jewish Federation of Greater Indianapolis, United Way of Central Indiana and an affiliate member of the JCC Association of North America. 
JCC International Mobile Photography Exhibition